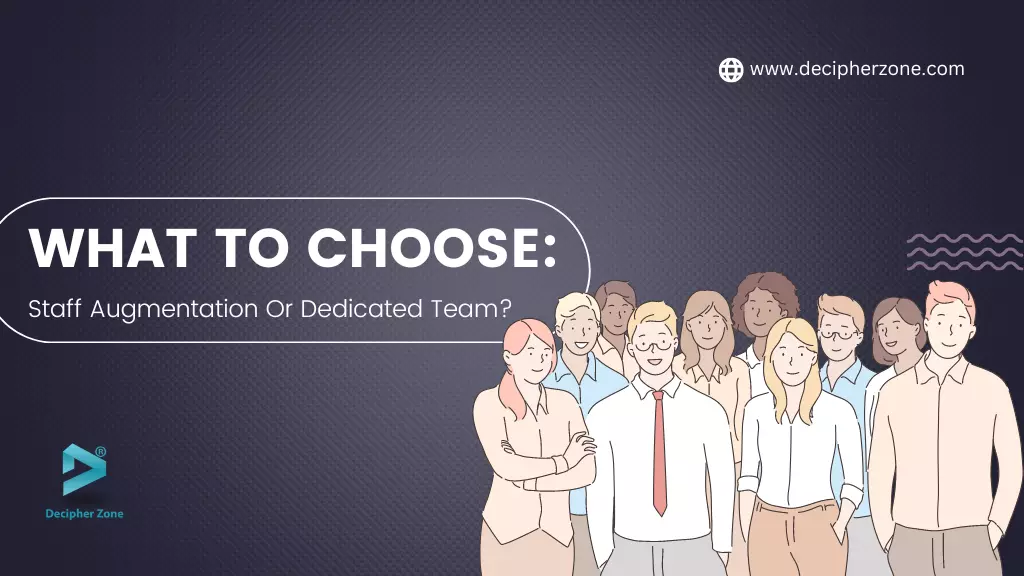 What To Choose: Staff Augmentation Or Dedicated Team?
The need for skilled software engineers is growing as more companies implement different business solutions and undergo digital transformation.
Companies also have the option of working with outside software development providers who will produce the desired outcome in lieu of recruiting an internal staff.
To get the results you want, however, you must pick the best model of collaboration with the service provider. In this essay, we'll contrast two popular choices: dedicated team and staff augmentation. Which decision will be best for your business? Come on, let's solve it together.
Dedicated Team
An outsourced project model known as a dedicated team offers the following approach: the vendor provides the client with the team of experts they will need to finish the project, and both parties share responsibility for its success.
Read: How to Choose the Right Career and Job
A specialized team often includes developers as well as UI/UX designers, QA engineers, business analysts, DevOps engineers, and any other specialists your project may need.
A dedicated software developers works closely with your internal staff as a cohesive entity. Think about the following elements:
Advantages of choosing a dedicated team
Dedicated and Focused
With a dedicated staff, your project is their only priority, which may increase engagement and responsibility.
Team Cooperation
Long-term cooperation and information exchange are fostered by the committed team's hard work.
Enduring Relationships
Establishing a committed team with the service provider creates a long-term engagement that may result in a better knowledge of your demands and a more effective workflow.
Read: Educational Software Solutions Development
Limitations of choosing a dedicated team
Time and Expense
Building a committed team takes a bigger time and money commitment upfront.
Challenges with Scalability
Compared to staff augmentation, changing the size of the team could take more time.
Potential Underuse of Resources
Maintaining a committed team during project lulls or downtime may lead to resource underutilization.
Read: Importance of Programming Education in College
Staff Augmentation
Using the staff augmentation concept, company owners may add qualified individuals to their teams who have been recruited from outside vendors. Team augmentation and conventional hiring are not the same.
In the first scenario, you employ professionals who already work for a certain business. This business offers customers contractual staff augmentation services and specializes in IT outsourcing.
Hire a few specialized employees to boost your current workforce; they will serve as an extension of your internal team and concentrate on certain duties or responsibilities. Here are some important things to think about:
Advantages of choosing Staff Augmentation
Flexibility
With staff augmentation, you may swiftly scale your team up or down in accordance with the demands of the project.
Cost-Effectiveness
Maintaining a committed workforce can save you money on overhead and long-term obligations.
Expertise on-Demand
For brief assignments or specialized areas of knowledge, you may bring in specialist talents and information.
Read: Media and Entertainment Software Development
Limitations of choosing Staff Augmentation
Coordination
The current team may need more assistance with coordination and integration as expanded staff members work remotely or on-site.
Accountability
Because augmented staff members aren't entirely focused on your project, their dedication, and availability may change.
A Little Transmission of Knowledge
Knowledge transfer to your current team may be constrained by staff augmentation's concentration on short-term engagements.
Read: Steps To Convert Your Idea Into Product
Dedicated Team vs. Staff Augmentation: Select The Correct Approach
When selected in accordance with the demands of the company, both the staff augmentation and dedicated team models have their own uses and benefits.
you must be aware of the objectives, specifications, and deadlines of your project in order to choose the appropriate engagement model. What kind of collaboration can benefit your internal team and speed up product development?
A staff augmentation approach would be the ideal choice for a short-term project with strict deadlines and a limited budget. However, you should choose a specialized development team if the project is big and complicated.
Posted by
Mahipal Nehra
|
Posted at 03 Jul, 2023
Web