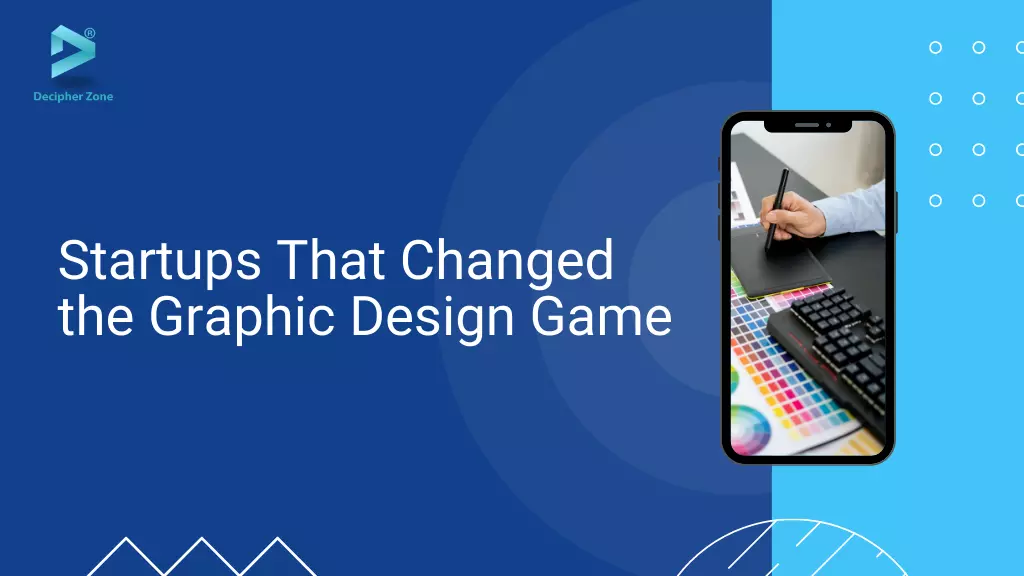 Startups That Changed the Graphic Design Game
Design is an attainable skill nowadays. There are endless opportunities to learn and practice designing, but the truth is, this demands a certain level of talent and creativity. Such a demanded profession makes for a very competitive industry where only selected brands truly stand out.
In the competitive graphic design world, it can be challenging to build a brand name. There are many barriers that you have to cross to succeed. But, it is far from impossible. Some of the most successful companies in the world work in this niche, and they all began as small startups with a few talented designers.
Before we proceed to tell the stories of some of these companies, let's see what graphic design is all about.
What is graphic design?
Graphic design paves a path for companies to succeed and attract people thanks to visualization. It uses a combination of visual elements to communicate ideas and solve problems for users and potential customers. A person working in this field has to possess knowledge and experience in color, form, imagery, typography, and other elements.
Since there's no written rule for creating the perfect combination of these, it all comes down to the expertise of the company or designer, as well as their specific project. Because of the versatile uses of graphic design, experts often specialize in one area.
The many areas of graphic design can overlap, so knowing a bit of them all is what makes a great designer. As technology advances, things change, and only by following the trends can a designer thrive in this industry.
Take for example, e-design. There's no better time than now to embrace this new concept. People are turning to the virtual side. Maybe this is due to the pandemic or because cutting-edge technology allows them to visualize things before they even exist. Either way, this is one of those trends that are worth looking into.
If you want to know what is eDesign, Foyr has an excellent guide that will educate you on this. Primarily used to showcase home projects and architecture plans, e-design is slowly immersing itself in various industries on a global level.
Types of graphic design companies on the market today
Depending on what they tackle and who they've employed in the team, graphic design companies can be split into different categories. Here are the most common ones.
Environmental graphic design company
The idea behind this type of graphic design is to make spaces more interesting, easier to navigate, and memorable. This is a broad type of design, so such companies cater to a variety of industries. They work on interior and exterior design, do office branding, create signage, museum exhibitions designs, retail store interiors, etc.
Not only does this type of company create designs for a variety of purposes, but they also work on marketing presentations and other ways to promote the brands. You should check out Pitch's Options for a quality collection of some marketing presentation templates. Experts in this and similar graphic design industries use the Pitch software program to come up with unique, successful design portfolios for interiors.
In other words, environmental graphic design merges interior, industrial, landscape, architectural, and graphic design. Such companies employ a variety of experts in different fields to come up with complete design ideas for brands.
Visual identity graphic design company
Designers optimize the ways that a company communicates its tone, essence, personality, experiences, and emotions. It's all about creating the face of the brand by using visual elements.
Companies who create visual identity graphic design work on color palettes, typography, logos, image libraries, and other things that represent the personality of a brand. Such a company employs a variety of graphic designers with general and specific knowledge of different graphic design types.
User interface graphic design company
User interface is highly valued nowadays. This refers to how users interface with an organization's product or service, such as a device or an app. The design process revolves around creating easy-to-use interfaces that offer a good experience.
Such companies work on elements like menus, buttons, micro-interactions, and other things that combine technical functionality with aesthetic appeal. Designers employed in these companies specialize in different types of apps, as well as games, and often work alongside UX designers for optimal results.
In other words, we are talking web page designing, game interface design, app design, etc.
Advertising and marketing graphic design company
This is what most people imagine when they hear a company is working on graphic designs. Every modern organization nowadays needs good marketing and advertising strategy in place. Graphic designers have a huge impact on this. By creating engaging visual content, they help organizations communicate effectively and better promote their offerings.
There are plenty of things that an advertising graphic design company can do for organizations. They can work on different media types such as ads and flyers, or create assortments of collateral for digital and print. Nowadays, this type of design is mainly focused on digital advertising and content marketing.
Publication graphic design company
Publications have gone a long way since technology was first invented. These companies were a print medium in the past, but now that all sorts of print media is available online, their work has expanded a lot. When we speak of publication graphic design companies, we think of books, magazines, newspapers, catalogs, but also annual reports, ebooks, and other forms of digital content.
Motion graphic design company
Motion graphics include audio, animation, imagery, typography, video, etc. With the rise of video content, these companies became more demanded than ever. A motion graphic designer is a relatively new specialty, but one that is found across all platforms online at this point.
Read: Top 5 Web Design Trends for 2022
Companies in this field work on advertisements, trailers, promotional videos, end credits, title sequences, animated logos, tutorial videos, presentations, video games, GIFs, banners, and websites.
Packaging graphic design company
Physical products often require some kind of packaging to be sold, distributed, or stored. The design of these packages is important and can seriously affect the customer's decision to make a purchase. That being said, companies that work on packaging graphic design are in high demand today. They work on concepts, create mockups, and deliver print-ready products for packaging.
Illustration and art graphic design company
Graphic illustration and art are somewhat separate from graphic design, but companies that combine the two are frequent on the market. In these companies, designers work on communicating and resolving problems with the help of original artwork. Art can take a number of forms from illustrations to fine art.
Read: Design Patterns
That being said, this type of company will work on video games, websites, T-shirt designs, motion graphics, textile graphic patterns, stock images, infographics, picture books, book covers, and concept art.
Amazing startups that succeeded in the graphic design world
Now that you know what the most popular types of graphic design companies are – and what they do, it is time to take a look at some examples of truly successful brands. The following are design firms that assist clients with different kinds of marketing and design needs. They are known as the best in their field, with an impressive client number and high reputation over the years.
1. Pentagram
You hardly go into the graphic design world without hearing about Pentagram at least once. This is the largest independently owned studio for designing in the world. Today, it is owned and operated by a total of 25 partners. These partners are all considered leaders in the industry and experts in various fields. Some of them are the famous Bob Gill, Alan Fletcher, Michael Bierut, and Paula Scher.
Read: Tips To Build a High-Quality App
Since this is a design company that employs hundreds of designers in different fields, they tackle almost everything that is related to graphic design. The company has great projects related to brand identity, digital design, book design, full campaigns, film and motion design, environmental graphics, architecture and interiors, packaging, etc.
Locations and clients
Headquartered in London, Pentagram has amazed all with their successful designs. They currently set root at several locations worldwide, including New York, Berlin, and San Francisco. Some of the most notable clients of this brand are Starbucks, Windows, Warner Brothers, and United Airlines.
Here is what they've done for Warner Brothers:
2. Wolff Olins
Wolff Olins is a renowned brand consultancy agency with a big mission: "to make things different to make a difference". They have a great reputation nowadays and cater to the needs of some of the biggest brands in the world. Wolff Olins stands behind the logo of the 2012 Summer Olympics in London, one rumored to cost $625,000!
Locations and clients
Like Pentagram, Wolff Olins is also based in London, but they have spread in New York and San Francisco also. Some of their best clients are Google, LinkedIn, Apple, eBay, Microsoft, Uber, Spotify, and 3M.
Read: Top 10 Digital Healthcare Technology Trends
So, let's take a look at their Google Express app design:
3. Landor
Landor now has offices in 25 cities across the globe, making it a giant in the design world. This company started small and swiftly grew into the best places to get services like: interactive and new media, brand identity, adaptation and implementation, brand engagement, brand architecture, naming and verbal identity, strategy and positioning, and packaging.
Locations and clients
Landor is based in San Francisco, but it also has offices in over a dozen locations worldwide. Their offices are in Bangkok, Cape Town, Beijing, Chicago, Dubai, Cincinnati, Hamburg, Hong Kong, Mexico City, Geneva, Istanbul, London, Milan, New York, etc. The most notable clients to date are Apple, British Airways, FedEx, BMW, P&G, Australian Open, and Volkswagen.
Read: Best Practices For Successful App Development
Here's a peak at the British Airways' plane wrap by this company:
4. The Chase
This is an exceptional company with over 30 years of experience and prominence in the industry. So far, The Chase has won over 350 international and national awards, and is known as the top brand for innovative print design and corporate branding. They work on museum exhibits, calendar design, stadium branding, architecture, advertising, film design, etc.
Read: Best Practices for Testing APIs
Locations and clients
The Chase is headquartered in Manchester, and has offices in London and Preston. Its most notable clients are the Museum of London, BBC, AliBaba, Fujitsu, Shell, Smirnoff, and Hewlett Packard. Here is an exhibition photo from the Museum of London and The Chase's project:
5. Happy Cog
Happy Cog was founded by Jeffrey Zeldman, a renowned web designer who has won more rewards than most experts in his field. His company offers impressive web development, design, and UX consultancy, and has some of the biggest clients in the industry. Their services include design and branding, content strategy, development, project definition, digital marketing, and research.
Locations and clients
Jeffrey Zeldman opened this company in New York, and it is still headquartered there. Their biggest clients include Airbnb, Google, MTV, Ben & Jerry's, AMC Theatres, Stanford University, and Zappos. Let's take a look at the site design they did for AirBnB:
6. Mucho
Mucho creates designs that are all around us seeing how they've impressed huge brands across the globe. They work on delivering a quality brand narrative, proper brand management, and creating brand strategies for those who need them.
Locations and clients
Mucho is based in Barcelona, but has offices in New York, San Francisco, and Paris. Their most notable clients include Google, Kodak, Apple, BMW, Hewlett-Packard, the University of California, Venmo, and the San Francisco Art Exchange.
Read: UX Design Problem For Students And Enterprises
Here is the card design they did for Venmo:
Wrapping up
Getting where they are right now took these companies a great deal of effort, amazing talent, and time. They are proof that you can succeed in the industry if you work hard and are creative. Since this industry is more competitive than ever, only the best and most hard-working succeed in it. Use them as an inspiration for your future endeavors and don't forget - graphic design is a field that you never keep learning in!
Posted by
Mahipal Nehra
|
Posted at 02 Dec, 2021
Web