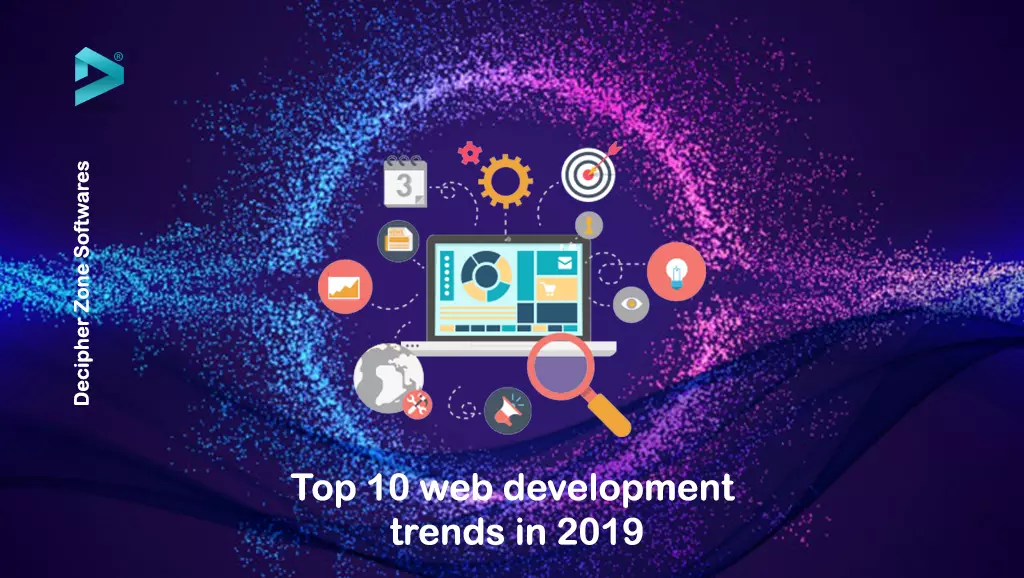 Top 10 Web Development Trends in 2019
With widespread cloud computing and the idea to share resources for reducing cost has increased the demand for web application development. Now companies are aligning themselves to trends which can improve their web apps performance, reduce utilization of resources and enhance user experience.
Top 10 Web Development Trends in 2019
The trends in 2019 somewhat will be derived from previous years yet there will be new inclusions this year.
1. Blockchain consensus protocols development
The fall in bitcoin prices that dragged it below $4000 and different research projects have indicated clearly that how desperately we need good consensus protocols like proof of stake, delegated proof of stake or hash graph to reduce the transaction time and cost. The validation of a transaction should be easy enough that it could compete with our current monetary arrangement.
2. Smart contracts development
Smart contracts are the next big thing in blockchain development, it is an approach to make the work process autonomous by eliminating the need for intermediaries. Imagine if you want to buy a piece of land then you will have to deal with brokers, property registration office's staff, seller and bank, smart contracts will enable you to buy the same piece of land online and from payments to registration work, everything will be done autonomously by smart contracts.
3. AMP pages
AMP(Accelerated mobile pages) pages is a project of Google and twitter which is used to reduce the page load time up to 85% and enhance user experience. Optimized mobile pages are now considered being considered by Google in ranking pages that's why websites use it to increase the click-through rate. AMP pages are commonly used by e-commerce websites to retain visitors on websites with faster page rendering.
4. SEO readiness
Everyone wants to rank higher on search pages of search engines, so businesses tend to opt for SEO and digital marketing services. In 2019 web development is going to be focused on developing websites and web applications that are SEO ready to make the digital marketing hassle free.
5. Single page applications
JavaScript has been stagnantly growing for more than a decade, thanks to cloud computing which raised JavaScript frameworks to leverage single page web application development. It is clear from the number of downloaded rpm packages of Angular, React js and Vue js that focus on single page applications is still growing and react js has crazy adoption rate from web developers.
6. GDPR compliance
European Union has released Global data protection regulation to protect the data of their residents, Google, Facebook and many other tech giants are being investigated for GDPR violation. Businesses from Europe and those who will be dealing with European residents have to comply with GDPR. GDPR is established to protect the following information:
Basic identity information such as name, address and ID numbers

Web data such as geographical location, IP address, cookie data and RFID tags information

Health and genetic data

Political opinions

Sexual orientation

Biometric data

Racial or ethnic data
Read: The process of web application development
Web developers need to be aware of GDPR and should make the websites and web apps GDPR compliant in 2019.
7. Chatbots integration
Chatbots are AI driven programs that are deployed on websites to improve user interaction, studies from global research firms have shown that websites who adopted chatbots have seen a surge in their revenue which makes it an emerging web development trend of 2019.
8. Run time web applications
Nowadays websites that are being used to provide a service or to sell something run 24x7 for 365 days, they cannot afford the downtime that's why web development is moving forward to run time environment where new code can be added and bugs can be fixed on the go. Software developers will not have to shut the website for most of the updated hence it will offer extremely low downtime.
9. Augmented data analytics
If you have seen iron man movies then you know how augmented reality apps in 3D shall work. Microsoft's Holo lens is one such project that is being used by general motors, Volkswagen and other big companies but it lacks data analytics, so in 2019 software developers will be putting on immense efforts in developing 3D augmented data analytics.
10. Progressive web apps
Progressive web apps is a feature to develop mobile-friendly web pages such that they behave like an app itself which eliminates the need of installing an app and blocking resources. Progressive web apps are usually helpful for News, blogging and e-commerce websites which expect repetitive visits from users. Although PWAs have been around for a while its popularity doesn't seem to fade soon enough. The emerging technological trends indicate that progressive web apps will still be carrying the baton of web app development marathon in their hands for 2019.
Read: Top technology trends for 2019
We might see new technological trends in 2019 but as of now for web application developments these top 10 trends were subdued to shed a light upon.
Read: Useful things to consider when hiring a web application developer
Recently we have published this article on YourStory. Top 10 web development trends in 2019
Posted by
Mahipal Nehra
|
Posted at 01 May, 2019
Web