Factors that Impact the Website Development Cost
Factors that Impact the Website Development Cost. Websites act as the core of any business that wants to stay ahead of the competition in the digital world we live in today. If you are a startup that wants to step into a digital business, developing a website can help you drive more targeted traffic, higher sales, and improved customer retention.
According to the stats on PR Newswire, 71% of small businesses own a website, though developing and maintaining it is still challenging. But before you dive into hiring developers who can develop and maintain the website, you need to know how much website development costs.
Website Development Cost
Determining the exact cost can be a tricky task as it depends on multiple factors that we are going to discuss further in the blog. But what we can estimate is the average cost of website development which can range from $15,000 to $200,000.
Factors that Affect The Website Development Cost
Here is the list of the major factors that influence the website development cost:
UI/UX Designing

Frontend Development

Backend Development

SSL Certification

Domain Purchase

Website Hosting

Website Maintenance
UI/UX Designing
User interface and user experience (UI/UX) are among the most crucial building blocks that impact the cost of website development. Investing in a good design will ensure that the website catches the user's attention and makes them want to take action. The UX/UI design services are categorized into research, wireframe, and prototyping. Overall, it costs you around $1,000 to $3,500 depending on the tools and project requirements.
Frontend Development
Frontend refers to the part of the website on which users see and interact with. It involves using languages like HTML, CSS, JavaScript, JQuery, TypeScript, Vue, and more. It will cost somewhere around $2500 to $15,000 depending on the animation and responsiveness requirements and complexity.
Backend Development
The backend is the website's soul that ensures every feature and functionality runs smoothly. It refers to creating server-side features that bridge database response and user controls.
SSL Certification
While many businesses may not realize the importance of SSL certification, you should make it a priority to secure your website from unauthorized access or cyber-attacks. Adding the Secure Sockets Layer (SSL) to your website is only going to cost somewhere between $8 and $700 depending on the validation process, number of domains to secure, certificate authority, and more.
Domain Purchase
Another crucial factor that impacts the cost of website development is purchasing a top-level domain from web hosting and domain registrar platforms like Hostinger, GoDaddy, Bluehost, etc. Purchasing a domain can cost you $10 to $50 per year.
Website Hosting
Website hosting refers to the online service for publishing your website on the internet. Investing in it allows smooth website performance and allows it to scale up and down to avoid crashing or bad user experience. Hosting a website can cost $100 to $300 annually.
Website Maintenance
Maintaining a website is essential to ensure the speed, uptime, and security of the website. It also includes fixing bugs or issues to ensure smooth performance. The average cost of website maintenance can range somewhere between $1500 to $20,000.
Read More: How to Develop a Website like BOOKING?
Crucial Factors Influencing Website Development Cost
There are multiple factors like type, complexity, region, type of professionals, etc. that affect the development cost of the website other than the ones mentioned above. Let's understand the cost based on these factors:
Types of Website
Based on the types, the cost of website development cost varies as follows: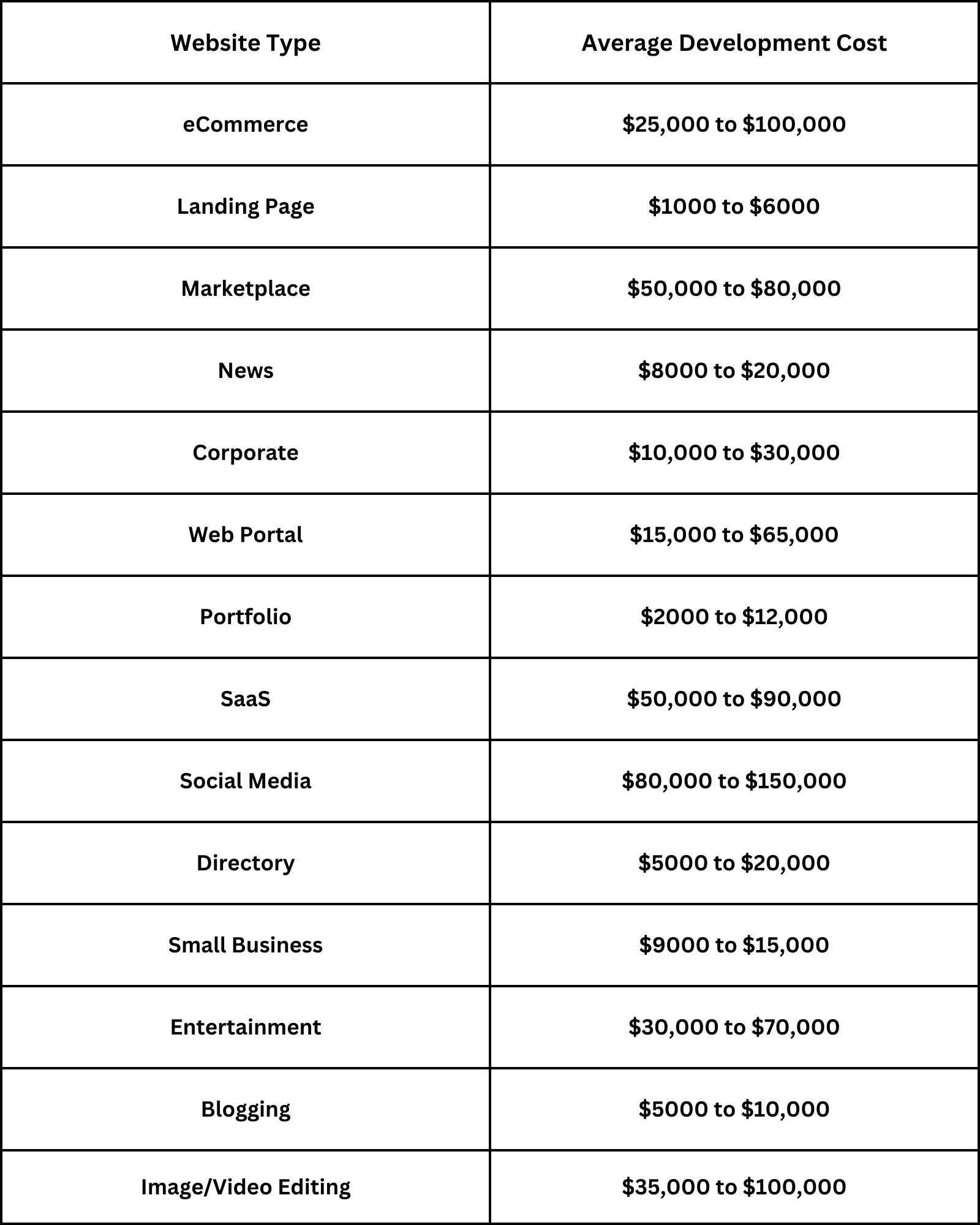 Read More: Web Development Trends
Website Complexity
Another factor determining the cost of website development is the level of complexity it has. It ranges from basic to advanced level and the cost range of each is as follows:
Type of Hired Team

In-House Team

Local Agency

Hiring a Freelancer

Outsourcing Company

Region of the Hired Team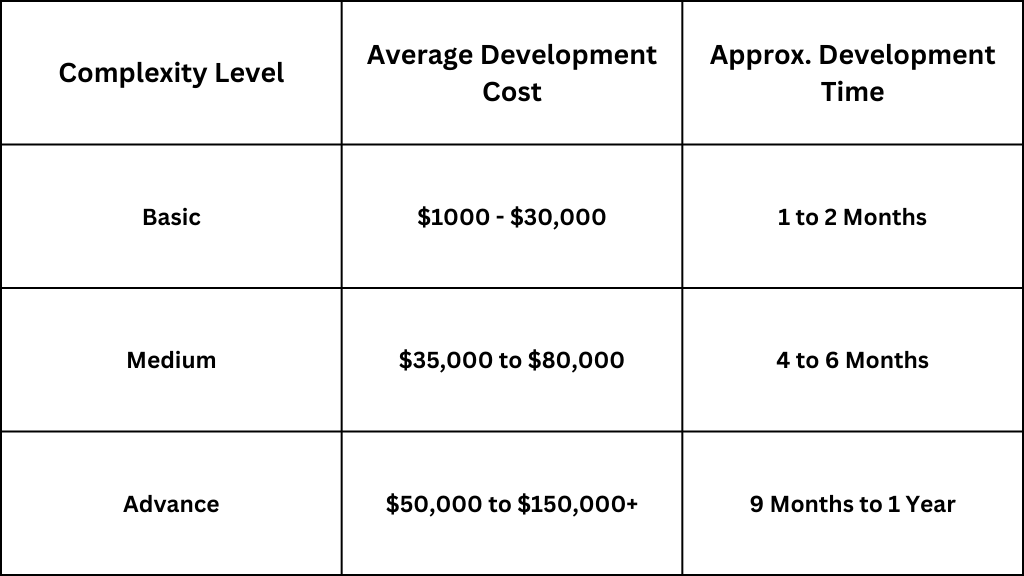 Type of Hired Team
Another important element that determines the cost of website development is the type of team you engage with. Some of the developer's hiring models that you must know about along with their costs are:
In-House Team
Hiring in-house development team members is among the most expensive solutions you can use for website development. It will cost a minimum of $800,000 per year including their salaries, maintenance, office supplies and infrastructures, taxes, etc.
Local Agency
A local agency can charge you on a contractual or hourly basis. In this hiring model, you will pay up to $300,000 for design, development, marketing, and maintenance.
Hiring a Freelancer
Hiring a freelancer to develop a website costs between $5,000 and $30,000 for the work. As you will need more than one freelancer to complete the project, the cost will increase from $50,000 to $100,000. However, with freelancers comes reliability issues, communication gaps, no assurance of project completion within a given timeline, etc.
Outsourcing Company
One of the biggest advantages of outsourcing a website development company is the easier access to a large team of experienced professionals in one place and the guarantee of getting the project completed according to the deadlines.
Although the charges of outsourcing a company are higher than hiring a freelancer, it is still way less than building an in-house team or collaborating with local agencies. Outsourcing a web development company is going to charge around $15,000 to $200,000.
Read More: Dedicated vs In-House Development
Region of the Hired Team
The region from where you are hiring the team also impacts the cost of the website development as the price varies from country to country. Some of the most hired regions and their hourly costs are as follows: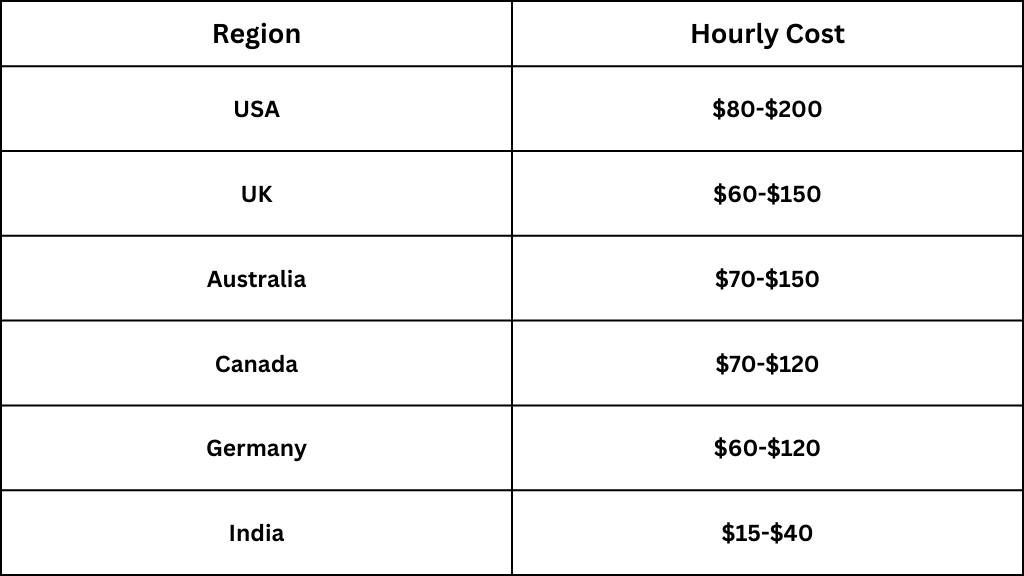 Hidden Cost of Website Development
Now that we know the upfront website development cost, it's time to explore the hidden costs that are inevitable in website development.
Marketing Cost

Maintenance
Marketing Cost
To reach your targeted audience and increase the website traffic, you need to market it before launch. You can start by creating social media or landing pages to attract users. Other than that it will also be essential to work on SEO including link building, content and copywriting, tech optimization, etc. On average, businesses pay $400 to $5000 per month for all these activities and get top rank on Search Engine Result Pages (SERPs).
Maintenance
Another hidden factor that will increase overall website development costs is maintenance. To ensure the website is working as expected and secured from cyber threats, you should not let SSL certificates, third-party integrations, domain, cloud infrastructure, storage, servers, and hosting services be paid for and maintained.
How to Choose a Reliable Website Development Partner?
Some of the factors that you must consider before choosing the ideal partner for web development are:
Creating requirement documentation after ideation.

Determining the services required

Hire a partner with expertise in developing a website that matches your interests.

Assure they have technical expertise and skills

Check whether they have an effective model for communication

Choose Agile development methodology

Check reviews and projects of past clients
Read More: How to Hire Developers?
One of the top-rated web development service providers with positive reviews from clients whom you can hire to build your business website is Decipher Zone Technologies. So what are you waiting for?
Get in touch with our experts, share your requirements, hire developers at budget-friendly rates, and let us build a reliable, secure, and high-performing website for you.
Posted by
Mahipal Nehra
|
Posted at 27 Oct, 2023
Web