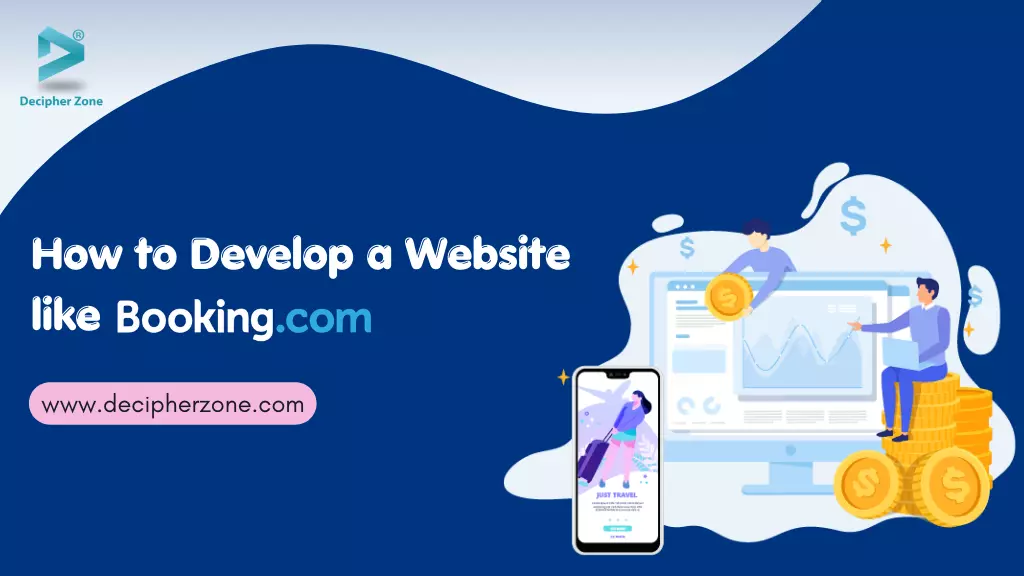 How to Develop a Website like BOOKING?
How to Develop a Website like Booking? Travel is an essential part of life, an education for living. They say people who travel a lot live a happier and healthier life.
And in recent times, when the travel industry is experiencing exponential growth, businesses are making the best out of it with various services and solutions via apps and websites. And if you are a travel enthusiast or into the travel industry, you might have probably heard about Booking com.
The latest research from Statista states that booking com was one of the most visited travel and tourism websites in June 2023, with over 614 million visitors, which is why it is an important reason to consider developing a website like Booking com.
And if you are interested in developing one such website for your business, then this is the right place to be.
So, without any further delay, let's embark on this journey!
Introduction to a Website Like Booking
Before getting started with how to develop a website like booking com let us first give you an overview of it.
Read: How Much Does It Cost To Build A Hotel Booking Application
Booking com is a global travel and accommodation services app that was launched in 1996. It is available in 40+ languages and is a subsidiary of Booking Holdings.
Read: Aviation Software Solutions Development
Primary features required for a website like Booking
Its primary features include for web development like booking -
Analytics and Dashboard

Booking management

Cancellation and Refunds

Easy SignUp and Login

Geolocation and Maps

Location Management

Multilingual and Multi Currency support

Notifications

Q & A about the properties

Ratings and Reviews

Rewards and Wallet

Saved Properties

Search, Sort, Filter, and many more.
Furthermore, its technology stack includes Python, Redis, Golang, MySQL, Cassandra, Kafka, and others for app and data, Google Analytics, Pinterest Conversion Tag, Naver Analytics, Google Analytics Enhanced eCommerce for Analytics, Kubernetes, New Relic, Kibana, Graphite for DevOps, and other utilities and tools like Twilio SendGrid, Jira, and many more.
Read: Bike Taxi Booking App Development
In addition to it, the basic workflow of booking is -
The users sign up or login into the website > Select the location > Enter the Check-in and Check-out dates > Select the number of rooms and guests and search > The available property list appears on the user's screen > Select the desired property, along with the room preference and other amenities > Complete the booking process by choosing the payment method.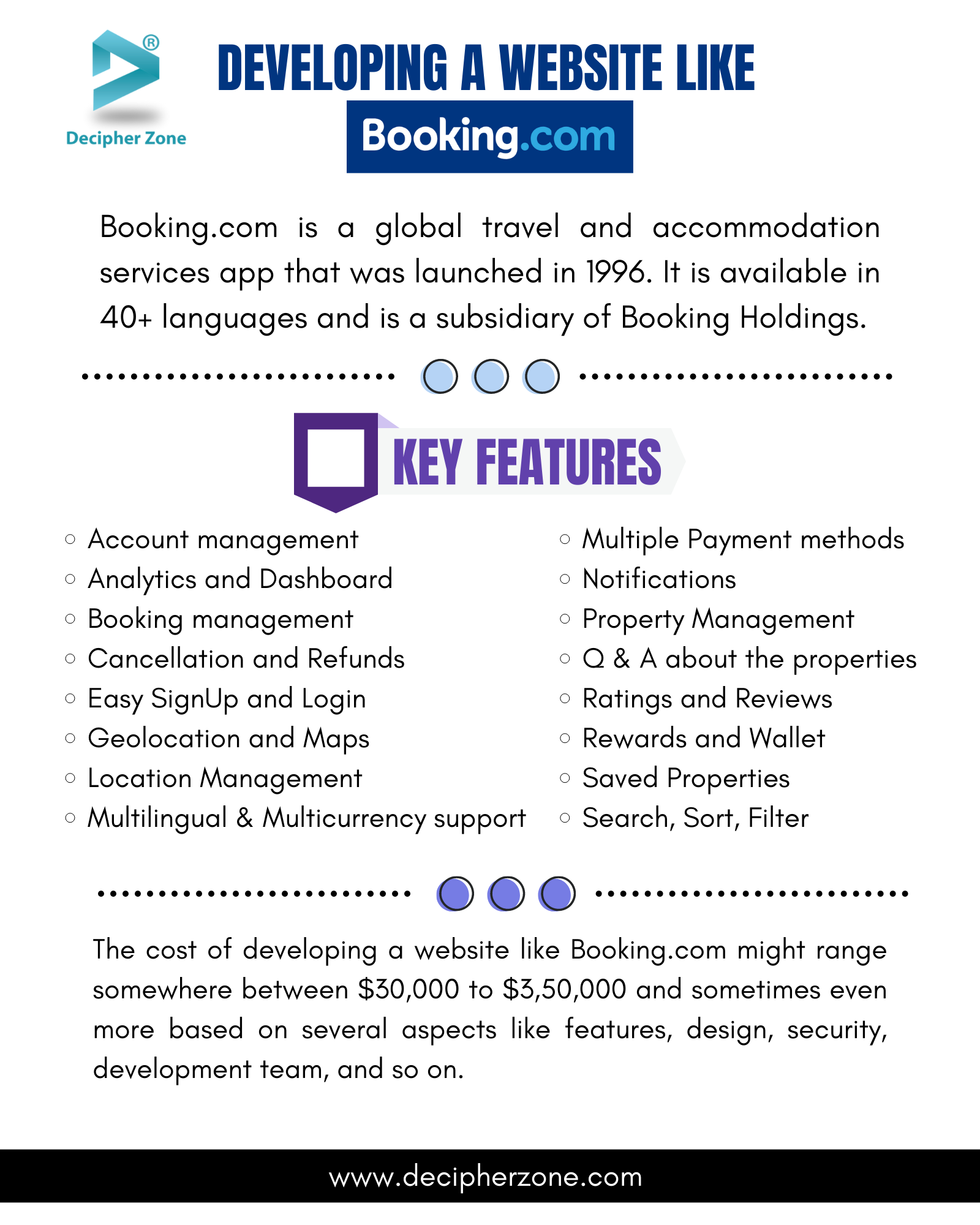 Developing a Website like Booking com
Developing a website like Booking com is not as easy as it seems. It requires thorough research and analysis accordingly based on customer demands, business requirements, and market trends for the best solutions for your business.
Read: Developing a Home Service Software
However, here are a few things that you should consider while developing a website like Booking com.
Conduct a SWOT analysis before starting with the development of your website, as it helps you develop a future-proof solution for your business.

Find out the competitors and analyze their business to gain a competitive advantage by learning about their pain points, user demands, and other essential factors, which in turn helps in providing the best services to the users.

Offer customized coupons and discounts to your customers to ensure loyalty and build trust with your customers.

Integrate chatbots or WhatsApp as an essential part of the website, which will help the users avail of your support anytime and anywhere.

Develop the website in such a way that it should be easy to use and accessible so the users can navigate inside the website with ease, thus improving the customer experience.

Consider integrating a business model to generate additional revenue from your website like subscriptions to premium features like modifying a booking, viewing the latest stories, in-app advertising, and many others.

Verification of the user's profile using a valid ID proof at the very first stage to avoid wastage of time and make the booking and checkout process seamless.
Read: How Much Does A Website Development Cost
Cost of Developing a Website like Booking com
The cost of developing a website like Booking com might range somewhere between $30,000 to $3,50,000 and sometimes even more based on several aspects, and they are as follows -
The domain and hosting of the website

Logo and Design complexities like animations and design effects

Total number of features and functionalities alongwith the complexity of integration

Development process, technology stack, and architectural model

Third-party integrations, additional security features, and advanced-level integrations

The number of developers working on your project along with their experience and expertise

Time required to develop the website

Location and Hourly charges of the development team

Different levels of testing (if needed)

Post Launch Maintenance and Support, as well as
Read: Travel Web Application Development Cost
However do not worry about the price, if you think you cannot afford a lot of expense at the initial stage, then you can start developing an MVP (Minimum Viable Product) for your business, which you can later enhance by integrating additional features accordingly.
Wrapping It Up
The travel and tourism industry is one of the leading industries in the current scenario and developing a website like Booking com is a wise business decision to consider. It will not only help in hassle-free travel arrangements but will also make businesses scale to new heights.
So, why wait?
Connect with us now, or hire a developer, and share your requirements with us to develop a robust, reliable, and secure website for your business, that eases and revolutionizes the travel industry with the best services.
FAQs: How to Develop a Website like Booking com
What are some of the best travel apps and websites?
Tripadvisor, Skyscanner, Kayak, Airbnb, Booking com, and TripIt are some of the best travel apps and websites that are used all over the world.
How to monetize a travel application?
The best ways to monetize a travel application are as follows -
Advertising business model

Agency business model, and

Merchant business model.
How much time does it take to develop a website like Booking com?
Developing a website like booking com will take up to 4-6 months and sometimes even a year or more depending on your project requirements, budget, and other factors like the features and design complexity.
Posted by
Mahipal Nehra
|
Posted at 18 Jul, 2023
Web