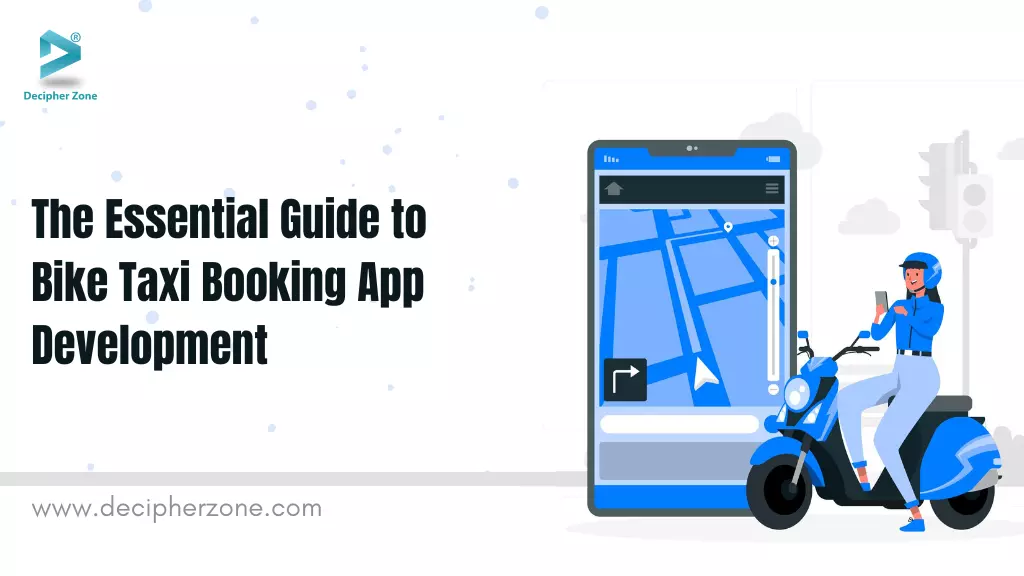 The Essential Guide to Bike Taxi Booking App Development
The Essential Guide to Bike Taxi Booking App Development Cost, Features and Benefits. Businesses and services that provide quick services according to their customer's needs are now the go-to choice for every individual to ease their day-to-day lives, brought to the people via on-demand apps.
These applications not only help a business provide quick services but also facilitates them with a growing customer base along with huge ROI and positive customer feedback.
Be it ordering food, or shopping from the comfort of your home, everything is just a few clicks away, and one such application that business people can invest in is an on-demand bike taxi booking app development.
Bike Taxi Booking App Development - Benefits and Features
And if you are willing to do so and generate huge revenue, then this blog is for you where we will be filling you up with certain aspects of bike taxi app development, which you will unravel later.
So, without further ado, let's get started!
What is A Bike Taxi Booking App Development?
The Bike Taxi booking app is an online platform that helps users/customers by providing on-demand Bike Taxi services anytime, anywhere.
Read: On-demand Cannabis Delivery App Development
It comprises three primary components i.e. the user application, the bike taxi service provider application, and the admin panel.
Read: On-demand Medicine Delivery App Development
Here the user logs in to the application, and requests a bike taxi service at their desired location and checking out by selecting their preferred payment method. Next the nearby riders/drivers get notified about the request and the available rider accepts the ride request.
Read: Payment Gateway Development
Once the driver accepts the request the user can view the estimated time of arrival of the driver at the requested location.
Read: Dating App Development
And as the driver reaches the location, the user can verify the ride with a passkey or an OTP and after the user reaches the requested location, the driver can mark the booking complete and the user can make the payment, thus making it a complete order.
Read: Delivery Services App for Your Business
Some of the popular examples of on-demand bike taxi booking apps are UberMoto, Rapido, Grab, Ola, and many others.
Read: How to Develop A Messaging App Like WhatsApp
Now that you know what a bike taxi booking app is and how it works along with its components, you should also know of the benefits that you will avail of while developing a bike taxi booking application.
Benefits of Bike Taxi Booking App Development
The benefits of developing a bike taxi booking app are as follows -
The primary reason why you should consider investing in this application is because bikes are compact and small as compared to taxis and cabs. So it helps in escaping the traffic jams with ease and providing quick services, which in turn favors a strong user base.

Secondly, it is a one-time investment that is worth it, for it opens up the opportunity to generate additional income sources for you.

Developing an app also helps you to eliminate the regional barriers and provide your services to the people, by making the app accessible in every nook and corner of the world where you wish to be operational.

It helps your customers to access your services anytime and anywhere according to the rider's availability, where the riders can work according to their shifts and work, thus not leading to any divergence between the business and its customers, and allowing the freedom to the riders to work according to their requirements without any pressure.

It also acts as an individual marketing tool for your business as you can integrate custom features to measure your business performance which in turn helps in providing better services to your customers and improving your brand visibility.
Read: Car Wash App Development
Now that you are knowledgeable about the primary benefits of developing a bike taxi app, you should also learn about the features that every app should have.
Read: Healthcare App Development Services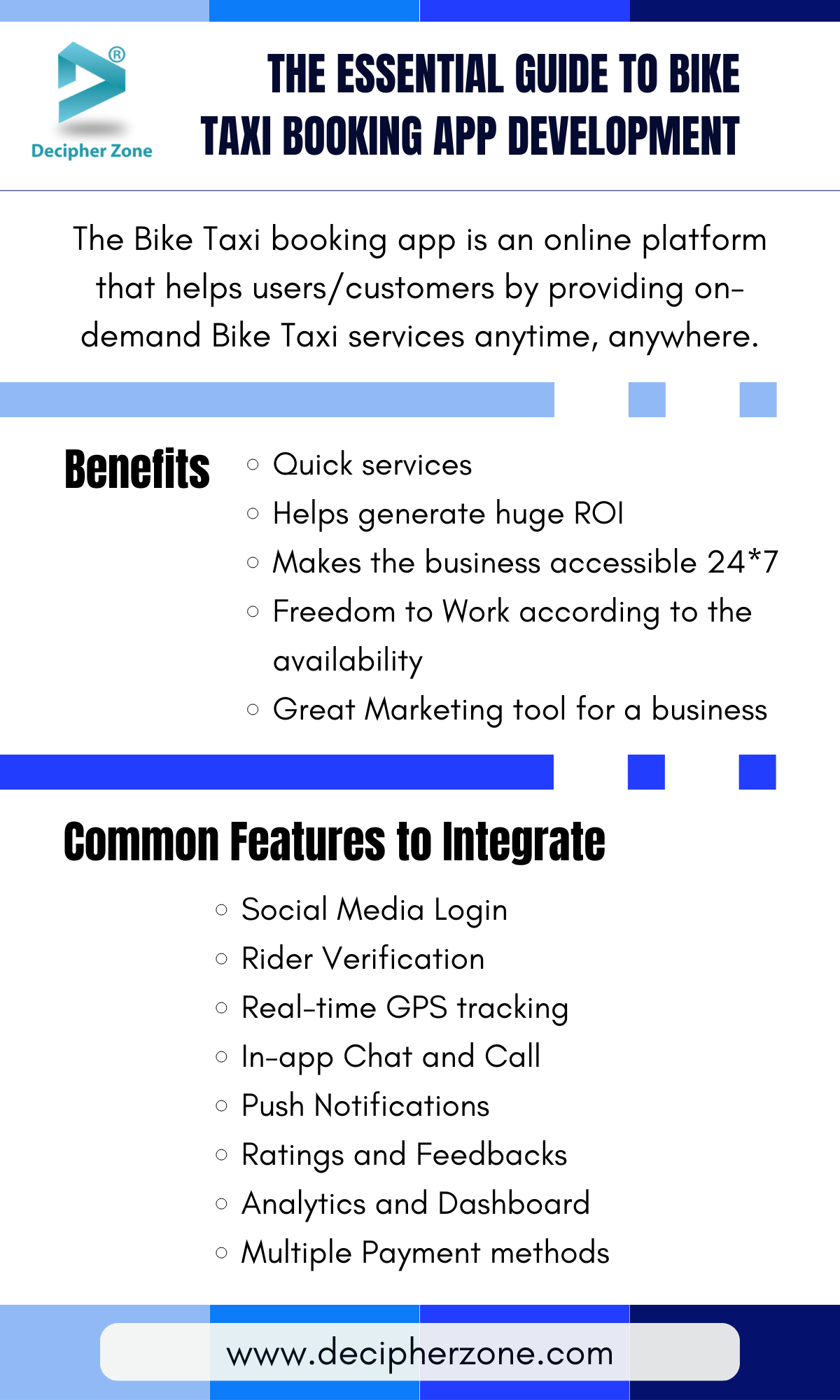 Features to Consider for Bike Taxi Booking App Development
Some of the features that you can consider integrating into the bike taxi app are -
Social media login for users to sign up or log in to the app with ease.

Riders are verified by uploading and getting the necessary information and documents approved like their legal age, driving license, bike taxi papers, and others to ensure quality and secured rides.

Real-time GPS tracking to track the live location.

In-app chat and call features to enhance the communication between the riders and the customers, thus enabling a seamless experience.

Push notifications and emails regarding every new offer, and updates on bookings or other useful information.

Ratings and Feedback, allow the users to rate the specific ride and the rider and enables other users to decide accordingly, whether to opt-in for the specific rider or not by reviewing the feedback, and also for the drivers to rate and review their customers and vice versa. This feature will help your business by providing a unique platform where it allows the riders to choose their customers as well.

Analytics and Dashboard for the admin panel, where the manager or the business owner can view the overall performance of the business based on different metrics like the number of rides in a day at a particular location, total earnings, payment modes, number of users, active riders, and many others.

Multiple payment methods to ease the payment process for the users as well as the drivers.
Read: Multi-Vendor Food Delivery System
How much does it cost to develop an on-demand bike taxi app?
The cost of developing an on-demand bike taxi booking app may vary from $20,000 - $2,00,000, and sometimes even more according to the changing business needs.
According to multiple factors like consumer demands, market trends, as well as your business requirements. Besides this, some other factors that affect the cost of development include the design, the programming languages and frameworks, the number of features, third-party integrations, and many more.
Wrapping It Up
Developing an on-demand bike taxi booking app is the next big thing taking over the travel and mobility industry. It is compact, quick, cost-effective, and time-saving, which is why users prefer booking a bike taxi service now.
So, if you are thinking about developing a bike taxi app, then it's high time to start working on it.
Connect with us, or hire a developer and develop the best solutions for your business that are feature-loaded and future-proof to stand out in the market.
FAQs: Bike Taxi Booking App Development
How much time will it take for an on-demand bike taxi app development?
Developing an on-demand bike taxi application typically takes 3-6 months and sometimes, even more, to deploy a full-fledged and feature-loaded application in the market.
What are the different types of on-demand applications?
The different on-demand applications are -
On-Demand Delivery Services Application

Food Delivery App

Taxi Booking Application

Car Wash App

Movers and Packers App

Dating App Development

On-Demand Healthcare App, and many more.
Posted by
Mahipal Nehra
|
Posted at 14 Jun, 2023
Web