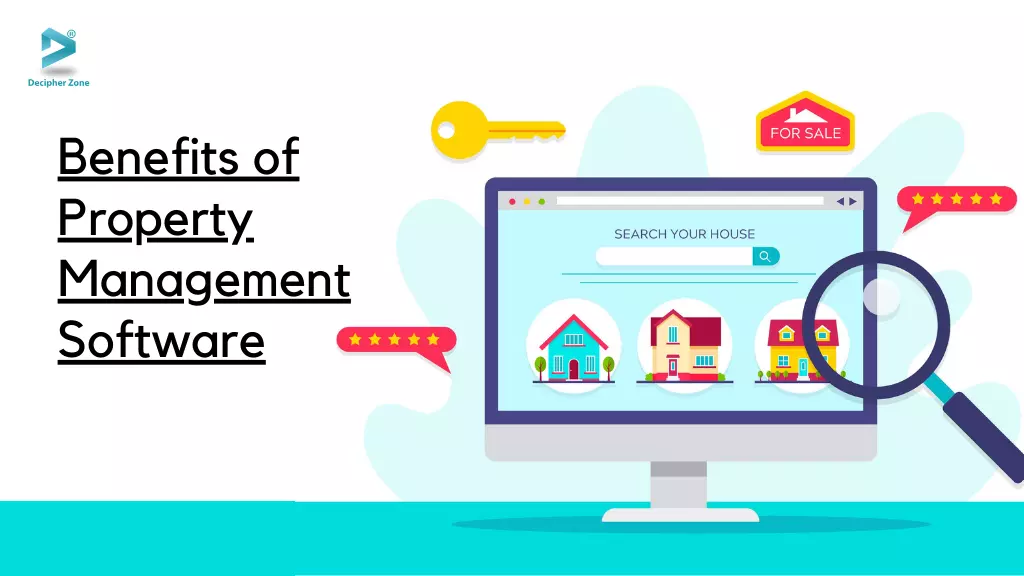 Benefits of Property Management Software
As a property manager, you must have a lot happening on your plate. Needless to say, running and maintaining a real estate property business can be challenging without digitization when you have to manage different accounts, advertise for vacancies or sales, process legal documents, and operate under a budget.
For decades, property managers had to use emails, spreadsheets, and paper to record and jot down all the transactions, tasks, tenant requests, and other day-to-day tasks.
Fortunately, we now have property management software that can be used to automate most of the repetitive tasks while streamlining other operations, allowing you to focus on other essential tasks.
But what is property management software, and how does it benefit your real-estate business?
What is Property Management Software?
Property management software (PMS) is a software application used for performing operations of commercial rental properties and hospitality accommodations. PMS belongs to the real-estate software solution lineage, operating locally for optimizing processes while offering better transparency and performance on a device.
Property management software is a custom-made solution for property managers, enabling them to oversee commercial and residential properties on behalf of their owners. PMS brings all the key functions including maintenance, communication, reporting, inspection, trust accounting into one platform, saving time and money spent on add-ons while streamlining all the crucial tasks.
Read: Real Estate Software Solutions
PMS is not only limited to one specialist in the real estate industry, it can be also be used for different profiles such as commercial, tenants, retail, property owner, or real estate investment companies to enhance their approach, performance analysis, minimize property waiting time, store complex rented data from different contractors, simplify core functions, making maintenance requests, getting alerts about deliveries or charges, connecting with managers, enhance strategic thinking, fast property acquisition, management, improving processes, and leveraging investments.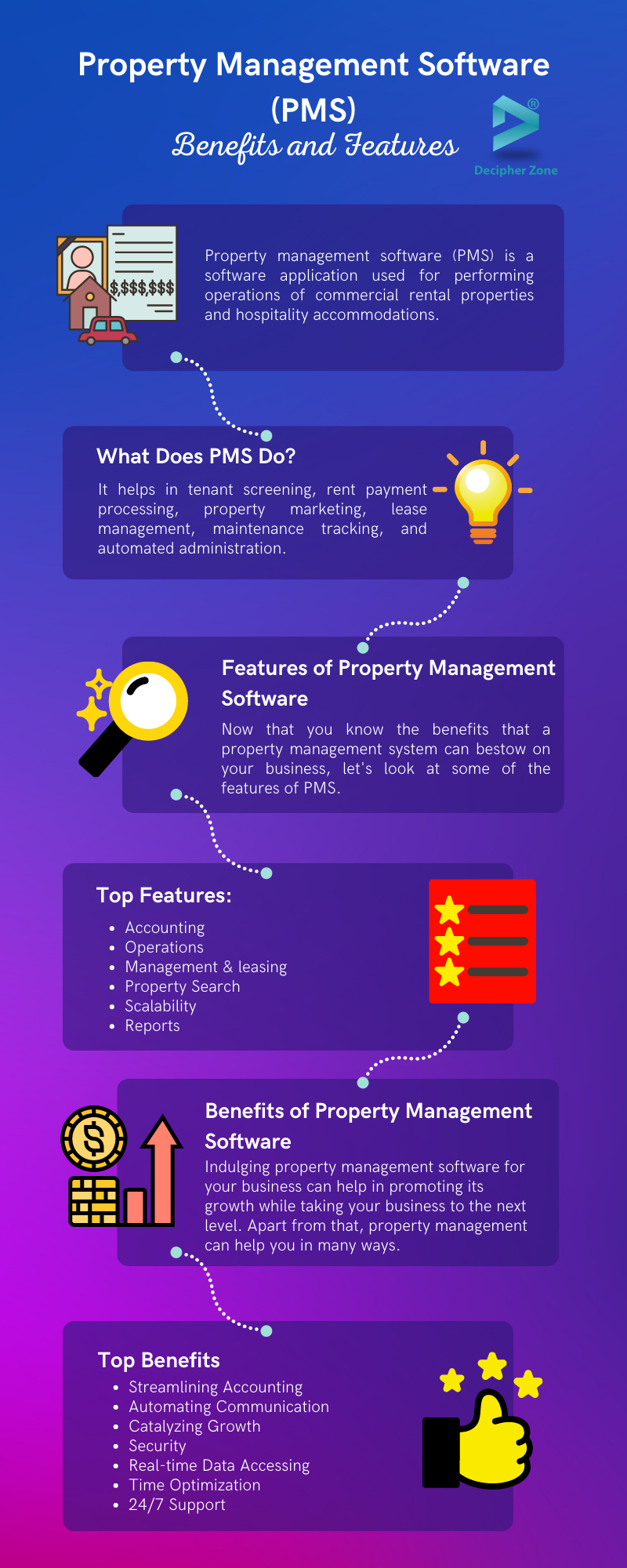 What Does Property Management Software Do?
One of the crucial tasks that property management software do is reduce workloads of property managers through cloud-based software that automates regular functionalities. Some of the core functionalities supported by property management software include:
Tenant screening is the process of evaluating prospective tenants by accessing the likelihood of the tenant fulfilling the lease terms while taking appropriate care for the rented property. Although it might have taken a lot more time using traditional methods, with property management software it becomes easier to do so. As you only need the tenant screening feature in the app to view all the screening reports at one place.
With property management software, one can also streamline the process of rent collection. Most PMS solutions include a residential portal for the tenants to pay online through their choice of payment method. Besides, the PMS can also send alerts on due dates to avoid payment latency.
Having a matured property management system can also help you in automatically releasing rental listings on different property listing sites and uploads tenants applications on the database when applied, making it a great time saver for property managers with multiple properties.
By centralizing information of tenants and storing electrical leases in the system, Property Management Software sends auto-reminders for lease renewals before the due date, making lease management easier.
Having a large portfolio with numerous properties can be tricky when it comes to track and manage maintenance requests and contractors. However, using PMS, you get an online platform that allows tenants to submit maintenance requests including videos, pictures, and description of problems they are facing.
The automated administration feature available in the PMS solution can help in automating bookkeeping to allow property managers to digitize receipts and tracking finance.ṣ
Property management Software Features
Now that you know the benefits that property management system can bestow on your business, it's time to look at some of the must-have features in PMS.
The property management software should have accounting features like ledger, online payments, trust accounts, tax filing, robust reporting system, bank reconciliation, and track of payables and receivables for property owners and managers.
Having operational features in the PMS helps in streamlining the processes involved in day-to-day operations. These operation features must entail a professional website to promote company and property listings, the owner portal allowing them to access essential property information, ability to store and share documents with tenants and owners, and tracking of maintenance and repairs.
Some of the management and leasing features that the property management software must have include tenant screening, rental applications, lead tracking tool, automated release of the vacancy listings, built-in text message or email service for easier communication between tenants, vendors, and owners, inspection tool, and document storage.
The PMS software must allow potential tenants to search properties based on its types like office, flats, or independent houses.
Ability to work with existing systems
While hiring developers to work on the PMS solution for your business, ensure to ask them for adding data migration services if you already have an application that you want to integrate in the new one.
If you are planning to expand your business in the near future, then it becomes essential to choose a software development solution that can easily adjust according to your business requirements without getting overloaded by the user traffic.
PMS must provide different reports on income, property information, tenancy contracts, and expenditure for better analysis.
Apart from the above mentioned features, a property management system should also be mobile optimized, allows automatic sync and download of financial transactions between software and bank, have data security, and ratio utility billing to manage expenses.
Benefits of Property Management Software
By indulging property management software for your business can help in promoting its growth while taking your business to the next level. Apart from that, property management can help you in the following ways:
Streamlines Accounting
Being a property manager, accounting can be tricky for you when there are multiple properties to maintain. As property management software allows you to record expenses, log payments, digitize receipts, and generate financial reports, it becomes easier to file taxes as everything has been sorted.
Automates Communication
By sending alerts and reminders for rent payment, lease renewal, etc., property management software bridges the communication gap between contractors, tenants, and property owners while reducing the workload.
Catalyzes Growth
If you are planning to expand your business then PMS solutions can help you in automating time-consuming regular administrative tasks, so you invest your time in optimizing strategies for business growth.
Real Time Data Access
Opting for a cloud-based PMS can help you to access all the information in real-time with ease. Simply put, you don't have to be in your office to check what's happening in your system as all the information is updated and stored at one place, making it easier to manage data and its accessibility.
Security
A PMS with advanced security including encryptions, firewalls, backups and recovery modules can ensure that all the confidential information is kept safe from being hacked.
Time Saving
Undoubtedly, a property management software can be highly time saving for your business, given it automates all the complex duties, tasks, and processes that would have required a lot of manpower and time otherwise. A PMS easily handles everything from sending reminders through emails or text messages, pushing notifications to creating reports and documents that reduces the time spent on such iterative tasks that used to require intervention from humans.
24/7 Customer Support
The voice agents and chatbots in the property management software can help your customers in getting quick support that makes them feel valued and appreciated.
Cost of Property Management Software
Creating a minimum viable product (MVP) solution can cost anywhere around $20,000 to $25,000 taking a minimum of 5-6 weeks to be developed. While creating fully fledged cross platform applications with modern technologies and additional features can range between $30,000 to $55,000 based on the complexity and requirements your business may have.
Read: Cost To Build A Hotel Booking Application
But, to be honest, it is quite impossible to foretold the cost of property management software development without getting the requirements. So, instead of assuming what it might cost your property management business to develop a software solution, it is better to get in touch with project experts to discuss the details and get a free estimation.
Conclusion
It won't be wrong to say that every industry including real-estate is undergoing massive transformation with advancements in technologies. Given that, many organizations are now moving from traditional approaches to boost their business growth to more digitized and streamlined ones.
Read: CRM in Real Estate
If you too are one of those firms that wants to take their business to the next level by developing a Property Management Software solution, then Decipher Zone is the right technology partner for you. We have a team of experienced professionals who can offer a cost-effective yet scalable solution for your real estate needs, regardless of the size of your business.
Read: How Much Does It Cost To Develop A Real Estate App
So, what are you waiting for? Go ahead and send a brief of your idea and other details to get in contact with us to acquire your first tailor-made property management web application.
Posted by
Mahipal Nehra
|
Posted at 10 Oct, 2022
Web