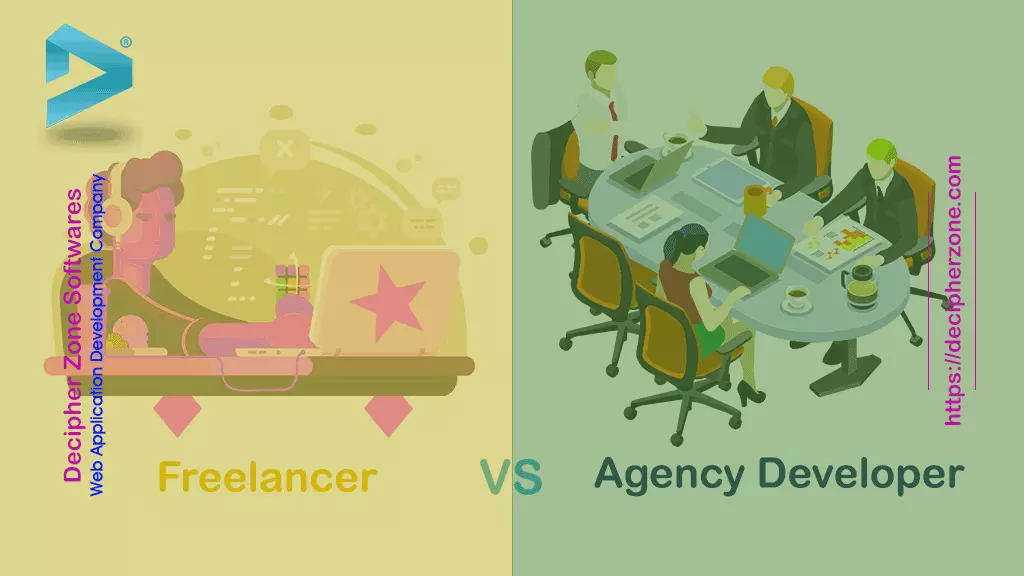 Remote web developers from agencies vs freelancers, Whom to hire?
Businesses and persons often need a web app developer to create software that can solve their problem and it can be accessed from anywhere. Whom to hire: Agencies vs freelancers for remote development? How to hire developers and how much does it cost to hire a developer is a real question and most of us are clueless at that moment. First of all, you need to decide how much work has to be done on your web app then you can move forward with respective hiring methods for following listed conditions:
Top deciding factors between Remote Web Developers from agencies and freelancers
Read: Why Web Applications Are Becoming Popular Than Standalone Applications?
Work estimation for web development
Developing multiple web apps from scratch
For this scenario, the cost-efficient way is to hire a salaried full-time experienced web development team. The team should consist, project manager, business analyst, web designer, front-end web developer, backend web developer and quality analysts. You can also hire remote staff if you are getting them on cheaper costs from another geographical location.
Read: Future of Artificial Intelligence: The Fourth Industrial Revolution
Developing a complete web app
Complete development of a web app requires the team same web development team that is mentioned above however hiring remote workforce will be the more cost-efficient way for this scenario unless and until the scope of the project is too big.
Developing only one end of web app
While hiring web developers for building just one end of web app it is preferable that you hire either a full stack web developer or a highly experienced web developer because there are problems and rework that occurs due to miscommunication between development teams working on different ends of a web app.
Developing extra features for running web app
While expanding the functionalities the app doesn't require full-time salaried web developers. These features can be built in a smaller time span so the cost-efficient way is to hire a remote workforce for this task. Make sure the hired web developers have a good experience because they have to work with someone else's written code so that time taken to get acquainted with the previously written code is less.
For this scenario it is recommended that you go to the same web developer for debugging the code because they know about each and every component, they have built therefore the bug can be fixed in no time. In case that developer is unavailable or unable to fix the bug only then you should approach remote web developers.
Read: Useful things to consider when hiring a web application developer
Web developers cost
Web developers cost on hiring from agencies
Web developers cost on hiring from agencies varies from company to company but most likely these web developers are a lot cheaper than freelancing platforms and them more skilled because they are full-time employees of that software development company. You can judge yourself who will be more skilled, a full time working professional or the one who is doing web development on their own will. The other best things about hiring web developers from agencies are you can ask for a replacement if you don't find your web developer good enough for the job and you don't even have to pay the middleman (freelancing platforms). Although web developers cost varies from agency to agency so it is not possible to get the perfect estimation but for a rough idea, I am sharing the data from Decipher Zone Software.

3 to 5-year experienced web developers: 20$ to 25$ per hour


5 to 8-year experienced web developers: 25$ to 35$ per hour 


10+ year experienced web developers: 35$ to 45$ per hour
Read: The process of web application development
Web developers cost on freelancing platforms
There are more than a dozen freelancing platforms where freelancers are being recruited by clients on the hourly and fixed basis but these platforms are expensive for both parties as they have to pay the platform as well. The aggregate cost of Web developers on these platforms are as follows:

3 to 5-year experienced web developers: At least 30$ per hour


5 to 8-year experienced web developers: At least 50$ per hour


10+ year experienced web developers: At least 70$ per hour
Read: How to Hire a Web Application Developer?
Posted by
Mahipal Nehra
|
Posted at 17 Apr, 2019
Web