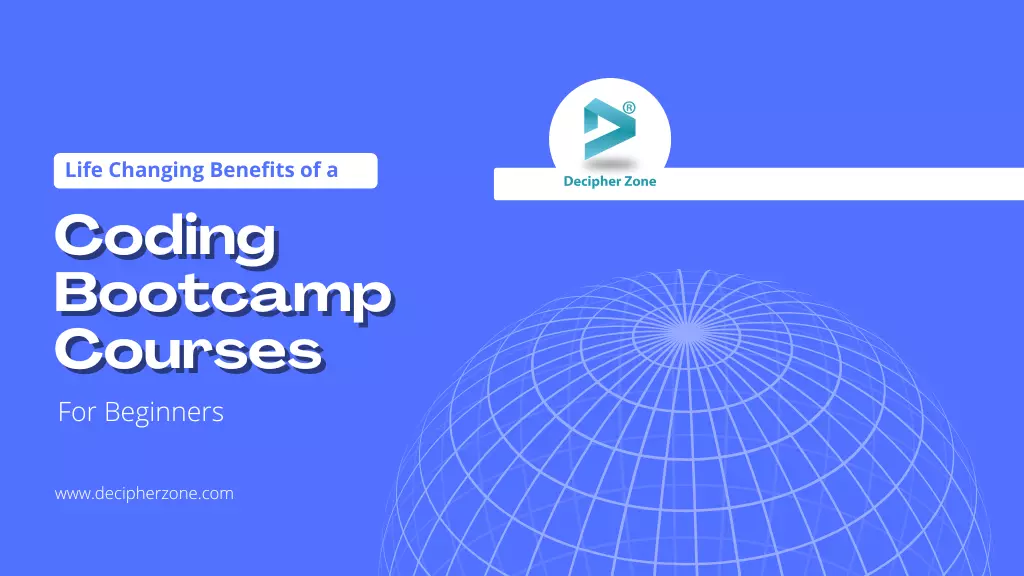 Life-Changing Benefits of a Coding Bootcamp Courses for Beginners
As the tech industry grows, the demand for coders and developers is increasing rapidly. But becoming a successful developer is easier said than done — it takes hard work and dedication.
That's why many people are taking coding bootcamp courses to help them get the skills they need to become professional coders or develop applications.
Whether you plan to upskill or add a new skill to your repertoire, coding knowledge is as crucial as ever.
But how do you learn coding without the benefit of going to college or university? This is where coding boot camp comes in.
What Are Coding Bootcamps?
Coding boot camps are intensive and comprehensive courses that teach students the basics of programming and coding from scratch, with very little prior knowledge required.
In these boot camps, you'll learn everything you need to know, from Python, SQL, JavaScript, HTML, and CSS to mobile development.
Read: How to Learn Coding
Students can expect a full-time educational experience with hands-on exercises and projects at boot camp courses.
These courses often last anywhere from 6 weeks to 12 months, depending on the structure and level of difficulty.
Read: Software Design Process and Tools
Here are just some of the benefits you can expect when you take these courses:
Fast-Track Your Career
These coding courses will give you an edge over other applicants when applying for jobs in tech because these courses provide more focused training than traditional computer science degrees.
Read: Secure Coding Best Practices Every Developer
You'll also gain a lot of hands-on experience while working on projects throughout your system, so by the end, you'll have a portfolio of work to showcase.
Cost-Effective
Coding boot camps are an affordable way to gain computer programming and coding skills without spending time and money on college or university.
Read: Financial Software Development Cost
Plus, many programs offer payment plans to spread the cost of learning over a few months.
Flexible Learning
One of the best things about coding boot camps is that they provide flexible learning opportunities for students.
Read: Educational Software Solutions Development
You can participate in online classes or attend physical events depending on your schedule and preference.
Comprehensive Curriculum
Boot camp courses cover a wide range of topics, from web development to machine learning and artificial intelligence, giving you a comprehensive education in tech.
Networking Opportunities
Coding boot camps also offer networking opportunities for students to meet and connect with fellow coders and developers in the industry, enhance their skills and gain insights into the latest developments in tech.
Why Are Coders In-Demand Right Now?
Coders have been in high demand since the pandemic began, as businesses have had to move online rapidly.
Companies need coders and developers to build and maintain their websites, applications, and software systems to remain competitive in this digital age.
Read: Top 5 Programming Languages, Tools & Technologies
Coders are responsible for the following:
Gathering requirements and designing applications

Developing websites, mobile apps, and software systems

Testing and debugging code

Deploying applications in a production environment

Maintaining existing applications and systems

Working with databases, operating systems, scripting languages, etc.
Who Can Benefit From Coding Bootcamps?
Virtually anyone can benefit from coding boot camps, whether you're a student looking to gain new skills or an experienced professional wanting to upskill.
At the end of your boot camp course, you can develop web and mobile applications, build software systems and troubleshoot errors.
You'll also have gained an invaluable network of professionals in the technology industry and have the confidence to pursue a tech career.
What To Look For In A Coding Course To Ensure Quality
When you're choosing the right coding boot camp, look for courses that offer:
A comprehensive curriculum covering topics like programming languages, software development, and design principles

Experienced instructors with a proven track record in the technology industry

Real projects to help students gain hands-on experience

Networking events for students to connect with professionals in the tech industry

Job placement assistance after graduation
Although plenty of courses offer coding boot camp training, it's essential to do your research and find the one that best fits your needs.
Is Coding For Beginners?
Dipping your toe into coding can be intimidating, but there are many ways to make learning code more accessible.
Many coding boot camps offer introductory courses for beginners so you can get a feel for coding and decide if it's the right path for you.
As more and more businesses transition to digital platforms, coders have become invaluable members of any tech team.
If you're looking to upskill or jumpstart a career in technology, coding boot camps are an excellent way to kick-start your journey.
Technology will continue to shape the future, and coding boot camps can help you become an integral part of this movement.
Coding boot camps are the perfect way to start if you want a steady stream of exciting and challenging work.
Final Words
Coding courses are designed to prepare you for the ever-changing world of technology and equip you with the skills to become a successful coder.
From creating secure applications to building websites, these courses can help you develop the necessary skills to pursue a career in tech.
If you want to become an expert at coding and network with like-minded professionals in the industry, consider enrolling in a coding boot camp today.
Posted by
Mahipal Nehra
|
Posted at 11 May, 2023
Web