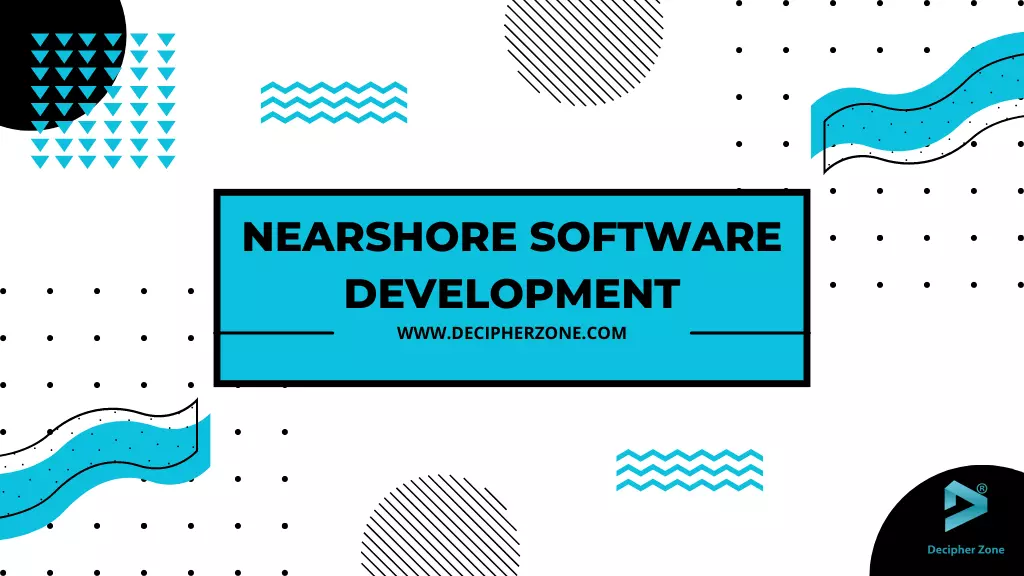 Nearshore Software Development: Advantages and Disadvantages
Nearshore Software Development: Advantages and Disadvantages (Pros and Cons). With digital transformation, the success of an organization has become dependent on the development of interactive, creative, and easy-to-use software applications.
And instead of hiring full-time developers that cost an arm and a leg, businesses are now more interested in outsourcing software development companies as they are highly cost-effective.
According to Mordor Intelligence, the IT outsourcing market size is anticipated to grow at a CAGR of 3.69% between 2023 to 2028 and reach a whopping $701.88 billion during the forecasted period.
In this blog, we will dive into what nearshore software development is, the types of outsourcing, the advantages and disadvantages of nearshoring, and more.
Nearshore Software Development - An Overview
Nearshore software development or nearshore outsourcing refers to recruiting developers from neighboring countries for software development projects within the same or similar time zone. The time difference between you and the outsourcing service provider should be one to three hours so that you can get better communication and responsiveness for a successful project.
Read: Nearshore Outsourcing in Software Development
Nearshore outsourcing usually minimizes the development cost without impacting the quality of software products. Even if a client is experiencing a talent shortage in their country, it becomes easier for them to look beyond borders and outsource developers.
Read: Global Business Management Software Development
It is an ideal way to hire talent that works using Agile methodologies and deliver your desired software result.
Read: Embedded Software Development Cost, Types and Benefits
This brings us to our next point…
Software Development: Types of Outsourcing
There are three types of outsourcing that companies can go for:
Onshore
Onshore development describes the process of hiring developers within the same country or region where your company resides. It is usually more expensive than offshore and nearshore outsourcing. Onshore can suit your business if you need in-person collaboration or require in-person development such as smart machines or IoT sensors.
Offshore
When you outsource a software development company from different countries like India, Ukraine, Argentina, etc. to handle project development for your business, it is called offshore outsourcing. Compared to other options, it is the most cost-effective. Although you will have to deal with time zone differences, you can always mitigate this issue by having an offshore team that can work night shifts.
Nearshore
Nearshore outsourcing model is the one where you hire development teams located nearby your country with little to no time difference. The alignment of time zones and cultural similarities makes it easier to communicate and collaborate with the nearshore team.
Read: Top 10 Software Development Trends
Advantages of Nearshore Software Development
Some of the advantages that come with nearshore software development are as follows:
Relationship Building
Having an efficient working relationship with the project handlers and the service-providing company is an important aspect of outsourcing. Building relationships with the involved development team will create a healthy working environment as well as keep the development process as smooth as possible.
Using nearshoring allows both parties to learn about their unique identities while allowing them to feel comfortable with cultural differences. Not only that but nearshoring also removes the language barrier that makes communication and relationship-building much easier for both parties.
Cost-Effectiveness
It's no secret that in comparison to hiring full-time employees or opting for onshore software development, nearshore can be highly cost-effective for a business. It is so because you don't have to pay wages, rent an office, or provide hardware and software to the developers.
Also, as most outsourcing countries are developing, the pricing is significantly lower than those in developed countries.
Compliance with Similar Laws
When you develop a software application, it becomes essential to comply with a few regulations such as General Data Protection Regulation (GDPR), Payment Card Industry Data Security Standard (PCI DSS), California Consumer Privacy Act (CCPA), Health Insurance Portability and Accountability Act (HIPAA), etc.
So, before you hire any nearshore development team, make sure that they know about the regulations defined by your targeted market regions and how to follow them.
Minor Time Zone Differences
One of the major benefits that come with nearshore software development is the minimal time difference between your country and the one you are outsourcing, allowing you to easily hold online conferences, have a discussion, and easily collaborate with them.
Experienced Team
With nearshore development, you get access to a larger and more experienced talent pool. That means you won't have to worry about spending weeks looking for qualified talents, rather you can easily outsource a nearshore software development company with experienced developers instantly.
Read: Building a Successful Career in Software Development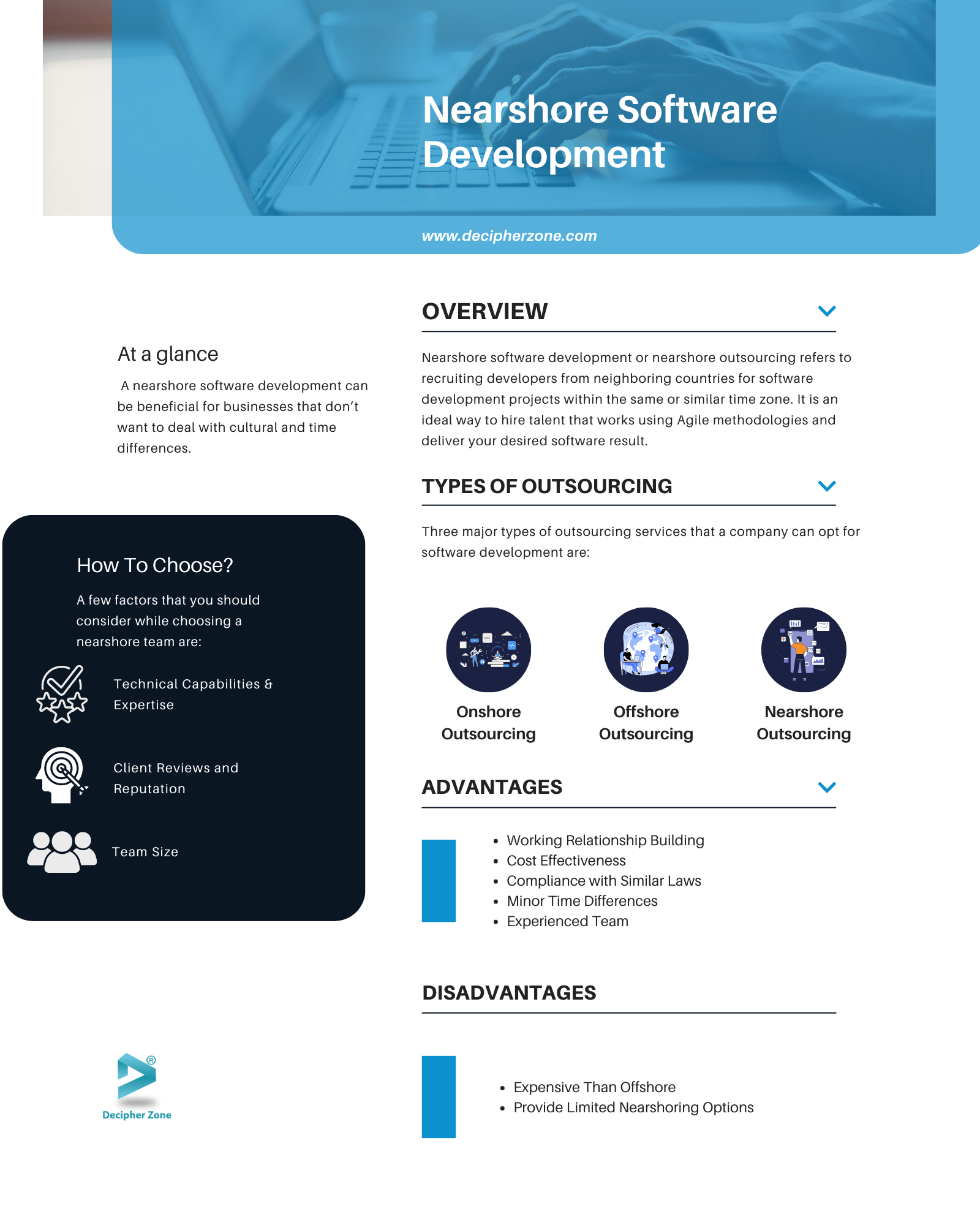 Disadvantages of Nearshore Software Development
Some of the disadvantages that come with nearshore software development are as follows
Expensive than Offshore: Although nearshore is cheaper than in-house development teams and onshore outsourcing, it is still more expensive than offshoring.

Limited Options: Nearshoring does not offer as many options as offshoring, which means you have limited options to choose from.
Read: What are the Benefits of POS Software Development
How to Choose the Right Nearshore Software Development Company
Outsourcing a nearshore software development company is going to be tricky, especially when your project requires a lot of resources. A few factors that you should consider while choosing a nearshore team are:
Technical Capabilities & Expertise
One of the most crucial things you need to consider while nearshoring a software development company is their technical expertise and capabilities. Needless to say, software development is a wide field with lots of programming languages, tools, libraries, and specializations. So, it is important to choose a development team with a proven record of working with the technologies that you want to use in developing your software.
Client Reviews and Reputation
Another factor you should look for is the reputation of the nearshore company. You can check this through the reviews, testimonials, years of expertise, and other accomplishments, etc.
Team Size
If you want to work on a complex, large project, then you must consider the team size of the nearshore company to ensure that the development process runs rapidly and efficiently, increasing the chances of success. While if you want to work on smaller-scale projects, you can easily go for smaller, more agile companies.
Read: How to Choose a Software Development Company
Conclusion
Overall, nearshore software development can be beneficial for businesses that don't want to deal with cultural and time differences. With nearshore outsourcing, companies can easily maintain law compliance, gain access to a larger talent pool, and get their software developed at a lower cost.
And if you too are looking for nearshore development companies who can help you with developing a successful software application, then contact our experts, share your requirements, interview developers, and get a customized quote.
FAQs: Nearshore Software Development
What is nearshore software development?
Nearshore software development or nearshore outsourcing refers to recruiting developers from neighboring countries for software development projects within the same or similar time zone.
What is offshore v/s nearshore software development?
In offshore outsourcing, the software development team is from different countries with different time zones whereas nearshore refers to hiring software development teams from nearby countries with similar time zones.
What is nearshore v/s in-house software development?
In nearshore development, companies outsource software developers from neighboring countries with little to no difference in time zone while in-house software development refers to hiring full-time employees who work within your company.
Posted by
Mahipal Nehra
|
Posted at 23 Aug, 2023
Web