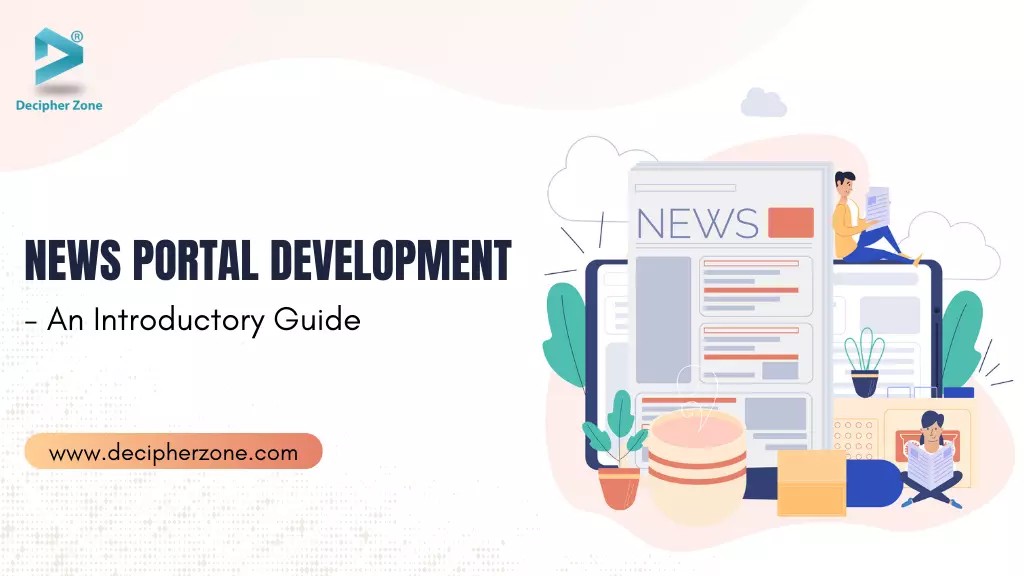 News Portal Development Cost, Features and Benefits
News Portal Development Cost, Features and Benefits. Media is considered to be the fourth pillar of democracy and with the evolving digital landscape of today's world, it is important to blend accordingly to meet the current needs of the people as well as the business. And as the world of media and journalism continues to evolve news portal development has become a critical aspect of digitization.
Whether you are a journalist an aspiring entrepreneur or a startup looking to explore the capabilities of the digital news landscape, then this blog is for you!
Read more: Media and Entertainment Software Development
Here we will be filling you up with an introductory guide on news portal development alongwith the benefits and cost of development, and without any further delay let's get started!
News Portal Development
News portal development is the process of developing applications or websites that help in publishing, managing, and distributing news and the latest happenings around the world to readers worldwide.
In addition, it is also a type of content management system that helps in presenting news articles, videos, images, and other multimedia content.
Read more: Custom CMS Development: Benefits, Features & Cost
Why Develop A News Portal for Your Business?
News portal development not only is a digital medium to deliver news but also helps streamline workflows with automation alongside catering to a myriad of advantages to a business. Some of the reasons why you should consider developing a news portal for your business are as follows -
Brand Authority and Credibility

Competetive Advantage

Content Marketing

Engage with Customers

Global Reach

Increased Traffic

Revenue Generation
Read more: Political Application Development: Benefits, Features and Cost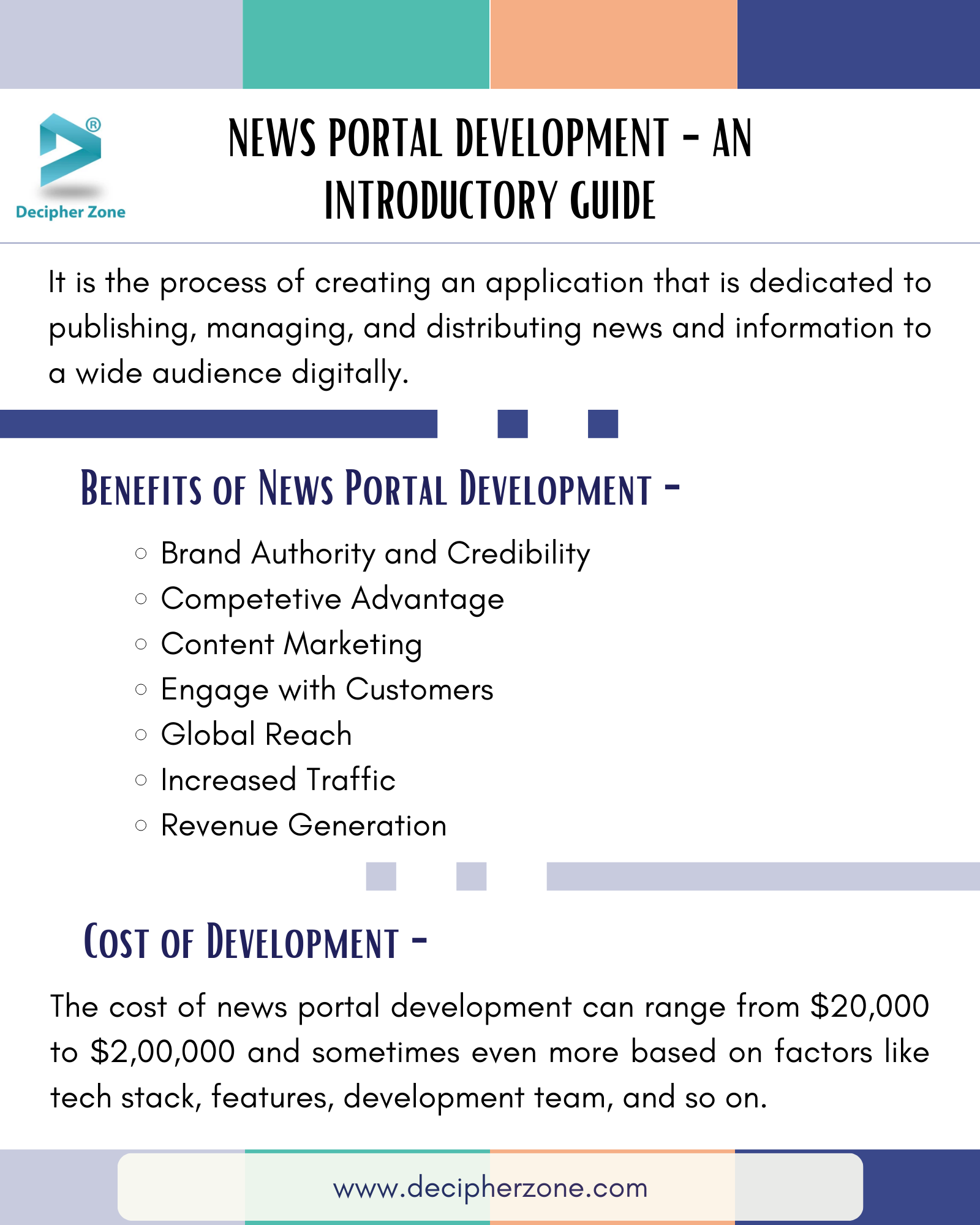 Brand Authority and Credibility - The first and foremost reason to consider news portal development for your business is that it helps you trust and credibility with your customers by providing them with valuable and up-to-date information alongside helping you create your own identity in the marketplace.
Competitive Advantage - It helps you gain a competitive edge in the marketplace by catering to the market trends and consumer demands without any biased opinion, which in turn can also be your USP in the market.
Content Marketing - It also helps you with a platform where you can create and share high-quality content for your business alongside bringing in content marketing opportunities for your business, which leads to increased brand awareness alongside attracting and engaging your target audience with ease.
Engage with Customers - News portal development incorporates several features that help you engage with your customers easily like the comment sections, feedback forms, and social media sharing options, which in turn helps in building a strong community for your brand alongside increasing the user retention rate.
Read more: Social Media Application Development
Global Reach - It also enables you to target the potential audience from around the world thus allowing you to expand your reach and connect with customers and partners making it a global brand.
Increased Traffic - As, it is a type of CMS and also helps you with content marketing, another reason why you should consider news portal development is that it helps you with increased traffic on your app/website by optimizing the application according to the SEO guidelines which in turn facilitates with increased visibility and traffic.
Revenue Generation - Another benefit is that it brings in additional revenue generation opportunities for your business by enabling you to monetize your application through subscriptions, premium content, exclusive access to certain features, and many more.
Read more: Top Mobile App Monetization Strategies to Consider
Now that you know some of the important benefits of news portal development, you should also learn about the drawbacks and challenges associated with it, which will help you devise a strategy accordingly to eliminate all the cons and develop a future-proof, scalable, and high-performing application.
How much does it Cost to develop a News Portal Application?
The cost of news portal development can range from $20,000 to $2,00,000 and sometimes even more based on several factors, among which some of them are -
The type of app that you want to develop i.e. whether a mobile app (Android, iOS, or both), a website, or a web app development.

The domain and hosting charges.

The logo and UI/UX Design of the news portal development, where integrating animations and high-quality graphics might also increase the cost of development.

The total number of features alongside the complexity of integrating them into the application alongwith API development as per the needs might also add up to the cost.

The total number of developers working on the project like the frontend and backend team, project managers, quality assurance engineers, and other professionals.

The experience and expertise of the software development team alongwith their location and per-hour charges. For example, developing an app in the USA might be costlier as compared to an application developed in India since the hourly charges are less compared to the USA.

The technology stack, development model, and approach that you choose for your news portal development, along with the set of programming languages, frameworks, plugins, and other tools and libraries. (Note that using advanced technologies like Artificial Intelligence, Machine learning, IoT, etc might require experienced professionals which might also lead to an increased cost).

Security implementations like firewalls, multiple authentication methods, biometrics, etc., and third-party integrations like integrating multiple payment gateways, and others alongwith their licensing fees is other important factor that influences the cost of news portal development.

Testing and quality assurance alongwith post-launch maintenance and support.
Read more: How Much Does It Cost to Develop a Web Application
Wrapping It Up
News portal development has been an important factor that has not only helped businesses with digitization but has also let users access the latest happenings from around the world anytime and anywhere.
So if you are interested in developing one such application for your business then now is the time!
Connect with us, or hire a developer and get the best solutions developed for your business to avail of all the advantages, and scale your business to new heights at market-friendly prices.
FAQs about News Portal Development
What are the key features to integrate in a news portal development?
The key features to integrate into a news portal are Content Management, Multi-language Support, Comment and Discussion System, Social Media Integration, RSS Feeds, Polls and Surveys, Live News Updates, and many more.
How much time does it take to develop a news portal?
Developing a news portal can take up to 4 to 6 months and sometimes even more based on several factors like the total number of developers working on the project, the features and design complexity, budget, and many more.
How can I monetize my news portal website?
Some of the ways to monetize a news portal website are Advertising (like Google Ads and Banner ads), Subscription models, Affiliate marketing, Selling merchandise, and many more.
Posted by
Mahipal Nehra
|
Posted at 20 Oct, 2023
Web