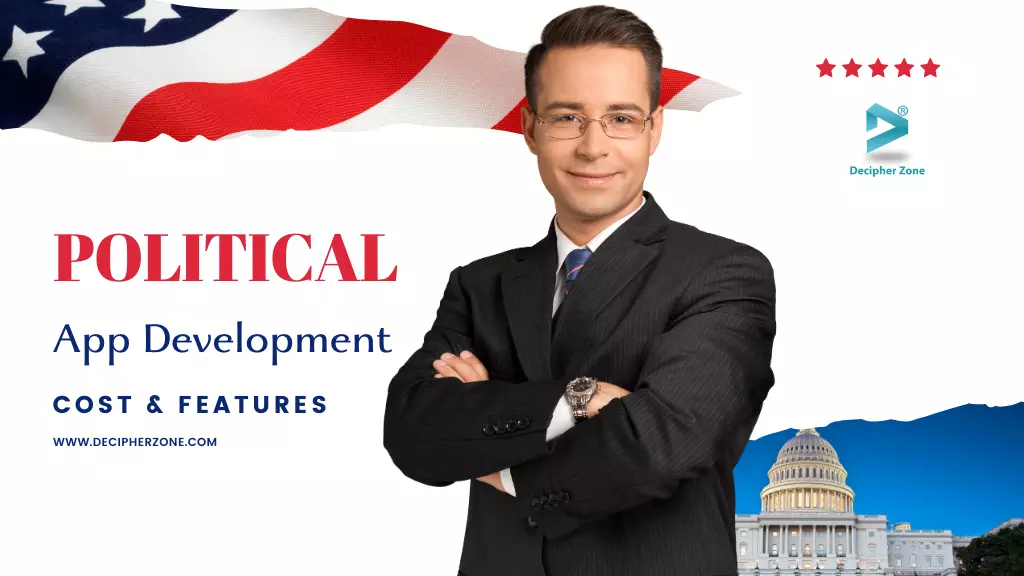 Political Application Development: Benefits, Features and Cost
Political App Development: Benefits, Features and Cost. Mobile apps have taken the world by storm. From smart homes to self-driving cars or healthcare to manufacturing, mobile apps are the go-to options for anything and everything. Now, mobile apps have made their way into the political world.
With the continuous growth and reliance on technology, it has become important to develop political apps if you want to increase political engagement for a thriving democracy. But what is political software and how is it going to benefit a political party?
In this blog, we will cover everything that you should know about political apps. So, let's begin!
What is a Political Application?
A political mobile app is a software application designed and developed to connect users with political participants. It also provides politics and government-related information and tools to the user, allowing them to access and engage in political activities. Political apps aim to raise awareness, streamline communication, and encourage civic engagement.
Read: Transportation and Logistics Software Development
Politics advocacy groups, candidates, and parties can use this platform to connect with followers through live streaming, newsfeeds, fundraising, voter registration, etc. Political apps can also offer interactive elements like polls, surveys, and quizzes for gathering feedback.
Read: Embedded Software Development
Benefits of Political App Development
Some of the benefits that come with investing in the political app are as follows:
Fundraising

Spreading Awareness

Social Media Collaboration

Gathering Feedback
Fundraising: Raising funds becomes a lot easier through the political app. It provides a great way to raise funds for charities or to support people suffering from natural disasters.
Spreading Awareness: Political app also helps politicians or government officials to share their plans, objectives, thoughts, procedures, etc. with supporters and audiences instantly.
Social Media Collaboration: It is one of the best features of a political app as it helps politicians to share news or information on different social media platforms easily and create a genuine, engaged community.
Gathering Feedback: It is well known that politicians often use opinion polls and surveys to test the muddy waters of hotly contested elections. To learn attitudes and views about critical problems and political issues, they must conduct polls. By using this application, they can improve the effectiveness of agendas by correcting and shaping them.
Read: CAD Software Development
Features to Integrate into Political App Development
Before developing a political app, you need to know about the key features to integrate into the software application. Some of the must-have features for political apps are:
Content Management

Reporting & Analytics

Security

Personalized News Feed

Voter Registration

Events

Real-Time Updates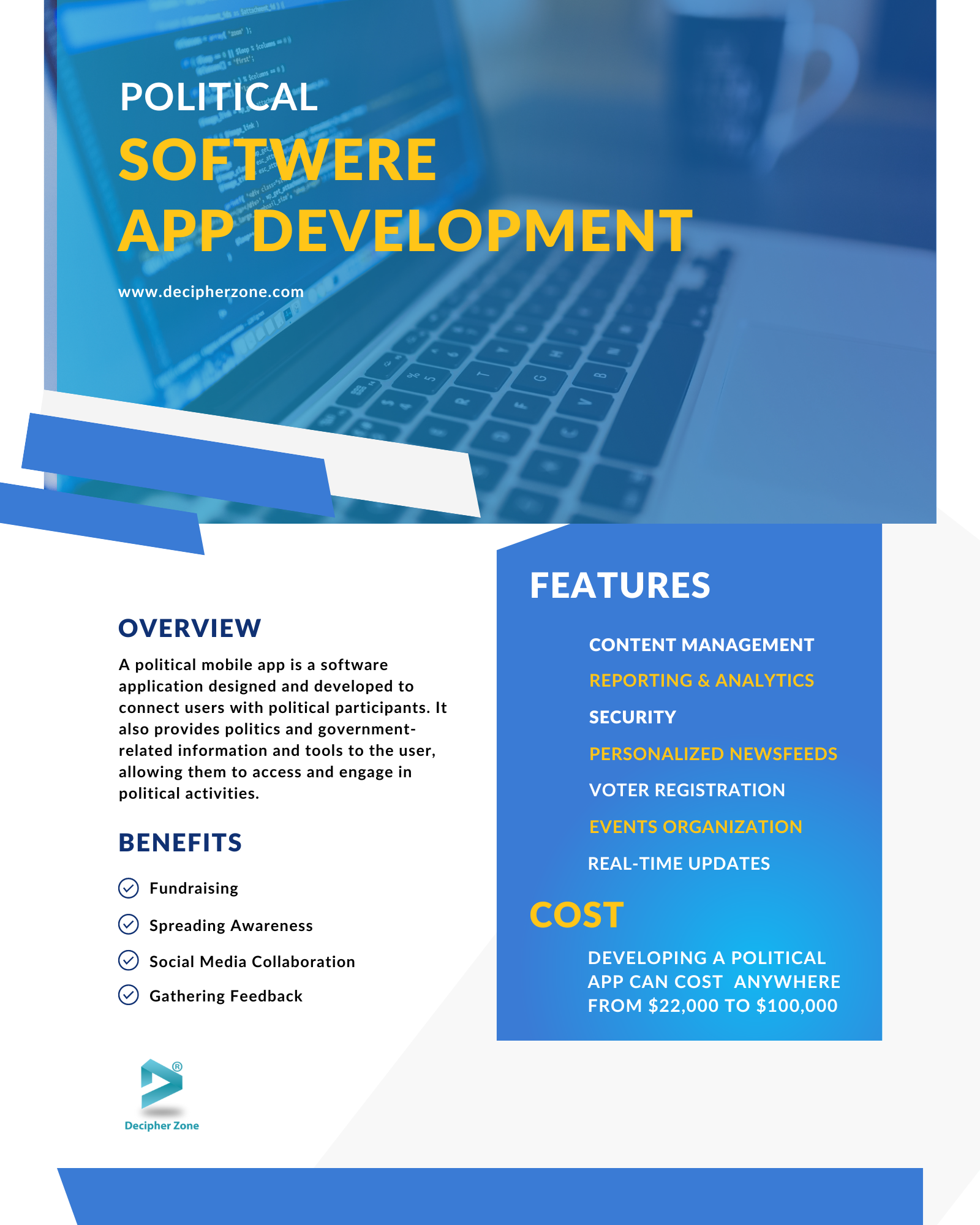 Content Management: The admin should have the content management feature in the app that helps them add, edit, remove, and manage content available on the political app.
Reporting & Analytics: Another useful feature one can integrate into the political app is reporting and analytics. This feature helps administrators analyze and report how often and by how many users the software was used.
Security: Encryption and security is yet another essential part of political software. Therefore, the app should provide two-step authentication, encryption, and password management to the user.
Personalized News Feed: Most of us are full-time employees and don't get the time to watch political updates. To solve this issue, the app should have a personalized news feed feature that keeps users in the loop about the most recent and trending political happening based on their preferences.
Voter Registration: It is one of the important features of political software that you cannot do without. The voter registration feature in the political app allows voters to easily register or change their voting information.
Events: Users of the political software might also know about ongoing and upcoming political events such as debates, hall meetings, and rallies by viewing them on RSVPs.
Real-Time Updates: One of the key features of the political app is its ability to update day-to-day content by maintaining a constant awareness of what is going on in your political parties. This feature helps users stay up-to-date on political events in real-time.
Needless to say, the best way to engage your customers is to gather every piece of news and insight information. Therefore, adding a real-time update feature can be highly beneficial for both users and political parties.
Read: Document Management System Development
How to Build a Political Application?
Developing a political app without proper planning can be disastrous as both you and the development team are bound to get stuck somewhere. To help you develop a successful political app, we have listed the right steps that you need to follow.
First and foremost, you need to define the purpose and goals of the app by defining what problems it is going to solve - will it be a tool for advocacy, voting information, or news aggregation? Defining the objective of the app will help in its development.

Next, you need to conduct market research to understand the audience preferences that will help in enhancing the app and remain ahead of the competition.

Now comes the most important part of political app development - hiring developers. You need to outsource the development team from the company with years of experience and expertise so that they can bring your idea to life with ease.

Before getting started with the app development, create a wireframe to determine its functionality and design.

Finally, all that's left to do is develop a prototype, build the app, test for quality assurance, and launch the political app in the market.
Read: Global Business Management Software Development
Cost of Developing a Political Application
Developing a political application can cost you anywhere from $22,000 to $100,000 depending on the application type, size, technology used, complexity, UI/UX design, experience of the development team, hourly rate, and more.
Read: Expense Management Software Development Cost
So, if you want to get an accurate quote for developing a political application, then get in touch with our experts, share your requirements, and plan on hiring developers now!
FAQs: Political Application Development
What are political apps?
A political mobile app is a software application designed and developed to connect users with political participants.
How much does it cost to develop political software?
It can cost anywhere from $22,000 to $100,000 to develop political software applications.
What are the benefits of political software?
Political software can help you with Fundraising, Spreading Awareness, Social Media Collaboration, Gathering Feedback, and Client Engagement.
Posted by
Mahipal Nehra
|
Posted at 08 Aug, 2023
Web