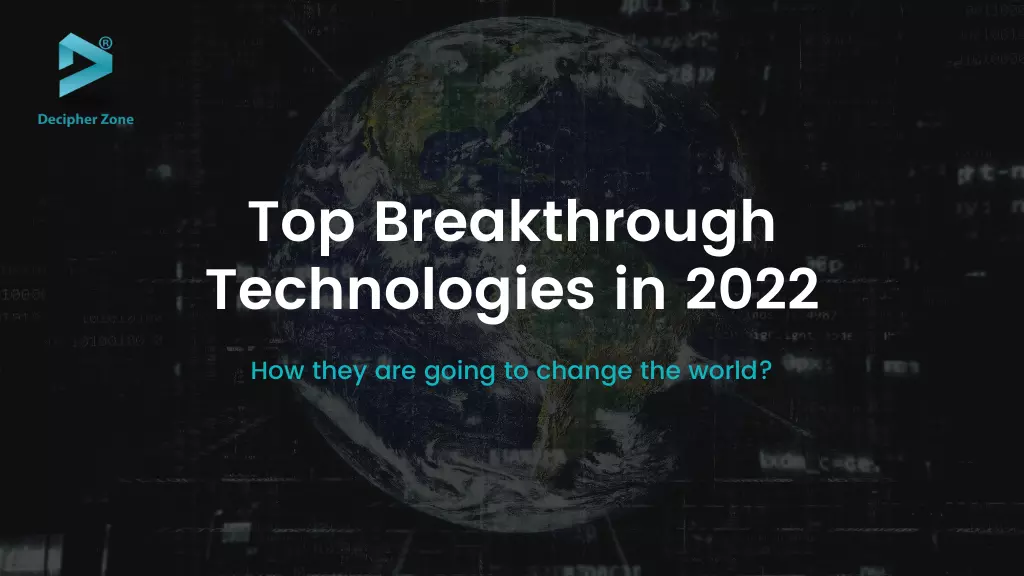 Top Breakthrough Technologies for 2022
No matter what business domain you operate in, 2021 has been a radical year for everyone alike. While some businesses saw early demise, others innovated their paths ahead and came out resilient and stronger than before. But that is not the exciting part yet.
The million-dollar question here is what did these companies do differently that made them champions of the covid-19 pandemic? The answer lies closer than you think. Technological innovation is a critical factor in putting these companies on the A-list of their respective business ecosystem.
The best part?
You can do the same to leverage your business's sustainability and growth. But what exactly are these technologies?
This blog post demystifies the top technologies you can't miss to watch out for 2022.
Top 5 Technologies that will continue to dominate 2022
While 2021 boosted technological revolutions at scale, not every technology could support the same level of agility and innovation in the business ecosystem as needed. While some of them exceeded expectations, others performed just adequately.
This makes technology adoption decision-making critical. Without understanding your business's unique needs, leveraging the best technology for your benefit would be a mission impossible. But fret not.
You have help.
The following section gives you an insider peek into the top technological trends so that you can make a confident decision for the year 2022.
1. Digital acceleration
In times when work-from-home is the new normal, digital acceleration is one trend that will continue to show unprecedented growth in the year ahead as well.
Finding its roots in the disruptive year of 2021, businesses across verticals would feel the need to create a parallel virtual ecosystem to connect with their stakeholders.
No matter who your target audience is, whether it is your end-users, employees, collaborators, or investors, simulating the offline experience would be a critical need. Optimizing your marketing strategy would be a good start.
Irrespective of what your goal is, deliver a comprehensive brand experience to your end customers or create an engaging virtual office culture where your remote team is as productive as the local team.
How can you do that?
In an attention economy where every second of your customer's attention is priceless, you cannot afford to rely on a single channel to communicate with your customers. You need to embrace the omnichannel approach and simulate the in-store experience online through content personalization.
Use transcription services
Productive meetings are one of the key elements of successful teamwork.
But here's the thing. While taking the key takeaways of the meeting is critical, more than often it takes away your focus. What follows is redundant engagement.
Here's what you can do. Record your meeting sessions while you conduct them. With Happy Scribe's transcription services you can easily convert the audio into written text to extract the minutes of the meeting.

The future of business technology is heavily dependent on automation.
From automated email campaigns, sales processes, workflow automation to AI-enabled data processing, a lot of the heavy lifting will be done by the machines.
What follows is more room for creative energy and work. Here are two powerful tools that you can consider using today.
Be it creating a drip sequence for your customer base or a personalized sales offer Convertkit does it all. Its automation-focused features allow you to segment your customer base based on historical data and create an immersive experience for your customers.
If there is one tool that you should consider integrating into your work systems on day one, it should be Zapier. It not only creates a smoother workflow in your entire system but makes room for the work that truly matters.
At one end where the Covid-19 has disrupted human lives like never before on the other, it has fostered a culture of decentralized data and technology economy.
Be it cloud storage infrastructure, skilled consultants, or business assets, almost everything is available as a service. This cost-effective yet scalable solution has let businesses innovate their way up, cutting down on the risks heavily. Here are a few services to watch out for.
Templates are one of the most efficient ways to scale and grow a business. But what if you could create customized templates without building them from scratch. 123formbuilder lets you do just that. Boasting a massive template library to choose from, this tool supports your business operations like no other. If you want to learn more about how you can create custom order forms for your business, visit their website.
When it comes to setting up your virtual headquarters, look no further than Google Workspace. Integrating the best of the Google office suite brings you a cluster of productivity tools that can make your cloud team management and work a breeze. The best part? It is cost-effective.
4. Cryptocurrency revolution

Although cryptocurrency and blockchain have been around for some time now, it is the year 2021 that has fueled its flames to catch the fire.
Today, blockchain is not only revolutionizing the financial industries but is successfully transforming healthcare, securities, education, and beyond. But it still has a long way to go before it reaches a mature state.
5. Cyber security tech

With the world slowly migrating to the virtual ecosystem, cyber threats and malpractices have reached their peak simultaneously.
From glitches in your network grids to spam messages threatening your emails your online presence is threatened by hackers all the time. This has touched newer heights with remote employees trying to access company infrastructure. No wonder why so many budding cyber security tech startups emerged during the past year.
The exciting part? They do not show any signs of stopping any time soon. Here are a few tools that help you keep your infrastructure safer.
When it comes to network security, Wireshark is a beast. This console-based password auditing tool can validate the authenticity of your network and system in real-time.
This is one of the best penetration testing tools to detect vulnerability points in systems and networks. The best part is that users can execute it with a single point click.
Conclusion
If there is one big takeaway that the pandemic gave the global workforce in 2021, it is the need to build agile ecosystems.

Keeping up with the latest technological trends is no doubt one key strategy to do so. Yet, here is a word of caution.

Technology is very dynamic. While it can play a significant role in your business growth, you cannot say the same for sustainability.

If your business strategies are solely based on technology, it is designed to struggle. This makes your mindset towards technology critical.

The optimal way to look at technological breakthroughs is as a vehicle that helps to turn your revolutionary ideas into reality.
Posted by
Mahipal Nehra
|
Posted at 20 Dec, 2021
Web