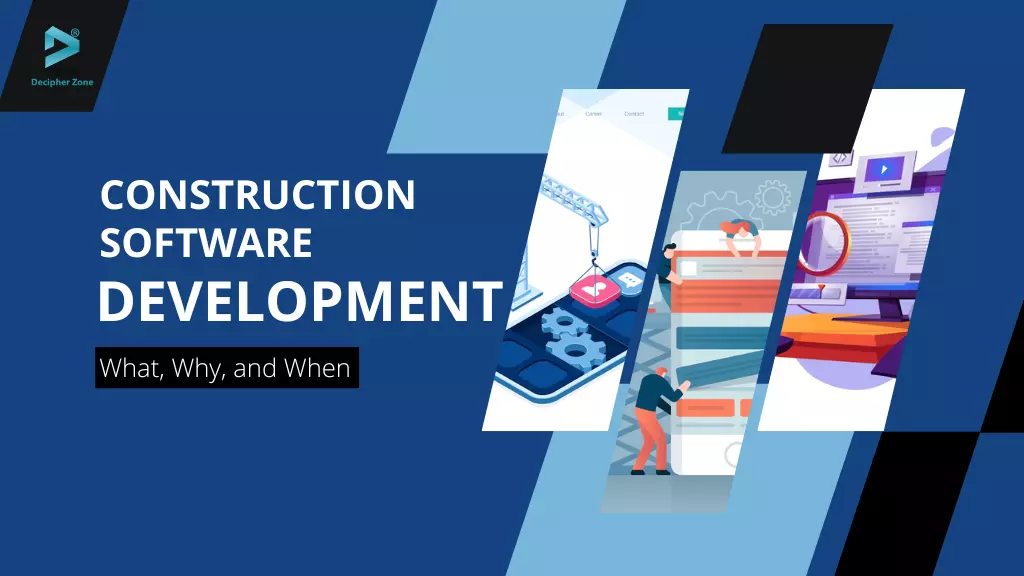 Construction Management Software Development
Construction Management Software Development. With digital transformation, we witness innovations and technological expansions in every industry. The construction industry is no exception.
For years, construction teams have been using tools and apps to facilitate different project stages such as designing, pre-constructing, and operations. However, the complexity of projects has increased and created pressure on construction companies to improve productivity and profitability.
Read: Benefits of Property Management Software
While construction software is not new, the need for robust and modern construction project management software has grown over the years.
If you too are a construction business owner who wants to enhance your productivity, then this blog is for you.
Today, we are going to share everything you need to know about construction management software along with its development costs.
Without further ado, let's get started!
What is Construction Management Software?
Construction management software is the parent software category that includes multiple solutions to help businesses efficiently manage construction resources, projects, and customers. It also helps in handling documentation, decision-making, resource allocation, task scheduling, report monitoring, request for information (RFIs), market analytics, project collaboration, and much more.
Read: How to Develop Restaurant Management System
Contractors, building owners, renovators, companies, architects, or managers can track the progress of the projects, detect any underlying issues, and mitigate risks. What makes construction management software high in demand is its ability to keep all the important tasks and information in one place. Construction management software aims to streamline activities for faster project completion and delivery.
Why Use Construction Management Software?
Before you decide to invest in Construction Management Software Development, it is crucial to understand why you must use it in the first place.
Real-time Communication and Collaboration
Overcoming common communication barriers is essential for all projects if a business wants to improve operational planning and coordination. Construction management software gives a common point of interaction to manage projects and have real-time communication with contractors, clients, project managers, or consultants, regardless of the city or country in which the team members work.
To develop a project, construction companies use multiple resources that often arrive from different sources around the world. Using construction management software, one can utilize resources to the best of their potential. Both the team members and contractors remain updated about the ongoing task and equipment being used as the available resources get updated on the software to be assigned for the next process.
Document sharing and control
Undoubtedly, documentation is another crucial aspect of the construction industry. Another benefit that one can gain from using construction management software is it will become a base for all the documentation, such as title deeds, detailed site plans, tax receipts, bills of materials, work orders, contractual agreements, certifications, and licenses, for quick access.
Budget management and accounting
Budgeting is one of the top priorities for any construction firm. An inaccurate budget estimation can lead to the incompleteness of the project, making it essential to carefully examine your budget planning for risks, communicate objectives, estimate material, and labor costs, etc. that helps in minimizing the costs while increasing the ROI of the project.
Read: How Much Does It Cost To Develop A Real Estate App
With Construction Management Software, you get the capability to automate the estimation of material and labor costs and collect and analyze previous profit and loss ratios, bids, and project costs that help in improving the budget management for the new ones. Not only that, but it also offers a better understanding of potential risks (like change requests, workloads, etc.) that can affect the project estimation.
By streamlining numerous tasks and processes, construction management software reduces human errors and missing information that helps teams to complete their process operations fastly and accurately. This also helps stakeholders to invest their efforts in other profit-generating activities.
Making informed and strategic decisions is easier when you have a robust construction management solution as it will give you all the information you need, regardless of whether you are making high-level or strategic decisions on a specific project.
Should You Choose Off-the-Shelf Construction Software?
With so many off-the-shelf construction management solutions in the market, it becomes confusing to choose the one that ideally fits your business. Although we don't want to pop your bubble, it is well-known that this off-the-shelf software is not a one-fit-all solution that you can go for.
Read: How to develop a Multi-Vendor Food Delivery System
Of course, there is some popular software including PlanGrid, Procore, etc. that come with their weaknesses and strengths. These products are often inflexible and expensive to maintain and purchase.
Moreover, the uniqueness of your business requires a one-of-a-kind software application that's tailored to match your business requirements. But before you hire a team to develop a cost-effective solution that is customized to your special needs, it is important to know the features that might be useful to add to it.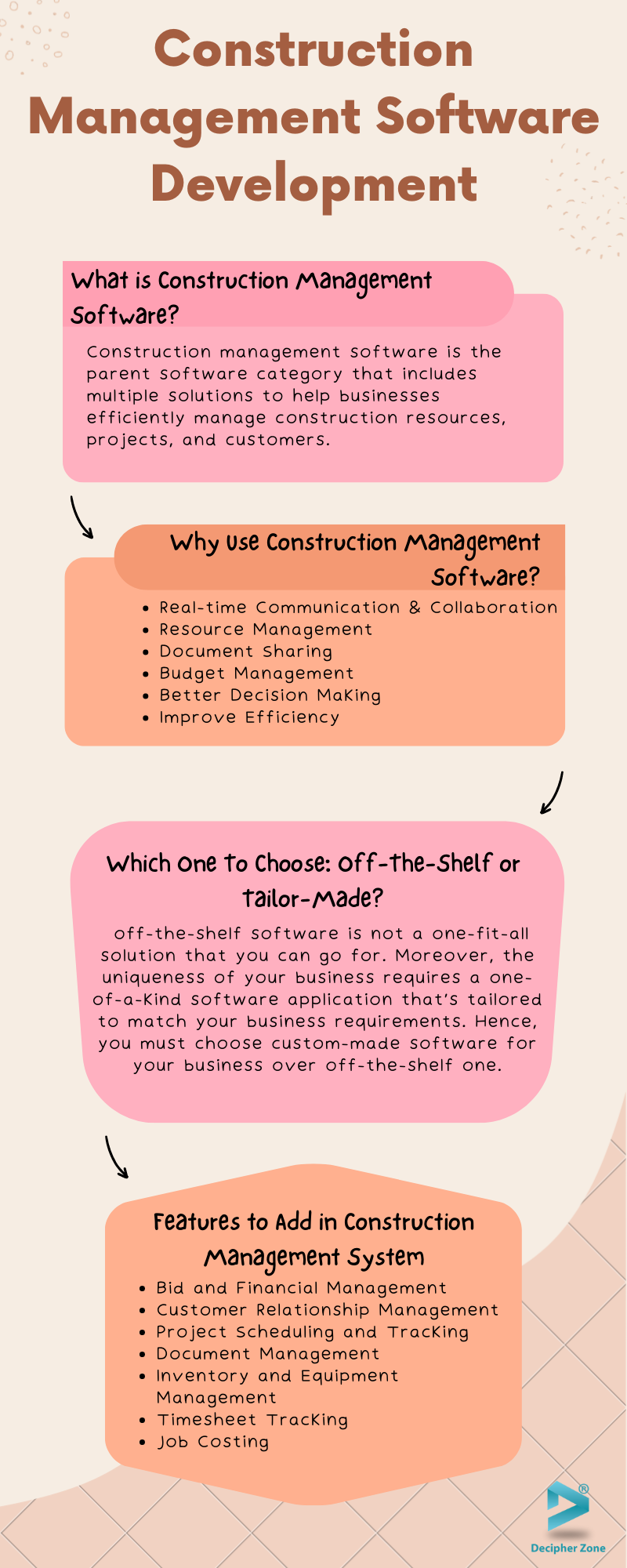 Features To Consider While Developing Construction Management Software
We know how construction management software can enhance the productivity, competitiveness, efficiency, and profitability of the construction industry. And it's no surprise that the features play an important role to achieve the purpose of construction software.
Read: How Much Does It Cost To Build A Hotel Booking Application
So what are the features that you need to implement in your construction management software? Let's find out!
Bid and Financial Management
For most construction professionals, submitting and receiving multiple bids is the initial stage to start working on a project. But, keeping track of each bid and proposal can become a quite daunting task. And to avoid such scenarios, it is important to add a bid management tool in the software that will facilitate detailed bid and proposal reports to boost productivity while saving time.
Read : 7 Essential Techniques To Use To Elevate Your Small Business
Apart from bidding, another task that requires a lot of attention is account management, including tracking invoices, payrolls, project budgets, etc. Tracking all the information manually can lead to miscalculations and errors. Instead, you can add financial or accounting management tools to accurately track financial data that also analyze it for better decision-making.
Keeping a record of every client's information and communication is not an easy task. Even with a skilled team of professionals who can manage the client, including CRM in the software can make the process efficient and easier.
Read: CRM in Real Estate: Cost, Features, and Benefits
A CRM not only makes communication with clients and record-keeping manageable but also automates sending meeting reminders or project updates to meet the client's requirements.
Project Scheduling and Tracking
Managing and planning resources such as materials, labor, and equipment are essential for the success of a project. By adding a project scheduling and tracking feature in the software, it will become easier for project managers to break down the project into more specific tasks while estimating the time that will be spent on completing each of them depending on the resource availability.
Read:Tips for Branding A Software Development Business
Moreover, it also allows managers to set task deadlines and milestones on the dashboard which helps in tracking the weekly or monthly progress of the project.
It helps in recording and centralizing all the information on the project. With the document management feature, you can easily store and access all the documents related to a certain project including contracts, RFPs, taxes, submittals, and more. Integrating CRM and Document management can make the distribution of documents through cloud-based systems easier.
Inventory and Equipment Management
Most construction companies call for thousands of materials that must be accounted for, maintained, and distributed to different locations. If not tracked accurately, you can lose track of vehicles and materials. And if your business has to deal with such issues as well, then implementing inventory and equipment management tools will not only make tracking and distributing inventory easier but will also send reminders when certain equipment is needed at a job site or when they need maintenance.
Integrating the timesheet tracking feature in the software will help in managing and tracking the time employees spend on a project. It offers a historical record of every hour spent by the team member that also creates billable time reports for job-costing reports in the future automatically.
Adding this feature helps contractors in estimating the total cost and expenses as well as creating order purchases to visualize the project budgets.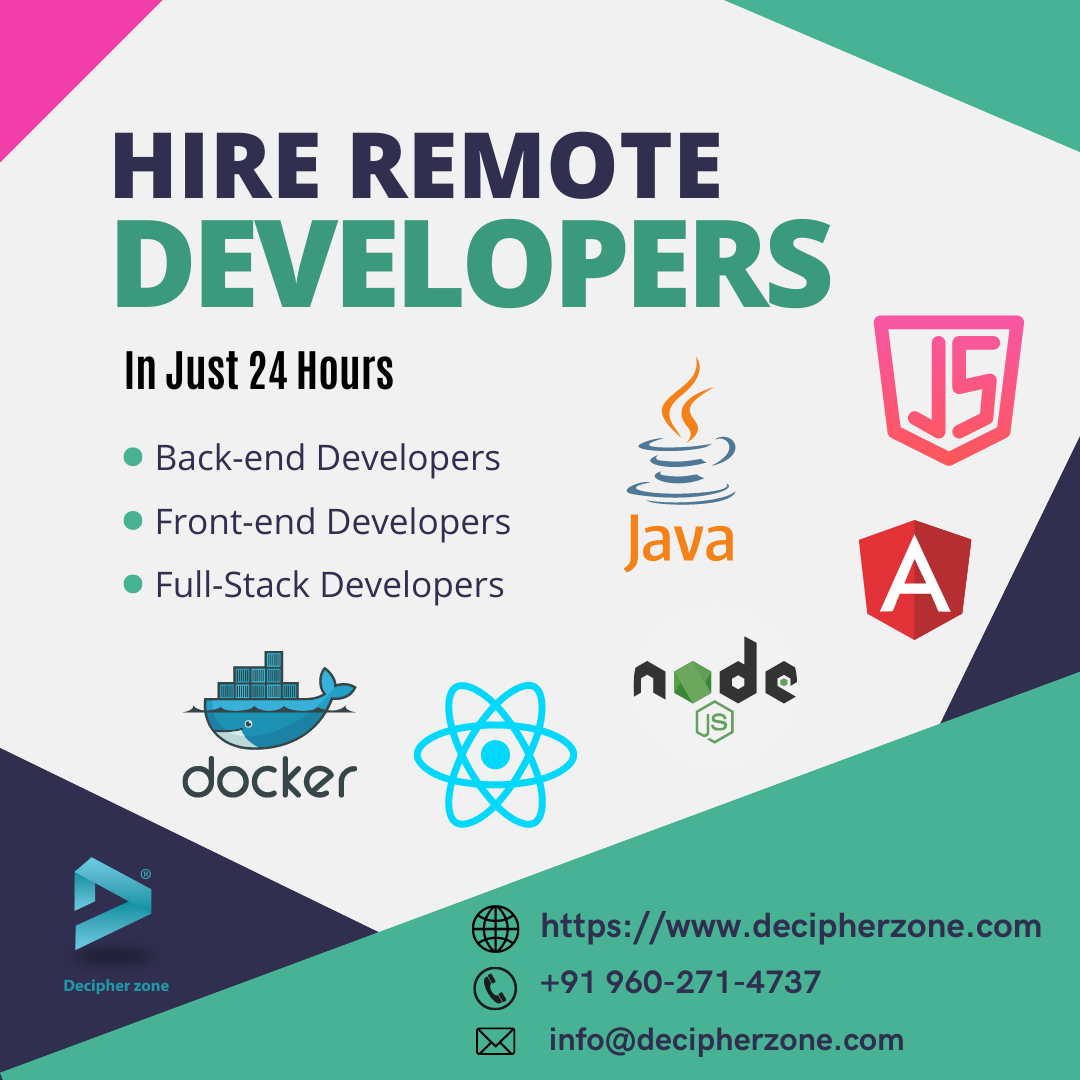 How Can We Help?
With an experienced team of developers and project managers, we at Decipher Zone can help you in developing tailor-made software for your business that meets all the requirements you have.
It will help you in improving your project workflow with better transparency and all the right tools at your disposal. So what are you waiting for? Connect with us today, get a quote based on your requirements, hire developers, and build one-of-a-kind software for your organization NOW!
Posted by
Mahipal Nehra
|
Posted at 22 Nov, 2022
Web