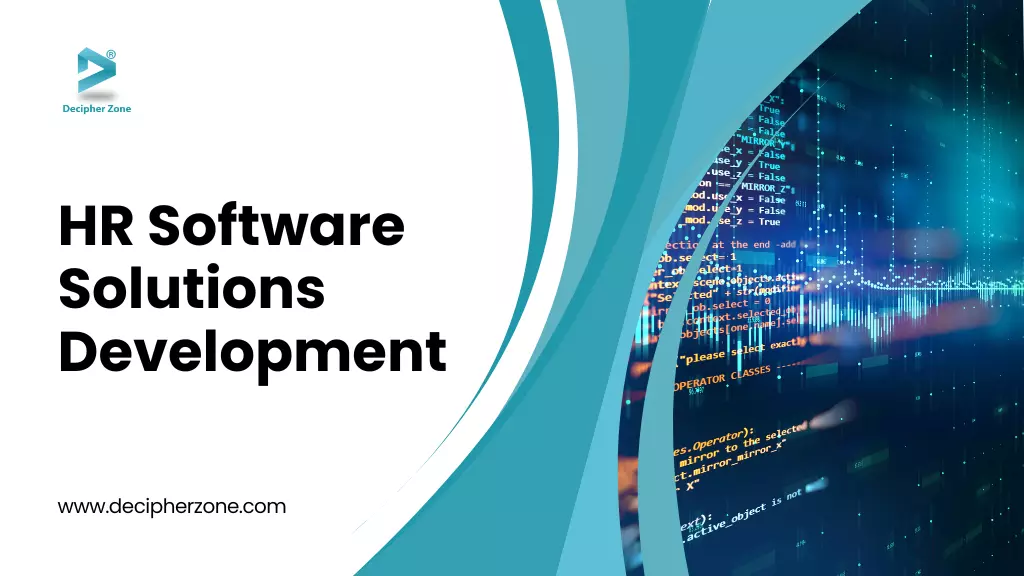 HR Software Solutions Development
HR Software Solutions Development Cost, Features and Types. Learn about HR Software Solutions, including Overview, Types, Benefits, Features, Cost.
An organization's success depends on the management of the human resources. HR is one of the most crucial aspects for any organization to run smoothly.
HR management involves various functions such as payroll, recruitment, health insurance, compensation and benefits, training and development, safety, and more. These tasks can be rather tedious and complex if performed manually.
That's where HR Software comes to play its role. It helps organizations in implementing feature-rich and robust tools that automate most of the tasks and help manage the entire process effortlessly.
As a result, the market size of HR software is also expected to grow at a CAGR of 11.1% and reach a whopping $35.2 billion by 2030.
And if you are also thinking about developing an HR software solution for your organization, then you are at the right place. Today, we will cover everything you need to know about HR software development.
So, without further ado, let's get started.
Overview of Human Resource Software Development
Human resource software refers to the application program that helps mid to large-cap organizations in automating HR management processes. Put simply, HR software is a digital solution that allows organizations to not only manage but also optimize day-to-day human resources operations so that HR staff can achieve organizational goals.
Read: Software Solutions for Manufacturing Industry
With HR software, HR managers and staff can reallocate time spent on repetitive tasks to more productive ones. Besides, most HR software solutions are now subscription and cloud-based, integrated with customizable features and data management programs.
Read: Fashion and Luxury Software Solutions
Features of HR Software Development
Some of the basic features human resource software solutions must have are:
Cloud-based documentation

Real-time data analytics

Centralized admin dashboard

Audit log

Employee records

Attendance management

Training management

Payroll management
Types of Human Resource Software
Before investing in human resources software development, you should know its types and choose what would be the best for your organization. We have enlisted some of the most commonly used human resource software in the industry to help you out. These are:
Human Resource Management System (HRMS)

Human Capital Management System (HCMS)

Human Resource Information System (HRIS)
Human Resource Management System (HRMS)
It refers to the software application used by organizations to manage their human resources and related tasks like candidate management, employee engagement, employee management, payroll, workforce management, workflow optimization, talent management, recruitment, training, employee attendance, etc.
Human Capital Management System (HCMS)
It is an integrated technology suite that helps organizations to manage employees, from their hiring to retirement. HCMS also supports businesses in changing their ability to get work done remotely, increase compliance regulations, make data-driven decisions, increase profitability, optimize talent strategies, secure data, and boost business growth.
Human Resource Information System (HRIS)
HRIS is the software application system used to collect and store information of every employee in an organization. This software solution encompasses features and functionalities needed for HR management, including but not limited to recruitment, learning, development, performance tracking, and more. Some of the benefits that come with using HRIS in a business are record-keeping, data compliance, work efficiency, strategizing, etc.
Read: Educational Software Solutions Development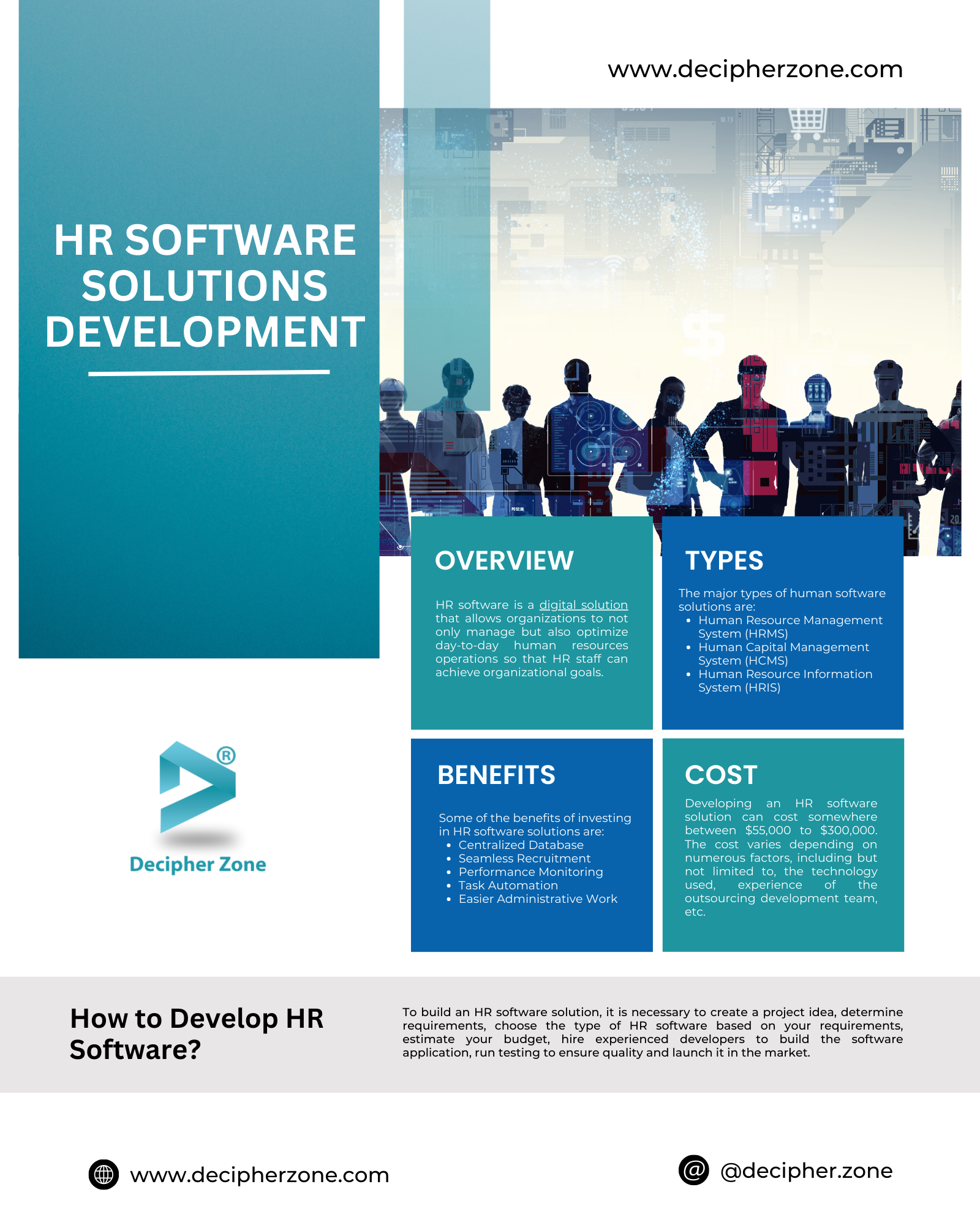 Benefits of HR Software Development
Some of the benefits that come with using HR software solutions are as follows:
Centralized Database

Seamless Recruitment

Performance Management

Task Automation

Easier Administrative Work
Centralized Database
One of the major advantages that comes with using HR software is the centralized storage of data. HR software allows you to store the data of every employee in one place, making it easier to retrieve and manage it whenever needed.
Seamless Recruitment
Typically, HR professionals have to deal with hundreds of CVs for different job profiles, spending most of their working hours scouring and sorting through CVs. On the other hand, HR software automates the screening task, eliminates people with no relevant experience, and provides a list of top profiles for the job to the HRs for conducting interviews.
Performance Management
In every organization, keeping track of every employee's work to analyze their performance is crucial. And HR software helps with that by monitoring the skills and strengths of an employee.
Task Automation
By automating most of the iterative and tedious tasks an HR personnel has to perform, the HR software reduces the time and effort, allowing them to concentrate on other strategic tasks for the organization.
Easier Administrative Work
Managing HR processes manually can increase the administrative burden on the HR department, resulting in more hours spent on administrative tasks rather than coming up with strategies to improve work efficiency. However, using HR software makes it easier for HR personnel to work on strategic tasks by automating administrative tasks like attendance management, leaves, and payroll processing.
Read: Aviation Software Solutions Development
Apart from these some other benefits of HR software development are improved HR team efficiency, better digital experience for employees, cost reduction, better decision-making, and optimizing regulatory compliance.
Read: Document Management System Development
Cost of HR Software Solutions Development
Developing an HR software solution can cost somewhere between $55,000 to $300,000. The cost varies depending on numerous factors, including but not limited to, the technology used, experience of the outsourcing development team, application size and complexity, outsourcing region, hourly rate, and so much more.
Read: Financial Services Software Solutions
If you want to get an approximate cost for developing an HR software solution, then get in touch with our experts, share your requirements, hire developers, and get a quote.
FAQs: HR Software Solutions Development
How to develop HR software?
To build an HR software solution, it is necessary to create a project idea, determine requirements, choose the type of HR software based on your requirements, estimate your budget, hire experienced developers to build the software application, run testing to ensure quality and launch it in the market.
What should a good HR software do?
A good human resource software solution must eliminate manual work by leveraging task automation.
What are the benefits of using HR software solutions?
A centralized database, seamless recruitment, performance management, task automation, and administration work efficiency are some of the major benefits of developing and using HR software solutions.
What are the main types of HR software solutions?
HR software solutions can be categorized into the following types:
Human Resources Information System (HRIS)

Human Resource Management System (HRMS)

Human Capital Management System (HCMS)
Posted by
Mahipal Nehra
|
Posted at 11 Jul, 2023
Web