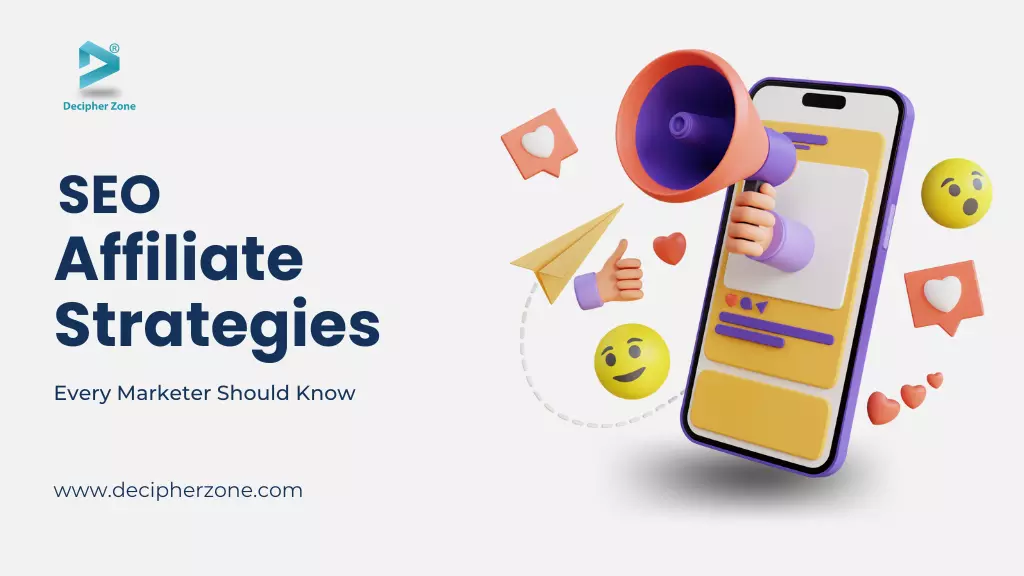 SEO Affiliate Strategies Every Marketer Must Know
If you want to earn money online, one of the best ways is to start an affiliate marketing business. The good thing about this type of business is that once you start it, there are no limitations as long as you can find a good product or service to promote.
It can be anything from health products such as herbal remedies for hair loss or supplements for improving muscle mass; clothing items like dresses and ties; kitchen appliances such as blenders or coffee makers; books on self-help topics like weight loss or dating advice; software tools for accounting management or project management applications; pet accessories like toys and treats - anything!
If it's sold online by merchants who want more sales through affiliates, then there's an opportunity for someone like us to make some quick cash by promoting them through our website.
What Is SEO Affiliate Marketing?
SEO affiliate marketing is a type of marketing in which you get paid for sending traffic to other people's websites. You don't have to sell anything directly; instead, promote products that pay you commissions based on how many sales your referrals generate.
Read: Global Business Management Software Development
It's important to note that SEO affiliate marketing is not the same as search engine optimization (SEO). SEO aims to improve your site's ranking in search engine results pages (SERPs) so that more people find it when they search for relevant keywords or phrases.
Read: Top 10 Healthcare Business Ideas for Startups
To learn more about SEO affiliate marketing, you can check this one out for more detailed information, Hustle Life's latest review of The Affiliate Lab. SEO Affiliate marketing is something everyone can learn and do to start making money online.
How Does SEO Affiliate Marketing Work?
SEO affiliate marketing is a type of affiliate marketing that involves optimizing your site for search engines. You get paid when someone clicks on an affiliate link on your site and buys something.
Read:Top 8 Marketing strategies
In other words, it's like driving traffic to your website and making money.
Creating Your First Affiliate Link
To create your first affiliate link, you need to:
Use a keyword tool to find relevant keywords for your product or service.

Use a URL shortener for tracking purposes (i.e., bitly).

Use an affiliate tracking tool to track all sales made through your links and get paid accordingly.
Set Up a Google Ads Account
To get started, you need to create a Google ads account. Once you're signed in, select the option for "Create an account."
Read: Metaverse and Marketing
Then enter all your information (including country) and click "Next." You will now be prompted to enter payment details for your business; once that's done, click "Continue" on the following screen until it brings you back to this one: It is where we'll begin setting up our first campaign.
Optimizing Your Site for SEO Affiliate Marketing
Use keywords in your site's title and description

Use keywords in your content

Optimize your site for mobile users

Promote your affiliate links on social media channels like Facebook, Twitter, Instagram, and Pinterest.

Use Google Webmaster Tools (if you have one) to check for any issues with how Google views your website.

Use Google Analytics (if you have one) to see how many visitors come from search engines like Google or Bing daily.

Use Google Search Console (if you have one) to see which pages rank high on search results pages.
Bringing Traffic From Google AdWords to Your Site via SEO Affiliate Marketing
SEO affiliate marketing can help you get traffic from Google AdWords.
Read: 3 Proven Strategies to Automate Marketing
Google AdWords is a great way to drive traffic to your site, but it can be expensive. If you want to get a lot of organic traffic at once, SEO affiliate marketing is one of the best ways to do this because it allows you to build links that will be indexed by Google quickly and will also help improve your rankings over time.
When You Have a Website, You Can Use It for More Than Just Making Money
Once you have a website, it can be used for more than just making money. You can use your website to promote your business or the products and services that you are selling.
For example, I'm an affiliate marketer promoting the ClickFunnels software (a landing page builder). In that case, I might have my landing page where people can sign up for free software trials and start building their landing pages.
Read:Proven Tricks of Content Writing to Boost SEO
The best part about this strategy is that it doesn't cost anything extra for visitors to sign up for these free trials; all we're doing is directing them to our affiliate link at the checkout.
Suppose someone wants to promote something else on their site (like Facebook ads). In that case, they will create another page where people go through a similar process but with different steps to qualify as an affiliate marketer.
Final Thoughts
As you can see, many different ways to use your website to make money exist. The key is to identify what works best for you and then stick with it.
Remember that the most important thing is consistency. It will only work well if you stick with something long enough to see results.
Posted by
Mahipal Nehra
|
Posted at 16 May, 2023
Web