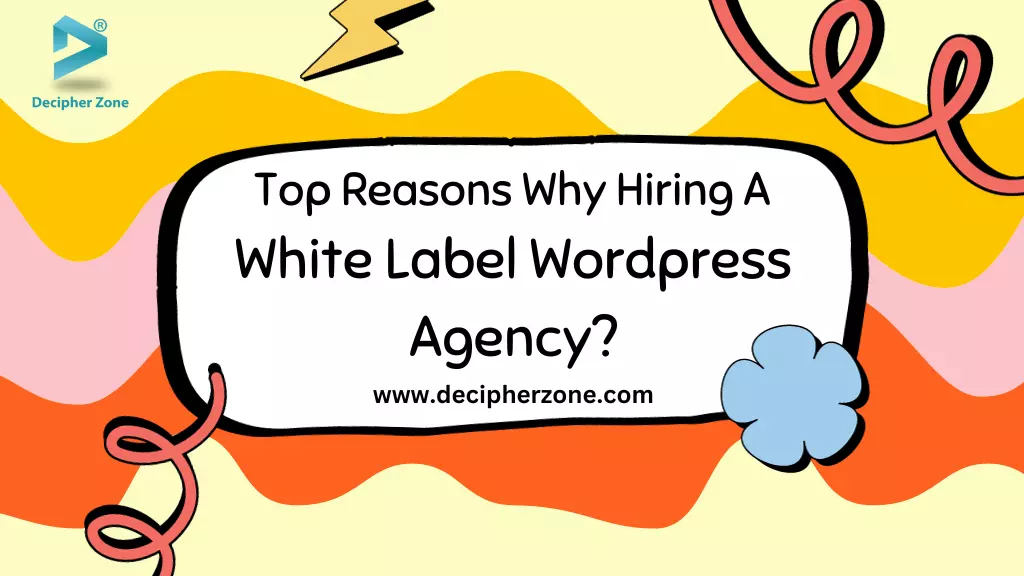 Top Reasons to Consider Hiring a White Label WordPress Agency
As a new agency just getting started online it can be extremely difficult to build a strong brand and attract new clients. The competition is high, and you have to find a way to stand out from the crowd and present yourself as a professional offering high-quality services at a reasonable price.
As you just started online, you'll not have the best talent in all fields. In such cases, one solution that can help you provide all things web development and achieve your business goals is white label WordPress development.
In this blog, we will discuss the reasons why a digital agency should consider hiring a white label WordPress agency to expand their services and scale their business for maximized returns and gains. But, before we discuss that, let's understand what a white label website is.
Read more: Customer Management Solutions
What is a White Label Website?
The term "white label" refers to different aspects of web development. A white label website means to design and the website building tools that construct and host the website. Now this building tool itself is white label work, which means another development company built it and you put your business name on it.
A white label website is no different than another website. A white label website isn't advertised, so it will be difficult for your clients to find out if their websites are white label or not.
Luckily, finding a good white label WordPress agency isn't challenging to come by—in fact, you might have probably looked at some till now, maybe without even knowing it.
Still skeptical about the concept and the benefits it brings? Then keep reading we present the top reasons why we suggest partnering up with a white label WordPress agency that can help you scale your agency and handle more clients.
Even if you're just starting out on your digital agency's journey, this blog will provide you with valuable tips and tricks to help you succeed.
1. Why New Digital Agencies Should Consider White Label WordPress Service?
A. Low Cost and Effective Solution For New Agencies.
New agency owners often struggle with two common issues: they lack a clear grasp of web development, and they may overspend on their websites due to time and budget mismanagement. On the other hand, partnering up with a White label WordPress development agency offers a practical solution by delivering cost-effective website solutions tailored to your business needs and requirements, helping them avoid unnecessary expenses.
Read more: Transpiring Web Development Technology Trends
B. Saves Time
New agencies should also explore white label WordPress development services because they streamline the website-building process. Instead of investing hours in research and idea generation, you can quickly find a solution that aligns with your business needs, saving valuable time, and energy, and reducing associated costs.
Read more: Renewable Energy Software Development
C. Increases Overall Efficiency and Productivity
Collaborating with white label agencies can significantly enhance the overall efficiency and productivity of your new business. By entrusting technical aspects to experts, you can allocate more time and attention to other vital aspects of agency management.
With website content and design expertly handled by professionals, your primary responsibility lies in ensuring effective communication for any necessary changes or updates, ensuring their prompt implementation. This streamlined approach frees you from worries about the intricate technicalities, allowing your business to operate more smoothly.
2. Advantages of Hiring a White Label WordPress Agency
A. Let's You Focus on Your Business's Core Competencies
By leveraging these services, you can concentrate on your core strengths without the need to invest time and energy in mastering website or blog management for your clients. This aspect becomes especially crucial when initiating your journey as an agency or freelancer, where you may lack the necessary resources and experience to handle these tasks effectively.
B. Let's You Offer More Development Services
White label WordPress development services empower agencies to broaden their service portfolio beyond website construction. Now, they can oversee their clients' complete online presence, providing a more extensive array of services. This diversification can set agencies apart in a competitive market, making them more appealing to potential clients, especially when focusing on specific niches like e-commerce or real estate.
This shift allows you to swiftly transition from website construction to comprehensive online presence management, enhancing your appeal and potential client base, particularly in niche specializations such as e-commerce or real estate.
Read More :How to Build a Web Application Using Java?
C. Increases Your Brand Recognition
Agencies can elevate their clients' brand visibility by delivering a comprehensive spectrum of development and online marketing services. Simultaneously, this boosts their own brand recognition within the industry. Offering high-quality services enables agencies to establish themselves as dependable and credible partners in their field. This approach not only distinguishes your client's brand from competitors but also enhances your agency's own brand recognition.
D. Increased Profitability
White label WordPress development offers numerous advantages that can empower agencies to optimize their return on investment (ROI). Firstly, it significantly trims the cost compared to conventional development methods, providing agencies with a more adaptable budget.
Moreover, white label websites are easily updated and maintained in-house, leading to reductions in ongoing maintenance expenditures. Lastly, outsourcing WordPress tasks enables agencies to expedite the launch of their client's websites, resulting in a swifter ROI.
Expanding your service spectrum to encompass a comprehensive suite of WordPress services can substantially boost your profitability. This approach allows for higher pricing per service and enhances the value proposition offered to clients.
It also deepens your understanding of your client's operations and their specific needs for their website or social media presence, fostering even more meaningful collaborations.
Read more:Twitter vs Threads - A Comparison of the Social Media Rivals
3. Maximizing ROI for Best Profits
A. Lowers Development and Maintenance Costs
White label WordPress development presents a cost-efficient alternative compared to traditional development, thereby increasing the potential for a more substantial short-term return on investment (ROI).
This cost-effectiveness additionally translates into a more adaptable budget since clients are exempt from expenses related to custom development and ongoing maintenance fees. Furthermore, the agency can independently manage the updates and maintenance of white label websites, further streamlining budget considerations.
B. Give You More Time for Marketing
Opting to outsource your WordPress tasks eliminates the need to invest extensive hours in designing and coding a website from scratch. This streamlined approach enables a significantly faster launch of your client's site compared to a DIY endeavor. Moreover, this time-efficient strategy translates into monthly cost savings, as there are no additional fees associated with engaging an external party for these tasks.
C. Increased Customer Satisfaction
When you partner with a white label WordPress agency, enhanced customer satisfaction becomes a must - and these agencies understand its importance and priority. This is achieved by crafting an outstanding website that boasts user-friendliness and effortless navigation.
Clients can seamlessly locate the information they require and easily reach out for assistance or additional services if needed, fostering a positive and satisfying user experience.
4. Allows Massive Growth in Scaling Digitally
A. Ability to Handle Bigger Projects
One of the main advantages of partnering up with a white label WordPress agency is the capacity to take on more extensive projects. Typically, new agencies are relatively small and less experienced, which can pose challenges when managing multiple clients concurrently.
Engaging a specialized agency in white label WordPress agency not only provides guidance with your existing client workload but also positions you to attract new clients seeking website construction on this platform. This collaborative approach facilitates the successful management of larger and more ambitious projects.
Read: Native vs Cross Platform App Development
B. Better Reach to Market
Expanding your client base naturally leads to an enhanced capacity for reaching new customers and driving revenue growth. Collaborating with a white label company further amplifies this potential by delivering user-friendly, top-notch websites that offer a superb user experience. This approach is instrumental in fostering business growth and attracting a broader clientele.
Read: Web App Development Terms to Know
C. Allows You to Attract More Clients
An excellently designed website is a crucial component of any business strategy. However, it's important to note that an appealing design alone doesn't guarantee an effortless user experience or ensure that customers easily find the information they seek. Effective design goes beyond aesthetics; it ensures that visitors have a satisfying and hassle-free experience when navigating your site, regardless of whether they are accessing it from the same country or multiple countries simultaneously.
Read More:How To Start A Business Online
Conclusion
In conclusion, white label WordPress development stands as a prudent option for new agencies aiming to establish a robust presence while delivering high-quality services at a budget-friendly cost. Embracing white label WordPress development enables you to channel your focus on core strengths, diversify your service portfolio, and elevate your brand recognition and profitability.
Read: Customer Relation Management Solutions
Furthermore, this approach can optimize your ROI and expedite the realization of your goals. In a rapidly evolving digital landscape, staying ahead of the curve is essential for success, and white label WordPress development serves as a valuable resource in achieving that success.
We hope this blog has offered helpful information and a clearer understanding of the benefits white label WordPress development can bring to new agencies.
Posted by
Mahipal Nehra
|
Posted at 05 Oct, 2023
Web