Guide to Field Service Management Software Development
Guide to Field Service Management Software. With every business trying hard to make its place in the industry, sometimes it gets challenging for businesses to manage everything handy. Be it keeping track of the inventory, efficient team management, or improving customer service some major pain areas have highly affected the business.
And this is where the field service management software comes in, which has brought a massive shift for businesses by streamlining their workflow, alongside seamless operations and increased productivity.
In this blog, we will be filling you up with what field service management software is, its benefits, cost of development, and some important features that you can consider incorporating into the software.
So, without further ado, let us get started!
What is A Field Service Management Software
It is an application or software tailored to help businesses manage and automate all the resources that are involved in all field-related activities, alongside providing analytics and continuous support to the technicians on the field.
Read: Facility Management Software Development
It is widely used by businesses that provide on-site services like cleaning, delivery, electronics maintenance, and others. In addition, its capabilities include skill matching according to the available resources and assigning tasks accordingly, real-time data gathering and analysis, job prioritization, inventory control and requisition management, geolocation, admin dashboard, and many others.
Read: Sales Management Software Development
Some of the well-known field service management software that is widely used in the market are Salesforce Field Service, ProntoForms, FieldPulse, Field Nation, Jotform, Oracle Field Service Cloud, and many more.
Benefits of Field Service Management Software Development
Now that you know what field service management software is, let us move ahead and determine the benefits of developing it for your business.
The reasons why field service management software is beneficial for your business are as follows -
Easy Data Management

Enhanced Productivity

Improves Customer Satisfaction

Monitor Employees

Reduces Overhead Expenses

Time Efficient
Read: Benefits of Document Management System Development
Automation - It helps in automating all the field-related tasks like dispatching, scheduling, and invoicing which in turn streamlines the workflow along with reduced errors and also eliminates the repetitive duties.
Easy Data Management - Developing field service management software also helps in managing the data efficiently and with ease. As data plays an important role in the growth of a business, it helps in storing, auditing, and analyzing different aspects of data in just the blink of an eye.
Enhanced Productivity - It helps in improving the business efficiency alongside providing a transparent and collaborative environment, which in turn facilitates increased communication between the team members, thus leading to enhanced productivity.
Improves Customer Satisfaction - It helps in improving customer satisfaction by eliminating manual work which in turn also reduces errors and human mistakes. It also helps in improving the workflow which also helps in ensuring your customers a better experience thus provisioning your business with positive feedback.
Monitor Employees - Another benefit of developing field services management software is that it helps in monitoring the employees with ease based on their schedules, appointments, and timelines.
Reduces Overhead Expenses - It also helps in proactively monitoring the inventory, planning, dispatching, and communication, which helps in lowering the overhead expenses, thus resulting in increased profitability.
Time Efficient - Furthermore, it also helps in saving a lot of time as it automates and optimizes the workflow, making the services quick and time-efficient.
Read: Franchise Management Software Development
Moving ahead, now that you know about the benefits of developing a field management system, make sure that you also learn about the challenges and disadvantages as well, which will help you plan your software thoroughly, and develop and launch a future-proof and risk-free solution in the market.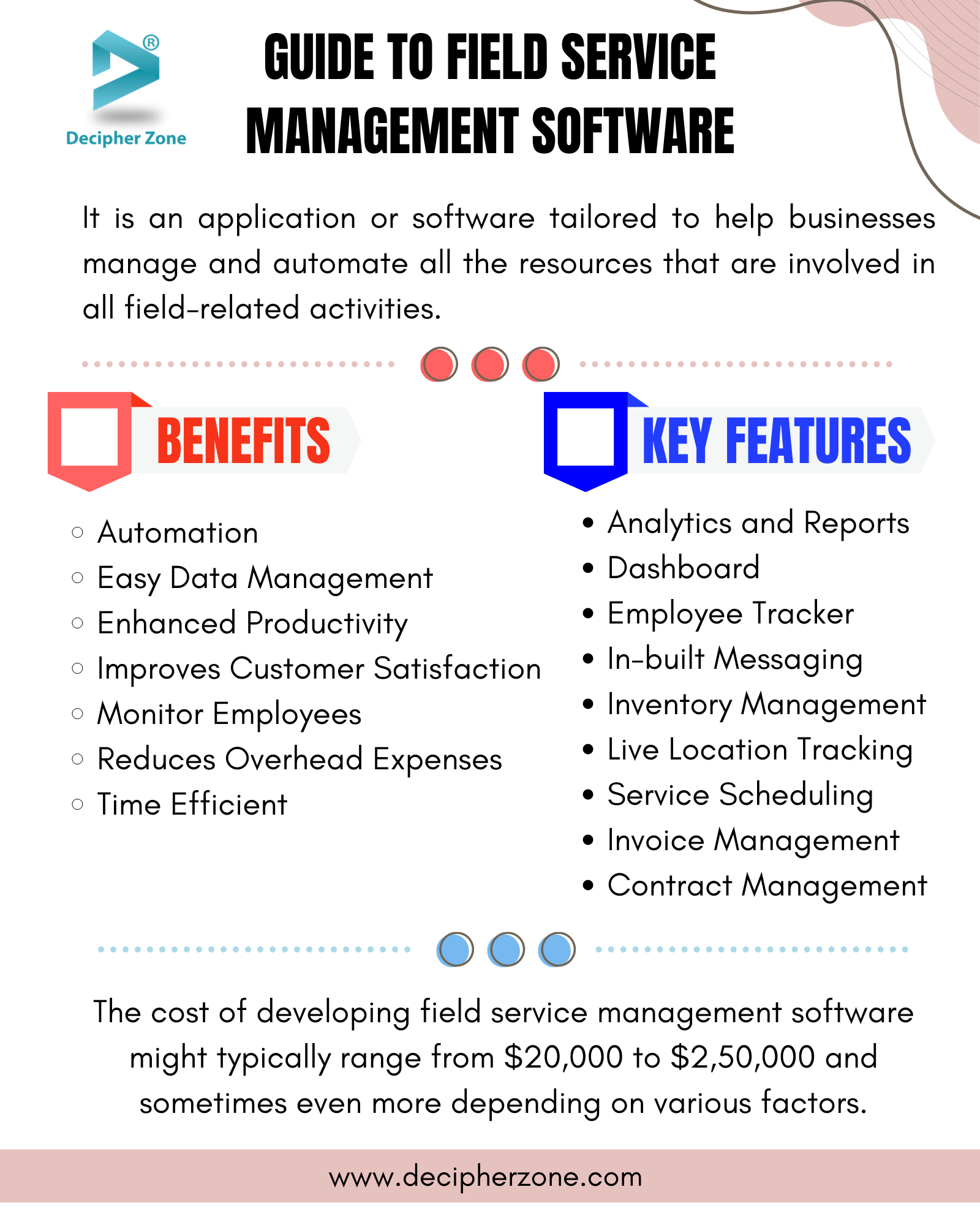 Key Features to Consider Integrating in Field Service Management Software Development
Here are some features you should consider integrating into the field service management software.
Analytics and Reports to boost your revenues based on different data visualization methods.

Dashboard to provide you with an overview of everything going on in the entire organization.

Employee Tracker to track all the employee schedules, appointments, and activities and allocate tasks to them accordingly.

In-built Messaging to keep all the team members in sync and connected.

Inventory Management to keep track of all the equipment and tools in stock and to know which items require restocking again.

Live Location Tracking to know the exact location of your on-duty employees.

Service Scheduling to allot tasks to the employees and arrange schedules along with completion timelines for each job.

Invoice Management to easily prepare invoices on the go.

Contract Management to ensure all the service level agreements are met as agreed and signed on the contract.
Features make anything stand out in the market and build its reputation for being one of a kind. And when developing an application or software, make sure that the features you integrate should not only be unique but also address the needs of the users and be easy to use.
Read: What is Supply Chain Management
Cost of Field Service Management Software Development
The cost of developing field service management software might typically range from $20,000 to $2,50,000 and sometimes might scale even more depending on various factors and reasons like the changing market trends and consumer preferences, alongside several factors like -
The domain and hosting charges

The platform for which the software is developed

The logo and design

The technology stack (like the programming languages, frameworks, and libraries)

The location and per-hour charges of the developers and the development companies along with their experience and expertise

The total number of people working on the project

Third-party and security integrations

The post-launch maintenance (as per the contract), and
However, do not worry, even if you are tight with the budget, as you can also consider developing an MVP (Minimum viable product) for your business.
Read: Project Management Software Development Cost
Wrapping It Up
There's no doubt that companies and businesses work under pressure to streamline their operations and provide the best services to their clients. But do not worry now, for the field service management software is the one-stop solution to all field-related problems.
Not only does it do the job but also facilitates improved customer satisfaction.
So, if you are interested in developing one such software for your business then, connect with us now, or hire a developer, and get the best solutions that are robust, scalable, and reliable, along with easy-to-use features.
FAQs: Field Service Management Software Development
What are the steps for developing a custom field service management software?
The steps involved in developing a custom field service management software are as follows -
Define your business goals and objectives

Develop wireframes

Choose and Hire a Suitable development company as per your requirements

Start developing the software and integrate all the features and functionalities

Test and launch
How much time does it take to build field service management software?
Developing field services management software may typically take 3-6 months. And sometimes it might fluctuate even more or less depending on your business requirements.
What are some of the industries that widely use field service management software?
Some of the industries that use field service software include the healthcare industry, construction industry, oil and gas industry, real estate industry, transportation and logistics industry, and many more.
Posted by
Mahipal Nehra
|
Posted at 12 Jul, 2023
Web