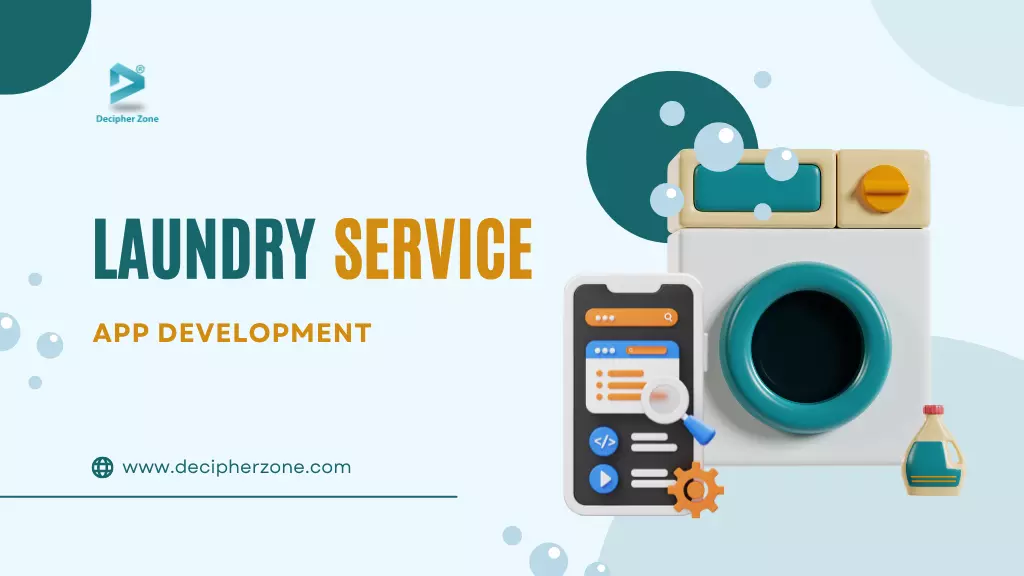 Laundry Services App Development
Laundry Services App Development Cost and Features. In today's fast-paced world, no one has the time to take care of washing and ironing their clothes now and then. Hence, more and more people are moving toward laundry services apps to overcome the setback of not dealing with laundry.
According to the Grand View Research report, the online laundry service industry will grow at a CAGR of 30.5% and reach $221.05 billion by 2030.
Having said that, there is no doubt that soon we will all be dependent upon on-demand services solutions. And, if you are a laundry service provider looking to grow your business by launching a laundry services app, you need to do it fast and hold your place in the market more than your competitors.
Wanna know how? To help you out, we will discuss everything about developing a laundry services app and how it can benefit your business.
Laundry Services App Development Cost and Features
Laundry Services App Development is just like other on-demand services, laundry apps are becoming highly successful and essential. The laundry services app refers to the software application that offers services like pickup, washing, dry cleaning, drying, ironing, and delivery of clothes.
Read: Securing Rideshare Services App
An average household spends about 10-12 hours a month doing laundry. However, with the laundry services app, it becomes easier to save time and finish the laundry work with just a few taps.
This app allows users to schedule time for the pickup of clothes for laundry whenever they want and get the clothes cleaned and delivered within a day.
Read: Developing a Home Service Software
The laundry service app will help laundry businesses to increase their customer base and brand visibility while optimizing business processes and increasing their revenue generation.
A laundry service business can either go for an on-site business model or a marketplace business model according to their requirements.
Read: How to Develop A Messaging App Like WhatsApp
While the on-site business model refers to the one where customers can choose pick-up time, address, and delivery time for the clothes.
Read: Media & Entertainment Software Development
Marketplace business models are used by third parties with business owners' data. These marketplace operators deliver the payment to the companies and allow users to select laundry businesses based on their ratings, reviews, prices, and locations.
Read: NFT Marketplace Development
Features to Consider While Developing Laundry Services App
Some of the features that you need to consider at the time of laundry services app development are as follows:
User Panel Features to integrate in Laundry Services App Development:
Sign Up/ Login: The app should allow users to effortlessly register their accounts using email addresses, mobile numbers, and social media accounts so that they can log in from any device they want.

Services Option: As the laundry business provides different services, the app should allow users to choose the services they want to book along with the type and number of clothes.

Scheduling: Another important feature in the laundry services app is the pickup/delivery schedule. This feature helps users to select the date, time, and location for cloth pickup and delivery.

Real-Time Tracking: This feature is integrated into the laundry services app to help customers check the status of their laundry as well as track drivers picking or delivering their clothes.

Payment Gateways: It is one of the essential features in the laundry services app as it allows users to pay for the services offered to them through wallets, credit/debit cards, net banking, or cash on delivery at their convenience.
Read: Payment Gateway Development
Business Panel Features to Integrate in Laundry Services App Development:
Dashboard: The admin can access the information about the user and driver through the dashboard. This feature allows business admins to monitor and manage booking dates, number of clothing, delivery dates, etc.

Manage Earnings: This feature allows businesses to keep track of their earnings through the app within a specified date range and determine the profit and loss they had.
Read: Global Business Management Software Development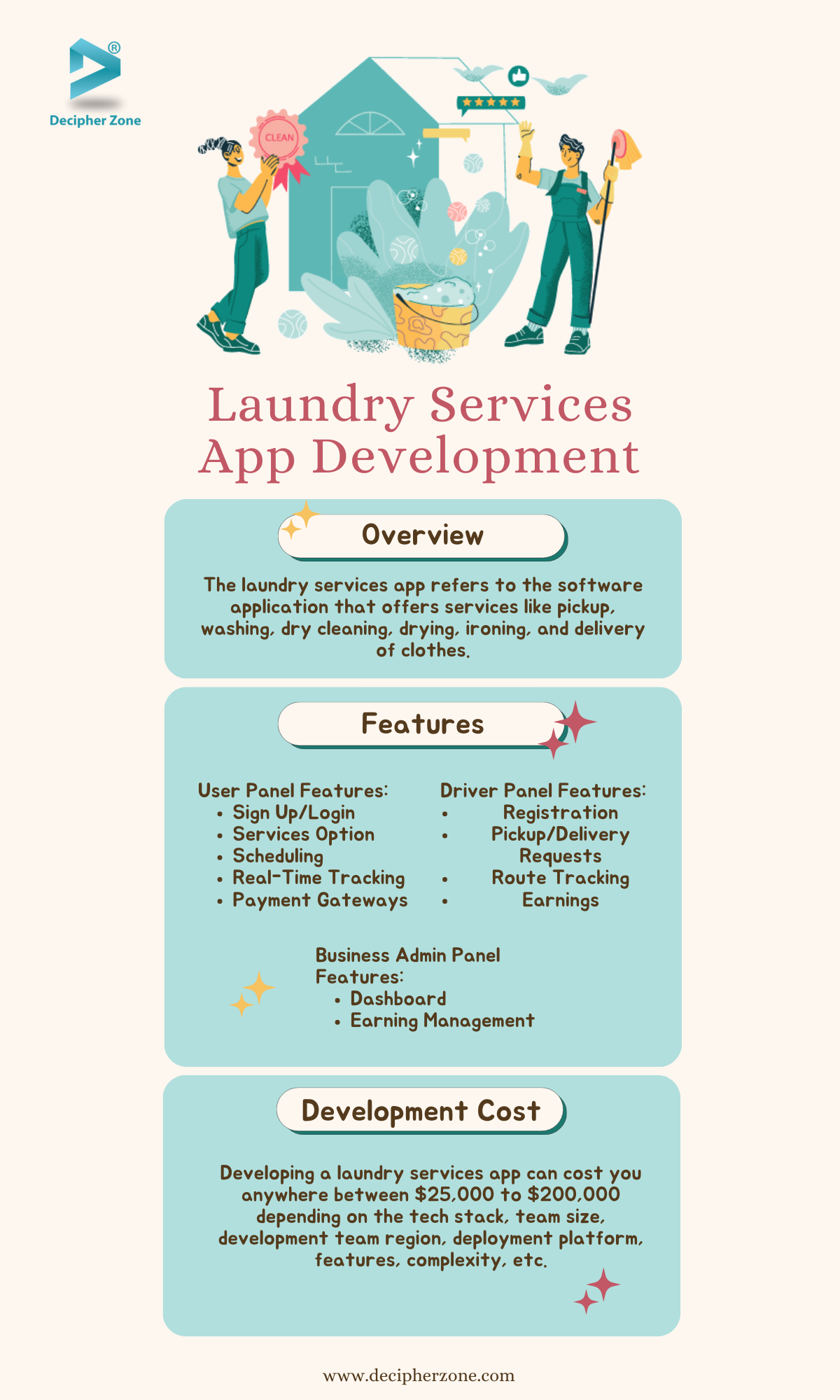 Driver Panel Features to Integrate in Laundry Services App Development:
Registration: Similar to the customers, drivers also need to register in the app to work as delivery partners for the business. But, unlike customers, in the case of drivers, the app should ask for details such as driving license, bank details, etc. to ensure they can work as a pickup and delivery executive and their earnings get transferred to their bank accounts instantly.

Pickup/Delivery Requests: Another essential feature in the driver panel is the ability to accept and decline pickup or drop requests from either users or laundry businesses.

Route Tracking: Integrating in-app GPS will allow drivers to begin their trip for collecting or delivering the laundry clothes to and forth the customer location to the laundry service provider location.

Earnings: This feature will allow the delivery partner to monitor their earnings from the app and transfer the amount to their bank account.
Read: Car Wash App Development
Cost to Develop Laundry Services App
The cost of developing an average laundry services app between $25,000 to $200,000. However, this cost will vary depending on the app complexity, list of features, tech stack used, development team location, team size, deployment platform, testing, and after-development maintenance.
And if you too want to develop a laundry services app for your business that stays within your budget but remains highly efficient, then we at Decipher Zone can help you with just that.
With our experienced development team and testers, we will develop the app with seamless UX/UI and the latest technologies within the given timeline.
So, what are you waiting for? Contact our experts to get a quote now!
FAQs: Laundry Services App Development
How to create a laundry services app?
To create a laundry services app, a business has to do project research and planning, strategize app development, create a wireframe and prototype, work on app development, test the functionality, deploy the application, and improve it frequently.
How do laundry services apps work?
Once a user registers their account in the laundry services app, they can schedule laundry pickup from their doorstep within the timeframe that suits their needs.
Then the admin receives the request and approves it according to schedule feasibility. If the request is approved, users get a push notification and a message with the confirmation.
Then the cloth is picked up from the customer's location, gets dropped at the laundry for cleaning and ironing, and then gets delivered to the customer.
How much does it cost to build a laundry services app?
Developing a laundry services app can cost you anywhere between $25,000 to $200,000 depending on the tech stack, team size, development team region, deployment platform, features, complexity, etc.
Posted by
Mahipal Nehra
|
Posted at 26 Jun, 2023
Web