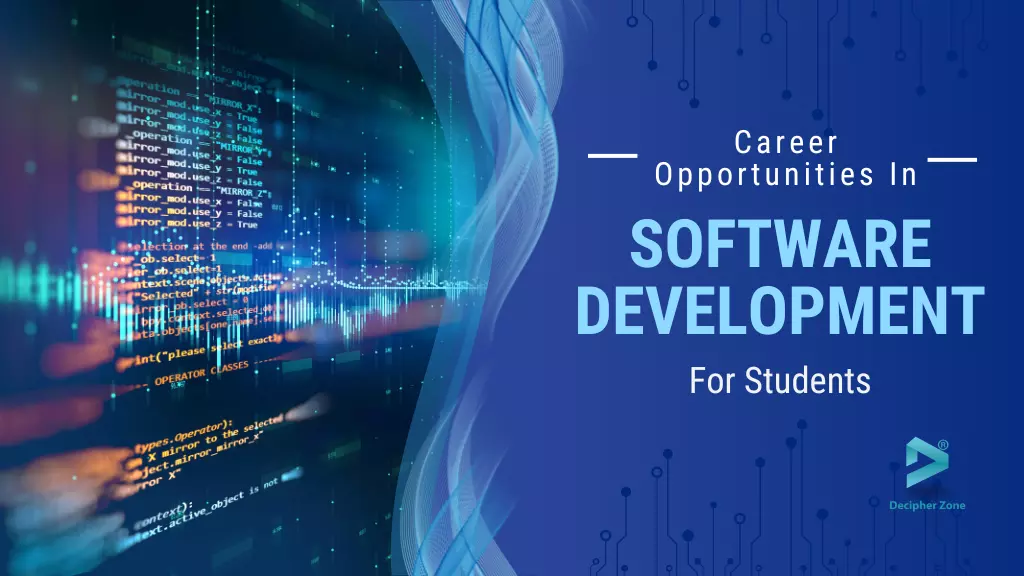 Career Opportunities in Software Development for Students
Let's face it, software development has become one of the most popular career paths chosen by college and university students.
In today's digital era, more and more undergrads wonder how to become a software developer since technology keeps on advancing at an unprecedented rate.
The demand for a software developer with the right set of skills is soaring.
In this article, we will focus on the career opportunities available for students choosing this path as well as provide you with some useful insights.
The truth is that when you have a passion for innovation, tech, problem-solving, and coding, pursuing a software development degree can turn into a lucrative and successful future once you become a software developer.
Web Software Development Career Path
One of the most versatile and popular career options in the software development domain. After all, websites are the cornerstones of the cyber world. For that reason, a qualified web developer is always in high demand. In this position, you will work with various programming languages, such as:
· CSS
· HTML
· JavaScript,
Using all those languages (and some others as well!) will enable you to create visually appealing websites that you will also use as your portfolio.
Read: Web Application Development Process
Whether it's a custom writing service website students hit with writing my essay for me messages or an entertaining one, you can make it user-friendly and attractive in no time. You can also specialize in the field of front-end development.
It is focused on the user experience and interface. Or, as an alternative, go for the back-end development that is related to the server-side databases and logic.
Taking into account the growing significance of e-commerce and web presence, this career offers loads of opportunities in a wide variety of industries.
Career as a Software Developer: Go for Mobile App Development
In the era of iPhones and software development, mobile app development has turned into an essential part of the development landscape. The niche comprises creating various apps for mobile gadgets, like tablets and smartphones, that run on platforms like Android and iOS.
Read: Educational Software Solutions Development
The reality is that the demand for mobile apps is getting higher and higher.
This, in turn, opens up some stunning career prospects for every aspiring developer. From entertainment and gaming to finance and healthcare, all existing industries include using mobile apps in order to get in touch with their target audience.
Read: Software Development Challenges and Solutions
If you choose this career path, you will have a unique chance to bring the most innovative ideas of yours to life and influence the future of techs.
Software Engineering
If you are interested in software engineering, be ready to deal with the development of large-scale software systems. The niche includes working on testing and designing issues, as well as maintaining complex software apps in order to ensure they're reliable and efficient.
Read: What is Application Software
In this position, you will have to co-work with many cross-functional teams to write codes together, analyze requirements, and optimize software performance.
To cut a long story short, the profession comes with a bag of opportunities, including software development and design of apps for databases, operating systems, cybersecurity, and AI.
Read: IoT Security Threats and Solutions
Are software developers in demand in this niche? Absolutely. The experts in this field are highly sought after by financial institutions, tech companies, as well as government agencies.
Software Developer Career Path in Data Science and Machine Learning
Both niches – machine learning and data science – have radically revolutionized a lot of industries by leveraging the data power to automate processes and make informed decisions.
Read: Java For Data Science
If you are passionate about math, data analysis, and statistics, you are welcome to pursue a degree in this area.
The experts in this field extract valuable insights from huge amounts of data. At the same time, machine learning engineers are engaged in developing various algorithms that enable computers to make predictions and learn.
Read: What is Data Science - LifeCycle, Benefits and Tools
From transportation and marketing to finance and healthcare, data-driven solutions are in considerable demand.
Considering how data-centric our routine gets day by day, the need for qualified and dedicated experts in the fields mentioned above will keep on growing.
How to become a software developer?
To start a successful career in information technology, you need to first choose the niche that you're most interested in. What does a software developer do?
Read: E-Learning Web App Development Cost
Whether you choose software engineering, data science, mobile app development, or any other field, you will have a wide range of opportunities to benefit from.
Taking into consideration the fact that the digital age relies greatly on using software, you are sure to find your special place under the sun.
Read: Role of Quantum Computing in Artificial Intelligence
With continuous learning, dedication, as well as a strong foundation in the chosen niche, you can embark on a fulfilling and prosperous journey in the marvelous universe of software development. Just make your choice and be ready to start an exciting cyber-centric journey!
Posted by
Mahipal Nehra
|
Posted at 08 Jun, 2023
Web