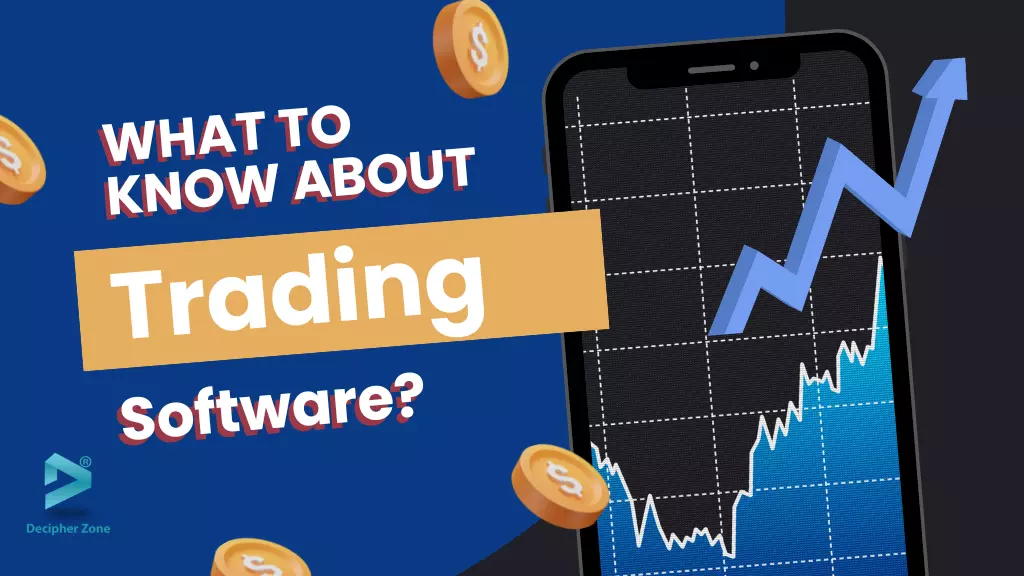 What do you need to know about trading software?
Trading software is a computer program that is used to enter orders to buy and sell financial instruments through a network and with the help of a financial intermediary called a broker.
Nowadays, trading software not only gives you access to the financial markets but also provides great analysis and tools that can help you practice. Therefore, many turn to trading platform development services.
What is trading software?
Without trading software, it would be impossible to trade online as you need to have access to an interface in order to work on different markets.
Trading software is a program that, once installed on your computer, helps a trader negotiate and analyze financial products such as cryptocurrencies, forex, stocks, options, and futures.
Read: Software Development
Trading software is usually downloaded and operated from a desktop computer or mobile device, but there is no shortage of web-based options that only require you to log into the broker's website.
Some trading software can potentially help a trader improve and refine their methods through analysis, charting, forecasts, and other tools.
What types of trading software are there?
There are various types of trading software, each with its characteristics. Here are the main types of the most popular trading software:
Software execution
These types of software allow the trader to place trades, including market, limit, and other advanced order types, as well as the ability to search for real-time quotes. Some software also tracks trading statistics such as your win percentage and average P&L on closed trades.
Graphing software
This trading software includes several interactive chart-based features including patterns such as trendlines and technical indicators such as moving averages, pivot points, and momentum oscillators.
Analysis software
This software is mainly used for its ability to formulate both fundamental and technical analysis, offering traders insights and trading signals based on live market data.
Automatic trading software
This trading software allows traders to design trading systems that can be executed automatically instead of manually pressing a button. In addition, these software solutions can provide traders with the ability to backtest to see how their automated trading systems have performed in the past.
Copy trading software
Copy trading is a new phenomenon that allows inexperienced traders to copy the trades of experienced traders. A person with experience is called a manager. The main goal is to get - I irrigate profit.
The investor can choose any manager whose operations and trades he wants to copy. After that, they just need to be repeated following the selected settings.
Demo Account
This trading software offers novice traders the opportunity to trade risk-free and without using real money. Thanks to these systems, traders can test their trading strategies before investing in the market.
Therefore, if you are just starting trading or trying a new approach, then we recommend starting with a demo account.
How does the trading software work?
The trading software allows the trader to access the online markets and provides him with all the tools he needs to improve his trading results.
In addition, these tools can help the trader conduct technical analysis, alert him to market movements, inform him of upcoming economic events, and help him calculate and balance risk with potential reward.
Read: Decentralized Marketplace Development
Some software provides the trader with many customizable charts depending on their trading style and method. Without this feature, you would have to trade without visual evidence of how a particular asset performs.
Thus, the ability to identify trading opportunities in real-time is highly dependent on these tools.
What features does the trading software offer?
Order execution, analysis, and calculation are the three main functions that trading software should provide, however, there are so many functions that such a development can offer. Let's look at them in more detail:
Fulfillment of an order
Order execution is the main function of any trading software. To provide a pleasant trading experience, the platform must have a concise and easy-to-use user interface, as well as execute orders transparently and without interference.
Analyzes
Analysis - whether fundamental or technical - is vital in trading. For this reason, many trading programs simplify the analysis process for their users by providing charts and other interactive tools.
Calculation
Many trading programs can calculate and analyze various data such as position size, pip size, margin, leverage, etc.
Conclusion
Therefore, summing up, we can say that trading software has many advantages. Plus, it's a great way to make money. The most important thing is to approach the process correctly.
Posted by
Mahipal Nehra
|
Posted at 26 Apr, 2023
Web