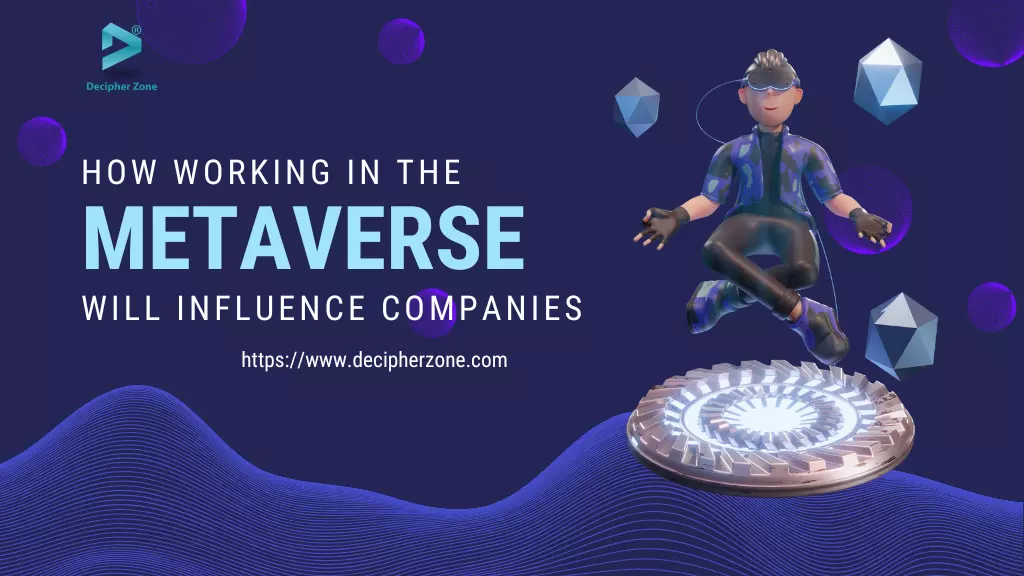 How Working in the Metaverse Will Influence Companies
The metaverse is a dazzlingly realistic 3D digital space that promises to offer new capabilities for businesses and consumers alike. However, this vision also introduces risks for cybersecurity, privacy rights, regulatory compliance, and brand reputation.
As a result, business leaders must understand how the metaverse could influence their organization and its employees. By taking measured actions now, they can familiarize themselves with the six most important metaverse concepts and explore lower-risk use cases tomorrow.
Virtual workspaces
The metaverse is a digital space where people can interact with avatars. It can be used for many different purposes and is gaining popularity because it effectively communicates with others and improves productivity.
Read: Metaverse Use Cases and Benefits
The benefits of working in the metaverse include a reduction in costs, increased flexibility, and improved employee health. In addition, employees can easily access and connect with other people from anywhere in the world.
Moreover, the metaverse is also more accessible to disabled individuals. These individuals can work in a virtual environment that is most comfortable for them, which increases their efficiency and productivity.
As a result, many businesses are experimenting with remote workplaces in the metaverse. This new working model is a great option for companies looking to improve their workplace culture and attract and retain top talent.
But there are some challenges that businesses must address before implementing this technology. For example, virtual workspaces can be expensive to build and maintain.
Read: Metaverse and Marketing
They are also a relatively new concept and may require much time to implement correctly.
To avoid these challenges, it is important to choose a secure virtual workplace solution that offers automation tools. These solutions can help users track their time and create recurring reminders to ensure everyone is working efficiently.
Additionally, it is important to make sure that data is stored securely. This can be done by ensuring that all user data is protected using industry-standard encryption protocols.
Read: Construction Management Software Development
This can help to reduce security risks and ensure that only authorized users have access to sensitive information. Furthermore, it is also important to implement two-factor authentication for extra security.
These technologies are transforming the way that companies operate and how they interact with their customers. They allow businesses to grow their business, increase productivity and improve customer experience.
In addition, virtual workspaces offer several benefits that will influence how companies work in the future. They can be a great way to improve employee engagement and communication, which is vital in retaining high-performing workers.
Interactions with 3D avatars
In the digital space of the metaverse, a person can create their own avatar and interact with other users in a variety of ways. These interactions are similar to the way people interact in real life, but they can be more interactive and lifelike.
This makes the metaverse a great place for conversations and for developing creative ideas.
Read: Business Intelligence Software Development
Avatars are also a great tool for communicating with customers. They can represent a company or even its products, and customers can send them messages directly. This can help companies reach more customers and increase brand awareness.
While avatars have been around for a while, they have become more realistic in recent years. Avatars are now created by software that allows for 3D modeling and facial and full-body scans.
This means that avatars are much more believable and engaging than they have ever been before.
However, this has come at a cost: they require more resources and time to make. This has caused companies to rethink their avatars and how they can be used.
Read: Custom Web Application Development for Business
For example, new technology can detect eye contact between avatars and automatically trigger actions, such as starting a conversation or leaving a safety bubble.
This technology, called Viewpointsystem, has the potential to make avatar interactions more natural than they have been in the past.
The technology can also be used to create virtual reality (VR) experiences that have more depth than a traditional 2D experience. VR is becoming a popular way to communicate with other people, and many consumers are opting for a VR headset over a regular video game console.
Read: How to Boost Your Business Using Augmented and Virtual Reality
In addition to the visual aspect of a VR experience, the audio is also very important. This is why it's important for a VR experience to be able to produce audio that matches the look of the environment.
While the sound in VR is not as immersive as the visual aspect, it can be important for a user's experience. Using the right sounds can make an avatar feel more alive and can also help to reduce anxiety.
Individual productivity
The ability to measure individual productivity helps companies track employees' work, streamline workflows, and find any gaps in performance. It also helps companies assess employee satisfaction, which can lead to better retention and less turnover.
Read: What is Automation
Productivity measures can be personalized to fit each worker's needs and preferences, ensuring that they aren't overwhelmed with tasks. This allows for better planning and scheduling, which leads to more efficient use of time.
Read: Augmented Reality App Development Frameworks
Moreover, a consistent system for measuring productivity can be used to monitor employee well-being and promote healthy behaviors. For example, workers can use it to track their exercise and other important activities for their mental and physical health.
As a result, they can improve their well-being and reduce stress levels. In addition, a steady flow of feedback from managers can help people feel connected to their work and their company's goals.
Read: Healthcare Consulting Services and Solutions
Another positive effect of a productivity tracking system is that it can help employees identify and fix problems. For example, if an employee's tasks aren't aligned with their skills, they can seek training or perfect their knowledge.
The metaverse can also offer new ways to connect and collaborate with coworkers, regardless of where they're located. For example, in Facebook's Horizon Workrooms, remote employees can join meetings by an avatar or through video calls.
This way, they can participate in group discussions without sacrificing the "water cooler" effect of interacting with one another in person. As a result, they are more likely to participate in group discussions and work with their teams to get things done.
In addition, the metaverse can offer a more immersive way to do impromptu brainstorming and presentation sessions.
Read: Blockchain in Gaming
This is because a virtual environment eliminates the distractions that are usually present when employees do their work in an office setting, including glare from screens or lack of eye contact.
In addition, employees can work with AI-powered digital human bots in the metaverse to help them do tedious tasks more efficiently. This can free up their time to focus on value-driven work.
Additionally, it can give workers a sense of accomplishment and make them more motivated to do their jobs just like I feel when I write my essay for free online.
Collaboration with other employees
Collaboration is a vital part of any business, whether you have offices in the same city or are working remotely around the world. However, as workplaces move into a hybrid-remote model, the need for effective collaboration has increased even more.
In addition to helping teams get work done, the collaboration also enables employees to communicate more effectively. This can lead to a greater sense of psychological safety, as it gives team members a chance to share their ideas and perspectives more freely.
Read: What is Bitcoin Mining
This can help them solve problems more efficiently, create new processes, and increase productivity. In addition, it helps them keep their knowledge up-to-date as they learn from others and adapt to different work styles.
Another key benefit of collaboration is that it fosters a culture that encourages bold thinking. This can boost creativity, ultimately leading to better outcomes for the company.
Read: Windows Mixed Reality App Development
Moreover, it can encourage self-awareness, which is understanding and appreciating your strengths and weaknesses. This allows you to develop a clear perspective of your job, which can help prevent conflict with coworkers and improve your performance.
Furthermore, collaborating with other teams can help you develop relationships that will continue to grow over time. These connections may be valuable when you are looking to expand your business and need a fresh set of eyes.
As companies become more remote, collaboration is key to ensuring a sense of community among remote workers and aligning them with the organization's goals. This ensures they remain engaged and productive, regardless of location.
Posted by
Mahipal Nehra
|
Posted at 26 Apr, 2023
Web