Fintech App Development - Types, Features, and Cost
Fintech App Development - Types, Features, and Cost. The fintech industry is growing rapidly along with the growing business needs and consumer demands. What has catered to the best in fulfilling all these needs is the fintech app development which has enabled businesses to provide the best services conveniently alongwith security, scalability, and reliability.
According to the reports from Statista, the total number of global fintech users is expected to exceed 7 billion by 2027, from 5.62 billion in 2023, which also implies that if you are thinking about investing in the fintech sector then now is the time.
So, in this blog, we will be filling you up with some of the important aspects of fintech app development i.e. the types, features, and cost of development. But before that let us tell you what is fintech app development.
Fintech App Development
Fintech is the portmanteau of Finance and technology, which refers to the use of technology to digitize and transform financial services and provide the best to the users alongwith security and accessibility.
Read more: Financial Software Development
Now coming to the point, fintech app development is the process of developing applications that help in providing financial services and solutions to users all under one roof within your fingertips which can be accessed anytime and anywhere.
Some of the major and well-known fintech brands include Razorpay, Stripe, PayPal, Pine Labs, and several others.
Types of Fintech App Development
Some of the major types of fintech app development are -
Investment Apps

Loan Apps

Neobanks

Regtech Apps
Read more: Loan Lending App Development
1. Banking Apps
One of the primary types of fintech app development, that is highly used in the market as compared to other types of fintech apps. These apps help users connect with banks and other financial institutions with ease regarding all their banking needs, thus enabling the banks to provide convenient, easy, secure, and affordable services to their customers.
Some of the well-known banking apps are Chime, Axis Bank Mobile Banking, Yono SBI, Sterling OneBank, and more.
Read more: Top 10 Latest Banking Trends
2. Insurance Apps
These apps help users find suitable plans for various purposes like life, travel, vehicle, and many others. These apps also help connect the insurers with the customers to insure different types of assets along with streamlining the claim management process, enabling easy access to the available policies, 24*7 support, automated payments, and others.
Some of the well-known insurance apps are TATA AIG Insurance, Oscar, Policy Bazaar, Lemonade Insurance, PNB MetLife, and many more.
Read more: Role of Blockchain in Fintech
3. Investment Apps
These types of apps help the users in unlocking different modes of making investments in the ones that are likely to grow which in turn helps in multiplying their sum of investment.
In addition, these apps also help you connect with experts to get the right investment tips and trends to consider. Acorns, Stash, and Wealthfront are some examples of the well-known investment apps that being widely used in the market.
4. Loan Apps
These apps are widely being used in the market as these apps allow lenders to connect with peers by lending them loans to pay off their student loans, for business ventures, personal use, and others. MoneyTap, Finnable, and PaySense are some of the well-known lending apps.
5. Neobanks
This type of fintech app development helps the users avail all the banking services without visiting the physical branches through apps or online platforms.
Some of the examples of the well-known Neobanks that are growing at an alarming rate are Chime, Monobank, and many more.
6. Regtech Apps
Portmanteau of Regulatory technology, These type of fintech apps helps financial institutions to ensure compliance with the law alongside security and other aspects like risk management, transaction monitoring, and others. PassFort and 6 clicks are some of the famous Regtech apps.
Now that you are familiar with what fintech app development is, along with the major types of fintech apps, let us now move forward with some of the important features that you can consider implementing into the app.
Read more: 7 Technologies Shaping The Future of Fintech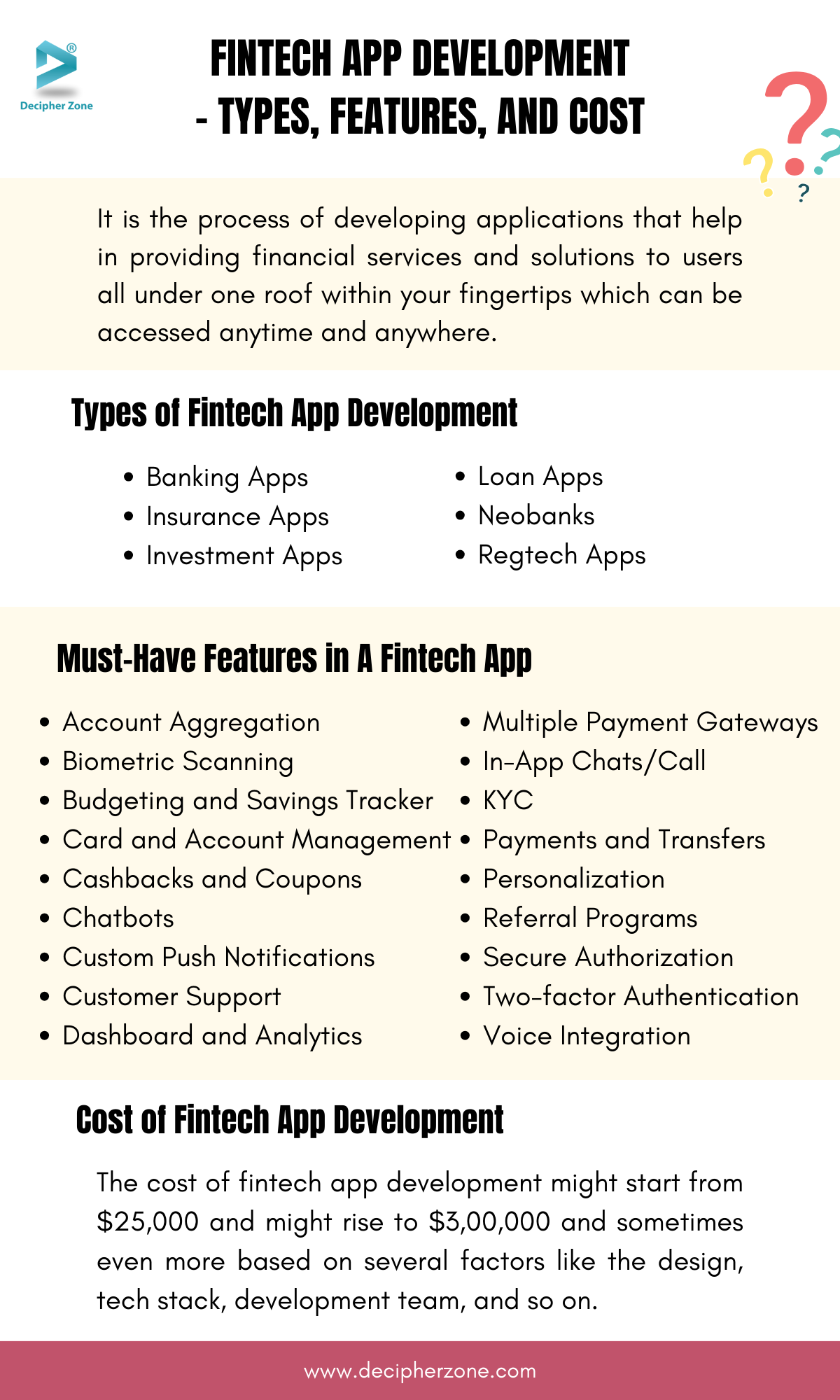 Key Features to Integrate in A Fintech App
Some of the must-have features in a fintech app are as follows -
Account Aggregation

Biometric Scanning

Budgeting and Savings Tracker

Card and Account Management

Cashbacks and Coupons

Chatbots

Custom Push Notifications

Customer Support

Dashboard and Analytics

Integration with Multiple Payment Gateways

In-App Chats/Call

KYC

Payments and Transfers

Personalization

Referral Programs

Secure Authorization

Two-factor Authentication

Voice Integration, and many more.
Read more: Common Features of Mobile Apps and their Benefits
If you are reading this, you are likely to be interested in fintech app development for your business, and one important question that might have come across your mind is the cost of development.
Read more: Mobile App Development Process - A Step-by-Step Guide
Fintech App Development Cost
The cost of fintech app development might start from $25,000 and might rise to $3,00,000 and sometimes even more based on several factors, which include the following -
The domain and hosting charges

The logo, design, and branding

The technology stack that you will be using to develop the app, like the programming language, framework, libraries, and other tools and technologies.

Total number of features along with the complexity of integrating them into the app.

The development team working on the project, along with their location, experience, expertise, and their hourly charges.

Additional integrations and security features like biometrics, multi-factor authentication as well and the use of third-party APIs.

App testing and quality assurance.

Post-launch maintenance and support as well as the content and marketing charges.
Read more: Mobile App Development Cost - A Comprehensive Guide
Wrapping It Up
In the coming years, the fintech industry is expected to grow remarkably opening up way more possibilities and opportunities for businesses and their customers.
So, in conclusion, it is suggestable that if you are considering investing in fintech app development, then why wait?
The time is now!
Connect with us, or hire a developer and get the best solutions developed for your business that are ready to take your business to new heights.
FAQs: Fintech App Development
What are the benefits of fintech app development?
The benefits of developing a fintech app include that it helps in automating the entire process; provides accessibility; is cost-effective, fast, and convenient; offers security and transparency; enables personalization; reduces the amount of paperwork; helps in providing enhanced customer experience, alongside many more.
What are the top fintech trends of 2024?
The top fintech rends of 2024 are -
AI (Artificial Intelligence)

Blockchain

DLT (Distributed Ledger Technology)

Embedded Finance

IoT (Internet of Things)

ML (Machine Learning)

Open Banking, etc.
How much time does it take to develop a fintech app?
Developing a fintech app usually takes up to 4 to 6 months and sometimes might even take a year depending on factors like the number of resources working on the project, the complexity of the app and technologies, budget, changing requirements, and more.
Posted by
Mahipal Nehra
|
Posted at 19 Oct, 2023
Web