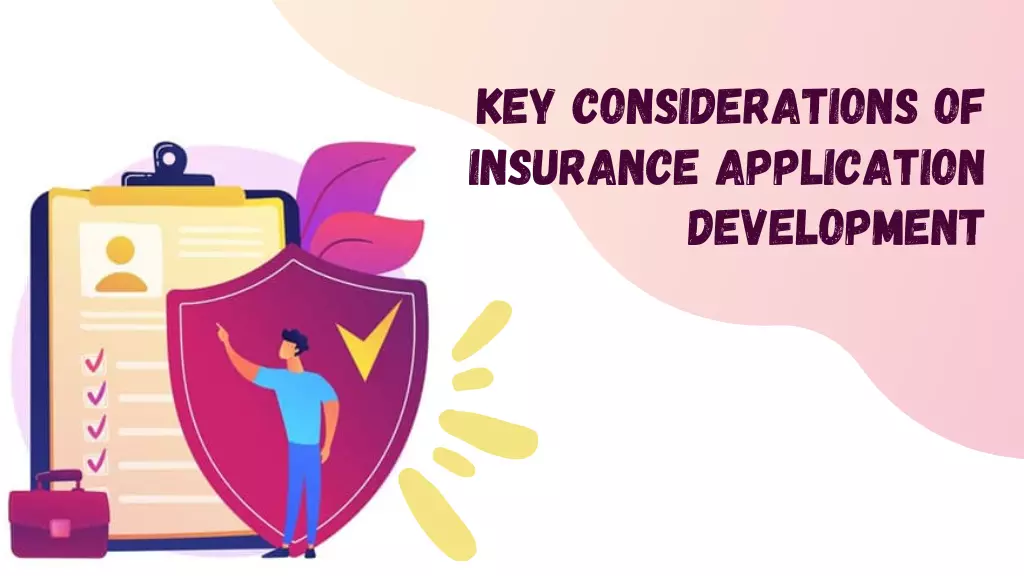 5 Key Considerations for Insurance Application Development
They say every great thing starts with an idea - and today in this digitally driven era if you want to stand out from the competition in your business, all you need is a unique business idea. An idea that can uplift your business with a maximized customer experience and excellent ROI.
When talking about a digitally driven era, the Covid 19 has made every business take a step into digitization, serving customers via software and applications. In the past few years, everyone has developed a positive outlook toward getting a little security for the assets they own. Be it your health, travel, vehicles, business, or a piece of land, insuring them has been a common task to accomplish nowadays.
Read: Web Applications are Useful in Healthcare Industry
To serve this need and help consumers insure their assets quickly at their fingertips, businesses and firms have switched towards providing their services digitally via Insurance Application Development.
So if you have a business idea or you are thinking of developing an insurance application, we have listed out some key considerations that you can implement into your digital strategy for developing an insurance app.
Read: How to develop a Multi-Vendor Food Delivery System
But before that, it is important to know what an insurance application is, what are the types, their pros, and cons, and other important things that you need to know before you develop an application.
Insurance App Development - Overview, Pros, and Cons
Insurance applications are a part of the Fintech industry that enables its users to insure their assets and cover up any financial losses caused to them in exchange for a fee. It is an essential tool used in risk management.
Read: How to Improve Security in Web Application Development
When specifically talking about insurance apps there are different types of insurance apps for different types of assets. They are -
Life Insurance Apps

Health Insurance Apps

Vehicle Insurance Apps

Business Insurance Apps

Travel Insurance Apps

Property Insurance Apps, and many more
These apps provide specific benefits to their consumers and help in claiming the amount lost during a certain crisis that falls under the terms and conditions of those applications. But there are some common benefits of these apps, which will help you know why you should invest in developing an insurance application.
Read: Benefits of Property Management Software
The Pros of Insurance App Development are -
Data plays an important role in the Insurance industry, and developing an insurance application will help you in storing and analyzing a large amount of data safely and make use of it whenever needed.

Customer experience is among the most important goals of a business and developing an insurance app will help you provide a seamless and user-friendly experience to your customers.

It automates and accelerates work and productivity by minimizing paperwork, accuracy in calculation, and decreasing manual work.

Additionally, it also helps in increasing the business demand and making it popular in the market with its unique value proposition.

The digitization approach also helps you in making clearer data-driven decisions to enhance customer service and improvise the customer experience.

It also helps in the optimization of sales by enabling 24*7 availability, continuous support, and helpful insights into customer behavior.

It makes things quicker by enabling customers to send insurance claims instantly, and process them even more easily within a specific period.

It is cost-effective as compared to the traditional method because there is no salary, infrastructure, or other operational costs involved.
Read: Cost To Develop A Real Estate App
After learning about some of the advantages of developing an insurance app, you should also know about the disadvantages as well, to help you develop a future-proof application.
The Cons of Insurance App Development
So, the main disadvantage of an insurance app is that there is a risk of your information being stolen including personal details, bank details, and even your location, which might be a problem for consumers. But with experience, expertise, thorough research, and with the right technology stack you can develop a highly secured insurance app.
Read: Best Tech Stack for Web App Development
Now that you know the pros and cons of insurance application development, you should also know the features that you can integrate into an insurance app. The primary features include -
Easy Sign Up, Login, and Verification

List of Policies

Information on the insurance policies

Submitting a Claim

Online Consultation

Document Management

Push and Email Notifications, and

FAQ and Customer Support.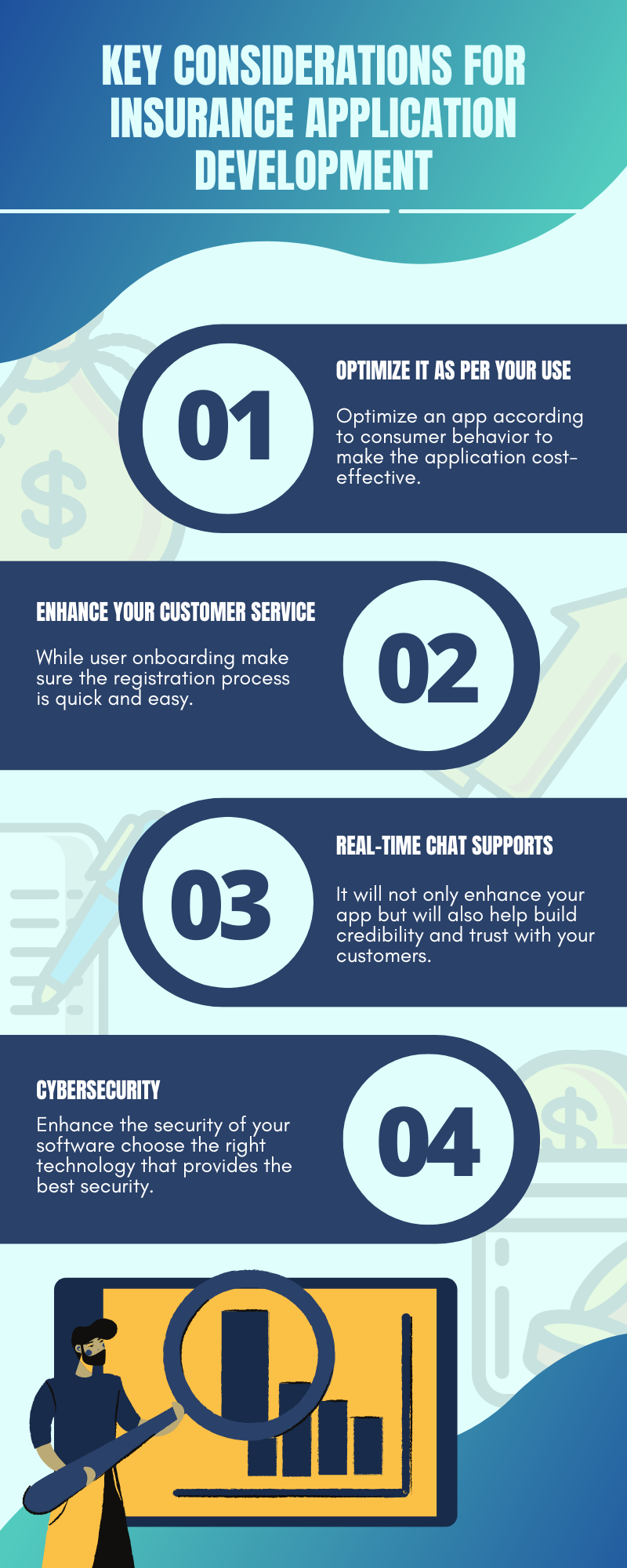 Factors to Consider for Insurance App Development
Now that we have an overview of insurance app development, here are a few factors that you can consider while developing an insurance app.
Optimizing it according to Your Use

Enhance Your Customer Service

Real-Time Chat Supports

Integrating Chatbots, AI, and Machine Learning
Optimizing it according to Your Use
Optimizing an app according to consumer behavior can be an effective way to make your software cost-effective. We know that no one uses these applications frequently on regular intervals, like social media apps, consumers get there only when they want to insure their assets or request a claim for their insured losses. So when developing an insurance app make sure you make the application useful, with smart features, helping you provide a seamless user experience.
Read : On-demand Medicine Delivery App Development
Enhance Your Customer Service
Customer service and satisfaction are the primary objectives of insurance companies. So while user onboarding makes sure the registration process is quick and easy and verifies and validates the user profile by the primary highlights of the customer like bank details, address proofs, or other verification methods.
Real-Time Chat Supports
Effective communication opens up ways to better opportunities, and the integration of real-time chat supports it will not only enhance your app but will also help build credibility and trust with your customers.
Read: CRM in Real Estate
CyberSecurity
Everything that is digitalized has some risk of cyber attacks and now data is an important part of any business, every business has some threats. And to prevent these threats and enhance the security of your software, you should do proper planning and research and choose the right technology and framework that provides the best security both for your business and your customers, securing the data to plan a better future for your business.
Read: Cybersecurity Trends
Integrating Chatbots, AI, and Machine Learning
Machine learning, AI, and Chatbots have helped businesses reach the next level and to stand out in the market it is also important to hop on into the latest trend according to your consumer demands and business needs. So when you integrate chatbots you enable effective communication for your customers and also make the business available to them anytime and anywhere. And integrating AI and ML will help you analyze user behavior and make predictions accordingly to let you know what the user is actually looking for.
Read: Artificial Intelligence vs Machine Learning vs Deep Learning
Final Words
In this busy schedule of everyone's lives dealing with insurance agents gets frustrating sometimes, and this is where an insurance application development kicks in and takes that pain out of the process.
And when we talk about insurance services, the first thing that comes to mind is that customers have high expectations of having a seamless experience, both on your service and your software.
The capability of processing claims faster with AI and automation has been a game changer, attracting more customers to have the expected user experience.
Read: How to Develop Restaurant Management System
So, to stand up to these market standards, at affordable rates and convenient options, you can start working on your project and find the right and reliable tech partner to develop your idea into an excellent software solution.
Posted by
Mahipal Nehra
|
Posted at 18 Oct, 2022
Web