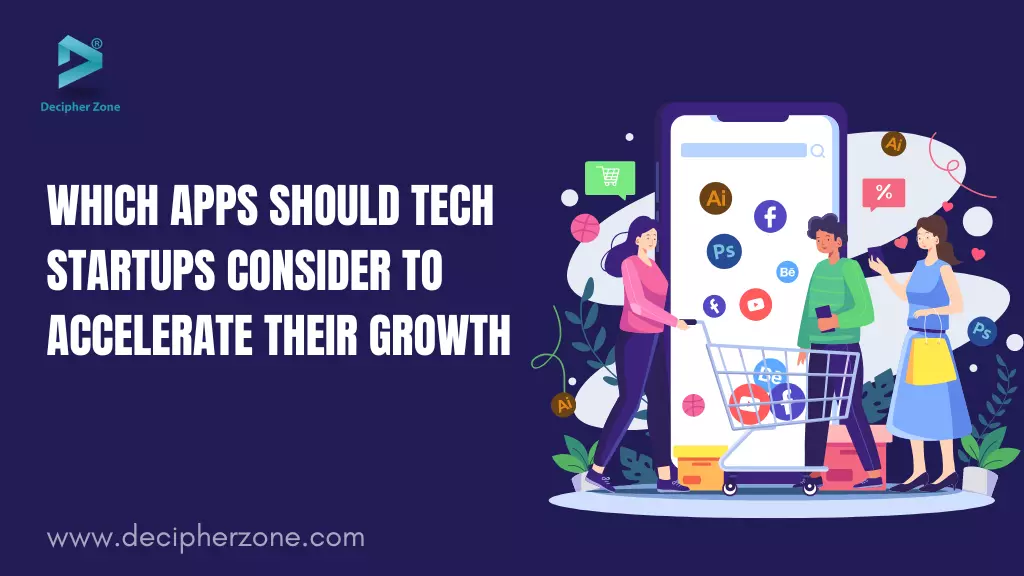 Which Apps Should Tech Startups Consider to Accelerate Their Growth
71% of small businesses see digital tools as crucial for surviving the pandemic. This number shows the growing reliance on technology in the business world.
Let's delve into how startups use technology to elevate their performance. Discover how small businesses can improve productivity, simplify processes, and achieve success.
Project Management Apps
Project management apps improve productivity by promoting communication and teamwork. They help reduce errors, missed deadlines, and expenses.
Read: Construction Management Software Development
Project management tools can improve your workflow by automating tasks and simplifying processes. 65% of US users have seen a notable improvement in their ability to complete projects on schedule. Think about including it in your workflow for better productivity and project success.
Look for apps with these key features:
Task lists that show subtasks, priorities, due dates, and dependencies.

Gantt charts to be able to show how changes affect the entire project.

Kanban boards so that users manage tasks, such as to-do, in-progress, and done.

Calendars to keep track of schedules and offer reminders for important dates.

Reporting tools that display key progress metrics like time, budget, completion rate, and quality.
Cybersecurity Apps
Cybersecurity apps, particularly password managers, are crucial for running a startup. These apps save time, boost productivity, and improve security. They eliminate the need to remember or reset passwords, saving 11 hours yearly.
A password manager is a reliable tool for protecting accounts against weak passwords. It promotes secure password sharing among employees and enables a collaborative environment.
Read: Top 10 IoT Security Threats and Solutions
Password managers offer several features that can generate secure passwords and keep them safe, such as:
Password generator to quickly create robust and individualized passwords for all your accounts.

Password vault to protect your passwords. Access requires a master password or biometric authentication for safety purposes.

Autofill to make logging in more straightforward and secure. Sync your passwords across all devices and browsers for easy account access.

Audit feature to assess password security. Get notified of weak, reused, or compromised passwords to protect your accounts.
In addition to password managers, startups must secure their systems with antivirus software, a VPN, and vulnerability scanners.
Marketing Apps
If you want your startup to grow and attract more customers, utilizing marketing apps is a smart strategy. These apps can improve search engine rankings and strengthen your social media presence. They can be valuable tools for managing your online reputation.
Read: Software Tools Digitize Your Business
Here are some key features marketing apps can offer:
Content creation. Share your expertise through blogs, social media, videos, podcasts, and webinars. Tap into your knowledge to boost the traffic to your website.

Graphic design. Create impressive designs to grab attention, convey your message, and strengthen your brand.

Email marketing. Send personalized newsletters, promotions, surveys, or follow-ups to your subscribers or customers.

Data analysis. Collect and test data from various sources to improve your marketing strategies.
Collaboration Apps
For startups, collaboration apps are crucial for a more productive work atmosphere. They enable effective communication and teamwork. These benefits can influence project outcomes and prevent communication problems from occurring.
Read: Business Intelligence Software Development
The advantages of using collaboration applications are manifold.
File sharing. Upload and download files of any type and size. You can edit files online, comment on them, or sync them with their devices.

Chat. Collaboration apps allow users to send and receive instant messages. Emojis, stickers, gifs, or polls can make conversations more engaging.

Video conferencing. Users can start and join video calls. They can also enhance meetings by using screen sharing or live captions.

Integration. Integrating collaboration apps with email, calendars, project management, and CRM can increase productivity. It can free up more time to focus on growing your startup.
Office Management Apps
An office management app can simplify everyday tasks and makes internal processes within teams easier. It's a must-have for efficient planning and staying ahead of the competition.
Read: What is Application Software
Additionally, office management apps like Flanco can facilitate task delegation, time tracking, team communication, file sharing, and project management. By streamlining processes and boosting productivity, these features free up teams to concentrate on more crucial duties.
Read: Software Design Process
Office management software can also offer insightful analytics that supports managers in their decision-making for business expansion.
In Summary
There you have it. Must-have apps that can aid tech companies to grow more quickly and emphasize the value of digital tools for small enterprises.
Each tool has essential characteristics that can boost output, streamline procedures, and ultimately result in success. By utilizing these apps, startups may improve their workflow, safeguard their systems, draw in new clients, promote teamwork, and remain competitive.
Posted by
Mahipal Nehra
|
Posted at 03 May, 2023
Web