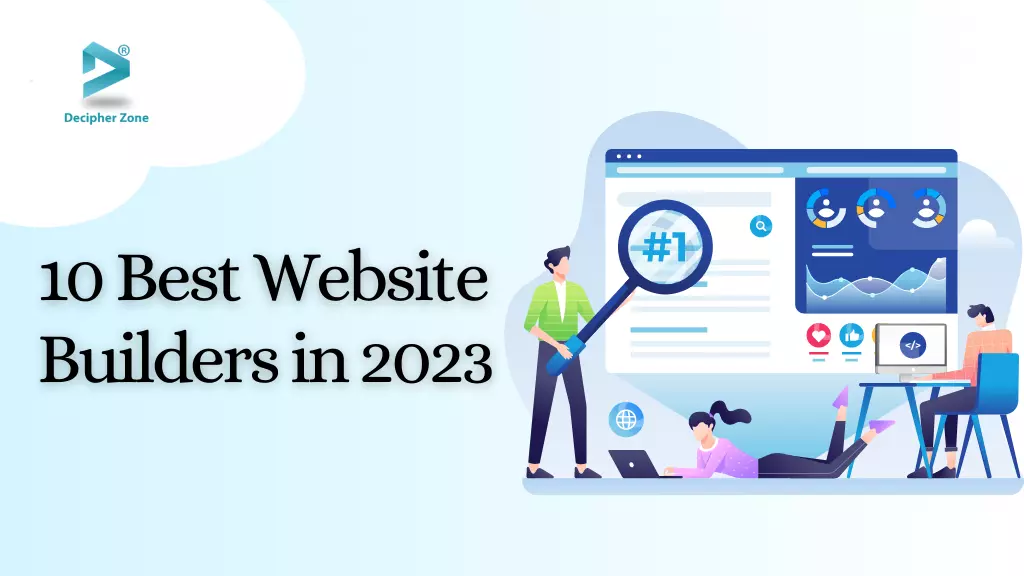 10 Best Website Builders in 2023
There are around 18 million websites today that were created with website builders. Global data reveals that website builders have exceeded $1.5 billion in revenue, with Wix taking the majority market share with 43%.
Top 10 Best Website Builders in 2023
Let's take a look at the top 10 best website builders in 2023.
Wix

Squarespace

Square Online

GoDaddy

Webflow

BigCommerce

Zyro

Weebly

HostGator

Duda
Wix
Wix is the market leader because it is very easy to use even without any coding knowledge. Its hosting options are also multi-cloud, so it's perfect for both big and small businesses. It is particularly of interest with the rise in US healthcare digitalization, as its robust builder offers customizable templates that can integrate business intelligence and telemedicine quite efficiently.
Read: Web Application Architecture
Wix also has one free plan and eight premium plans, with the cheapest business and e-commerce plan at $17 and the lowest website plan at $4.50 a month.
Squarespace
Squarespace is one of the top choices in this list of best website builders on Namechk. It maintains this position because of its extensive templates and its free domain registration for one year. This domain registration comes with all of its plans, so you don't have to worry about that regardless of the tier you get. Additionally, it offers useful user tracking that helps businesses improve their marketing and system.
While Squarespace has no free plan, it does offer plenty of discount codes often. The general business plan costs $33 a month, though this goes down to $23 a month if paid annually.
Square Online
Square Online stands out because of its high-grade security. It excels in this arena because of its history as a payment processor before developing its website builder. With the top threats in IoT security also infiltrating many sites, like botnet attacks and data leaks, it's more important than ever to have great cybersecurity measures from the get-go.
There is a free tier available but there are also Plus and Premium pricing at $29 a month and $79 a month, respectively.
GoDaddy
GoDaddy is a solid all-around option that remains one of the best in 2023 because of its integrated marketing tools. After all, who cares how good your site is if it's not even getting any traffic? Search Engine Journal notes how bounce rates hit an average of 55% despite the optimal rate being 40% and below.
GoDaddy's website builder aims to prevent that with engaging social media marketing, email and text integration, and installable marketing tools to add to your template. The most basic plan can go for as low as $9.99 a month.
Webflow
Webflow is a budding option in 2023 thanks to its code-free customization and advanced SEO tools. These crucial metrics make it not only simpler to create a website but ensure that it actually ranks up in search results. Another great benefit to using this builder is that you only get charged once you actually launch your site.
Read: What is Web Application
Its basic tier is $14 a month, billed yearly. You could also go for the free starter pack, depending on how intensive your knowledge is of website creation.
BigCommerce
E-commerce is a major point of income for modern businesses, with at least 79% of shoppers buying online at least once a month. Online social media shoppers in the United States alone make up 96.9 million people. BigCommerce's builder has this in mind, with worldwide coverage, quick updates, cross-currency listing, and an abandoned cart feature.
Read: eCommerce Platform Development Cost
This can also be easily connected with email and social media efforts to maximize visibility and ease for the end user. The standard plan goes for $39 a month, but this goes down to $29 a month if paid annually.
Zyro
Zyro uses powerful AI tools and a beginner-friendly editor to allow users to get a full-fledged website up and running in under an hour. It's also quite lightweight, so it's a great choice if you want something that isn't too demanding but still delivers. The content generator combined with the AI makes for a promisingly streamlined process from creation to going live.
Read: Future of Artificial Intelligence
Its most affordable business plan comes at $4.90 a month and comes with a free one-year domain and temporary custom email.
Weebly
Weebly is very advanced despite its simplicity and uses drag-and-drop features to make both site creation and future updates much easier to accomplish. It has a variety of SEO and marketing tools that prove useful for traffic generation and unlimited bandwidth. Plus, it is remarkably affordable for what it offers.
The professional plan starts at $12 a month if you pay annually. Otherwise, it goes for $16 a month.
HostGator
HostGator has a trifecta of offers that make it firmly one of the best options out there. It has unlimited storage and bandwidth, great customer support that's available 24/7, and has a 99.99% uptime guarantee. Though the number varies depending on size and industry, data from Gartner notes how 98% of companies suffer losses of at least $100,000 per hour of IT downtime.
Its cheapest plan starts at a discounted first-term price of $3.84 per month.
Duda
Duda is the option if you want flexibility and mobile responsiveness. It's one of the pricier website builders on the market, but it's designs and widgets are undeniably the grounding point of why it comes with a premium tag. Though its templates are already impressive, the real draw here is the ability to fully edit every single aspect of your website.
This makes it a builder really geared toward designers and those that need an aesthetically focused showcase. Its basic plan costs $14 a month, but this goes up to $21.25 if you need e-commerce integration.
Posted by
Mahipal Nehra
|
Posted at 21 Apr, 2023
Web