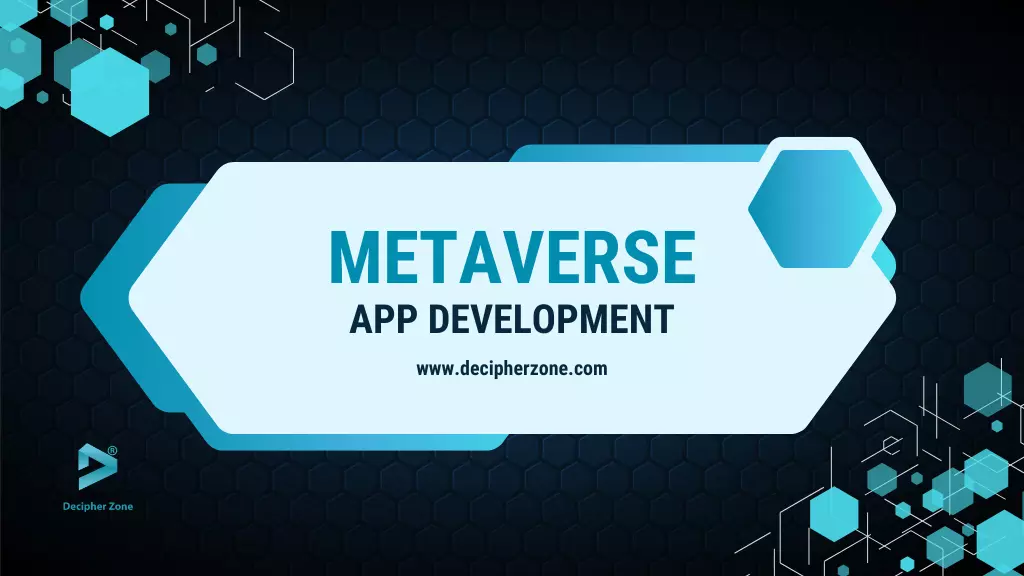 Metaverse Application Development: Features, Benefits and Cost
Metaverse Application Development: Cost, Features and Benefits. After the continuous development and success of AR and VR (augmented and virtual reality), everyone is obsessed with Metaverse. According to Fortune Business Insights, the market size of metaverse applications is about to grow at a CAGR of 69.2% and reach a whopping $3402.29 billion by 2027.
Over the past decade, the technology world is looking for ways to develop tools that can create virtual spaces, people, objects, environments, etc. Technologies like cyberspace, VR headsets, etc. are just offering a glimpse into the future of Metaverse.
But wait, what is metaverse? What are the technologies backing it up? How are metaverse apps gonna benefit businesses? These might be the questions running in your mind and with this blog, we will help you understand everything you must know about Metaverse apps.
So, let's get right into it.
What is Metaverse?
Metaverse has been the source of quite a buzz around the technology market. It refers to the digital shared space that encompasses virtual reality, augmented reality, cloud, blockchain, and other advanced internet technologies.
Read: Metaverse Use Cases and Benefits
Metaverse is going to be the next social connection evolution that will help you connect with people that aren't physically in the same place. Not only that but with Metaverse you can also teleport to any place or time to explore another planet or witness history unfold.
Put simply, with Metaverse you can easily connect with others, teleport to any place you want, play games with your friends' hologram, work remotely while sitting together with the team, shop digital or physical products from your favorite shop, and so much more.
Read: How Working in the Metaverse Will Influence Companies
There will also be fully immersive 3D experiences in the metaverse and familiar 2D experiences. Some of the benefits that a business can gain from developing the Metaverse app are Better Collaboration, Accurate 3D Virtual Representation of Physical Objects, Improved Training, and Improbable Experiences.
Read: Metaverse and Marketing
Technologies Supporting Metaverse Apps
Now that we know a little bit about Metaverse, let's understand its underlying technologies without which the Metaverse app wouldn't be possible
Internet of Things (IoT)

Blockchain

Augmented & Virtual Reality

Artificial Intelligence

3D Modeling
Internet of Things (IoT)
IoT is the backbone of Metaverse apps. Metaverse needs massive infrastructure to host constituent technologies, and IoT helps in connecting multiple networks and physical devices to collect and synchronize data. It becomes easier to create auditory, visual, and experiential sensations through the IoT-connected ecosystem in the Metaverse.
Blockchain
The adoption of blockchain for the Metaverse application helps in implementing advanced security to the platform using cryptography, improving its data privacy and security. Other than that blockchain brings data quality, seamless data sharing, data interoperability, and data integrity to the metaverse system.
Augmented & Virtual Reality
AR is a technology that combines the real world with digital visual objects. It uses a camera to monitor real-life environments and a screen to overlay digital objects. On the other hand, VR allows the creation of multiple virtual environments that users can experience through VR devices.
Together, AR and VR bring Metaverse to life, allowing users to merge the real and virtual world, and transport or travel wherever they want for out-of-the-world experiences.
Artificial Intelligence
An AI-powered metaverse system will be able to create realistic 3D spaces, execute complex calculations to track AR faces, and so much more. AI in Metaverse allows efficient data processing, user interaction, construction of avatars, voice-enabled navigation, etc. for incredible experiences.
3D Modeling
As the metaverse highly relies on the virtual world, 3D modeling is highly useful. Whether you want to create the skin or other features of avatars or redesign your home, without 3D modeling it won't be possible in the virtual world. Together with IoT sensors, 3D modeling can help in creating high-quality digital twins of real-world objects.
Read: Transpiring Web Development Technology Trends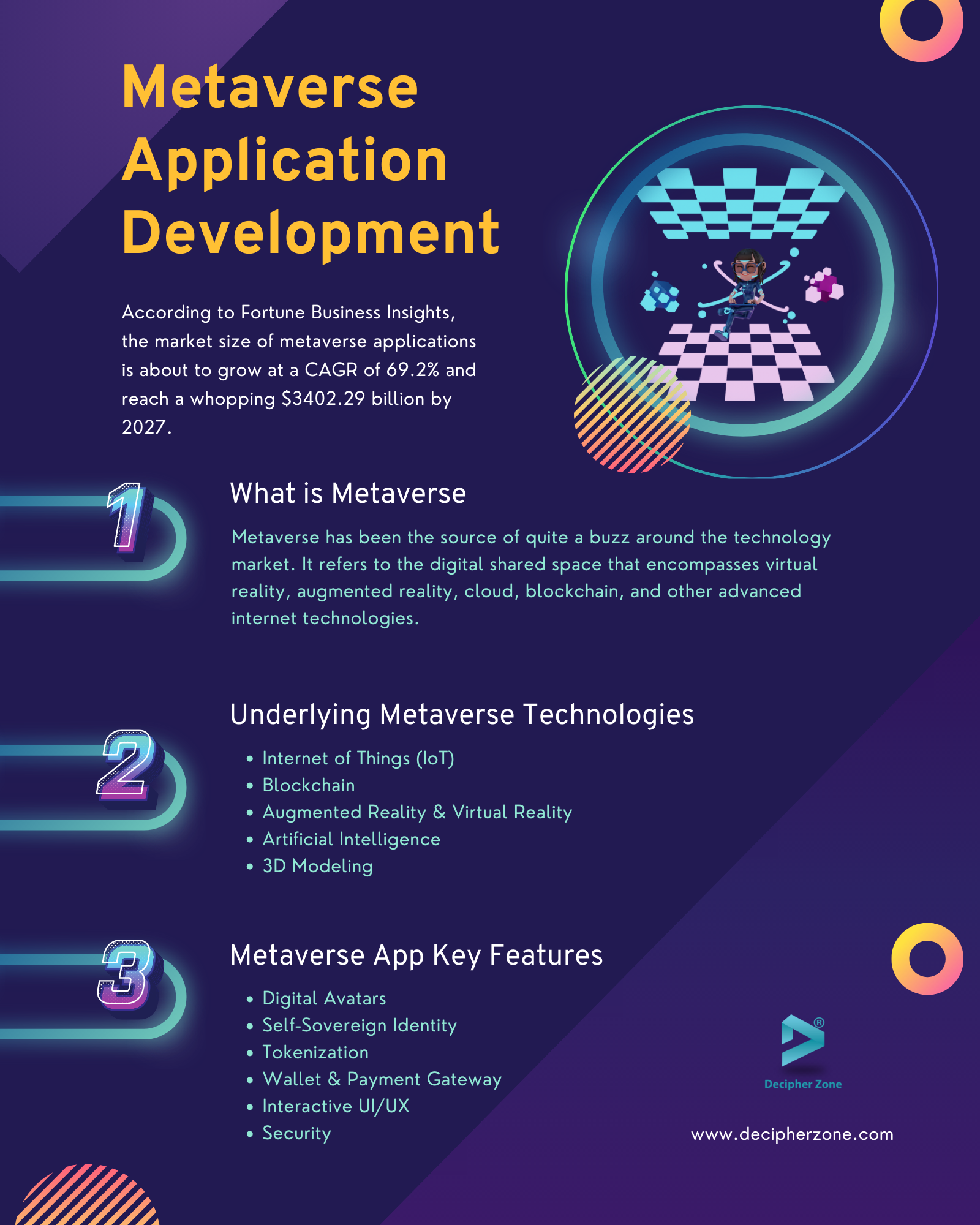 Metaverse App Development Key Features
Before you dive into the Metaverse app development part, it is important to know the features that should be included. Some of the must-have Metaverse app features are:
Digital Avatars

Self-Sovereign Identity

Tokenization

Wallets & Payment Gateway

Interactive UI/UX

Security
Digital Avatars: Every user joining the virtual space should be able to create their digital avatars as it will allow them to show who they are, providing users with a way to engage with others and have a sense of identity.
Self-Sovereign Identity: In the metaverse, interoperable and verified data will be crucial for the identity verification of the user at the time of profile creation and transactions. Therefore, adding SSIs which are digital identities managed by individuals, helps in controlling the unintentional sharing of their data.
Tokenization: This feature in the metaverse helps in representing virtual assets like digital arts, currencies, real estate, in-game items, etc. as tradable and unique tokens that a user can buy or sell.
Wallets & Payment Gateway: Adding payment gateway and crypto wallets in the Metaverse application allows users to make secure and fast payments if they want to buy something in the virtual space.
Interactive UI/UX: Interactive UI/UX of the Metaverse app makes it easier for the user to interact with the features and functionality.
Security: With ever-increasing cyber attacks, it is important to add encryption and a two-step authentication system in the Metaverse app, protecting it from any sort of security issues.
Read: Future of the Web
Cost of Metaverse Application Development
On average, metaverse application development can cost around $25,000 to $400,000. Needless to say, the development cost of the metaverse application highly depends on the complexity, underlying technology, infrastructure, hardware, security, development team, and type of application you want to develop.
Read: Custom Mobile App Development
Our experts can provide a customized quote if you want to hire experienced Metaverse app developers to convert your idea into reality. All you have to do is contact us and share your requirements.
FAQs: Metaverse Application Development
What is Metaverse app development?
Metaverse app development refers to the designing and development of an app that allows users to interact with others through virtually shared and immersive environments.
How to build a Metaverse application?
To develop a metaverse application, you need to determine the objectives of the app, create its prototype, hire metaverse developers, choose a metaverse platform, build a metaspace, create an interactive layer for the users, make smart contracts and database, test the app for quality assurance, and launch it in the market.
What programming skills do you need for Metaverse?
Java, JavaScript, Python, and C++ are some of the significant programming skills that you need to know for Metaverse development.
Posted by
Mahipal Nehra
|
Posted at 09 Aug, 2023
Web