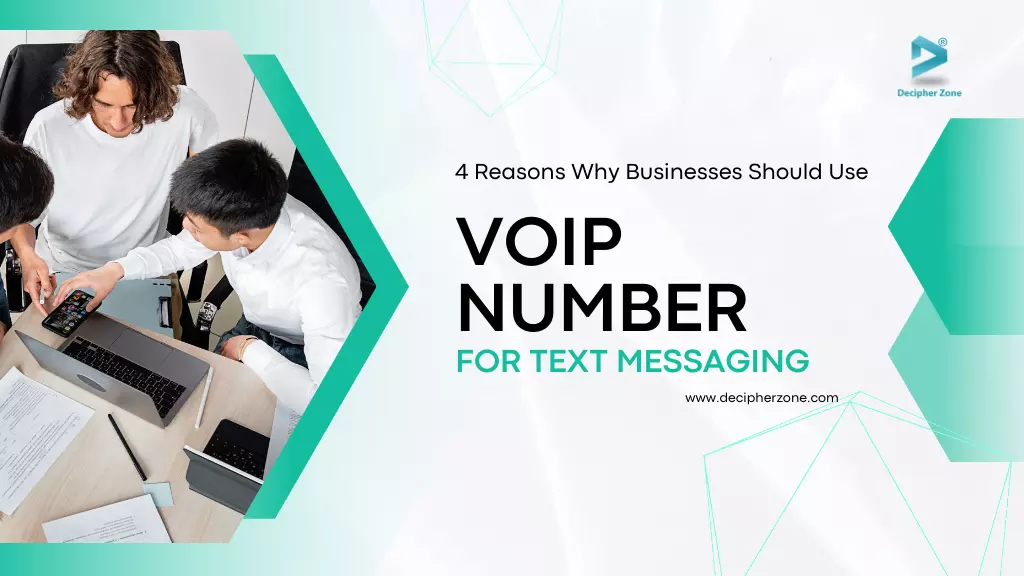 4 Reasons Businesses Should Start Using A VoIP Number For Text Messaging
Text messaging... Considering the advancements that the world enjoys today in terms of communication, is there still a place for this medium? Definitely! In fact, because a lot have switched to more recently introduced modes of communication, it becomes even more effective.
Read: Top 8 Marketing strategies
Did you know that 90% of text messages get opened within the first three minutes? That's every smart entrepreneur today is always looking to expand their marketing avenues to include SMS marketing.
Read: Global Business Management Software Development
And thanks to Telnum, you can use SMS marketing to improve your profit through a VoIP number. If you're interested to learn more about harnessing the power of text marketing for your business, keep reading. We'll cover everything you need to know about it.
Why should you use text marketing?
Texting is the most accessible communications tool today, but not a lot of people know about it.

It offers great value to the consumer, because it allows them to be involved in the buying process without having to call, email, or make a purchase on the phone or in person.

With a text message, you can engage with your audience 24 hours a day, 7 days a week.

You can use it for all levels of market awareness.

A well-designed SMS campaign is easier to implement than a landing page.

People don't just give out their numbers. So if you have access to it, it means they trust you.
Why you need to use a virtual phone number
SMS marketing isn't just a fun thing you can send your friends and family. As a marketing tool, it has many advantages. Here's why it's worth considering:
1. You can use it to create and test your campaign
When you think about it, all your ads are basically experiments. The more you understand your audience, the better equipped you are to design the perfect ad. So don't be afraid to test.
Read: Benefits of using VoIP Services for your Business
Here are some ideas to get you started: Create a text message ad that only runs on one day of the week. Send a link to an ongoing online campaign that your business has. Try out a new product or service with your loyal customers and get your feedback. Start a contest, promote a giveaway, and anything else under the sun. Anything's possible!
Read: 5 Effective Marketing Strategies for Businesses
Implementing any of these ideas quickly is easy with a VoIP number. That's why we highly recommend SMS marketing if you don't have a lot of time and are on a tight budget.
2. Track your text messages every step of the way
Doing text marketing isn't just about getting the texts sent. The more important concern is what happens after that. By using a regular number, what happens after the fact will be harder to track.
Read: How To Start A Business Online
But with a VoIP number, you'll be able to see which of these got sent. If a lot of them aren't going to the inbox of the intended recipients, then perhaps you're triggering a spam word. It would be a great chance to rerun the campaign.
Read: Why Develop A Delivery Services App for Your Business
The best thing about this is the tracking part wouldn't last a long time. Most people open their messages within the first two hours, you can be done with this part on the same day.
3. Review text marketing effort statistics
Text marketing isn't free, but if you know what to do, you can make all your efforts worthwhile. Some of the costs associated with text marketing include creating the message, sending it to your subscribers, tracking results and performance, and adjusting your messages based on the performance of individual campaigns.
Read: Magazine & Newspaper App Development
That's why you want to make sure that you're squeezing every last dollar that you can with every campaign. With the statistics that you'd get after the campaign, you'd be able to see how you can further improve next time.
Read: How Software Development Consulting
For example, you can test out sending the text a few hours before lunch if you're running a special on your best-selling pizzas. If that doesn't work, you may want to try it late at night as well. It depends on who you're targeting.
4. It's generally more effective
With more information, you'd be able to run generally more effective text marketing campaigns. Text campaigns are already great in general. That's why it's a great opportunity to do even better.
Read: Top 10 Healthcare Business Ideas for Startups
Plus, think about how underutilized this marketing medium is. Emails rarely get opened, and the bounce rates on websites are astronomical. So if you're on a low budget and want to have a huge impact, this is the way to go.
Read: Mastering Email Marketing
Text marketing using a VoIP number for SMS is the best choice you can make for your business, especially if you're trying to save cash. In no time, you'll see your business grow!
Posted by
Mahipal Nehra
|
Posted at 16 Aug, 2023
Web