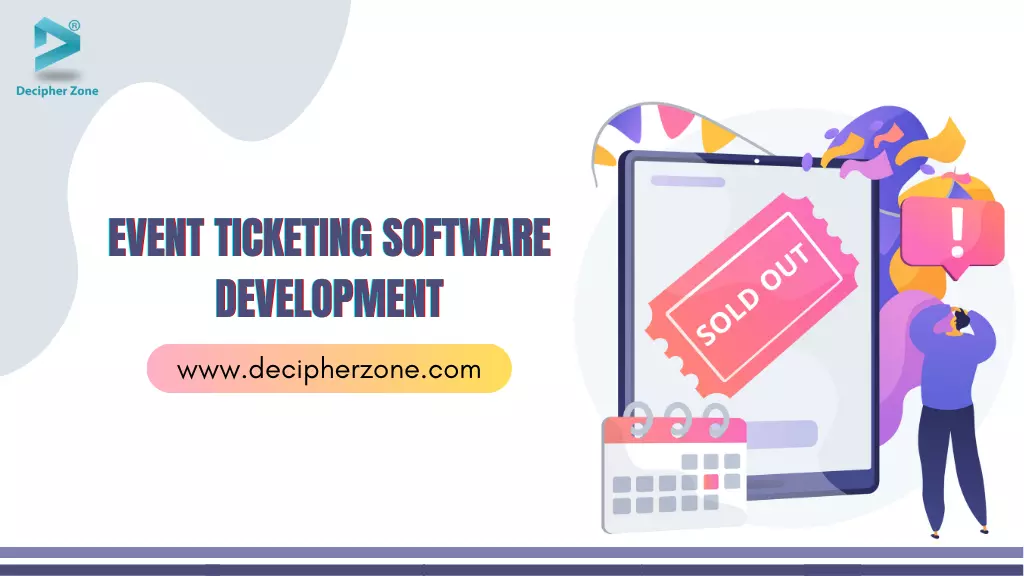 Event Ticketing Software Development
Event Ticketing Software Development. Managing events flawlessly has been a challenging issue that cannot be avoided if you want to generate massive revenue and a huge consumer base.
Digitization taking over every industry has revolutionized the traditional way of getting things done with the development of smart systems through automation and advanced integrations. But one issue that many fail to address is a seamless ticketing system, which has now been eased with event ticketing software development.
According to the reports from Statista, the online event ticketing market is estimated to grow to $95 billion by 2027 from $66 billion in 2022, making it an important reason to consider developing an application or software for the same.
In this blog, we will be filling you up with the benefits of event ticketing software development, and some of the important features along with the cost of development.
So, without any further delay, let us first explain what event ticketing software development is.
What is Event Ticketing Software Development?
Event ticketing software development is a system designed and developed for event organizers to sell tickets online and manage an event efficiently and hassle-free.
Read: Media and Entertainment Software Development
This software automates the ticketing process, which eliminates the hustle of people waiting in a queue outside a ticket window to buy a ticket, by enabling the service at the fingertips with apps and software, thus making it a convenient process.
Read: Fleet Management Software Development
Some of the recognizable event ticketing software are JotForm, Evite, Eventbrite, TicketSpice, RegFox, BigMarker, Swoogo, Eventix, Xola, Ticket Tailor, and many more.
Benefits of Developing An Event Ticketing Software
Integrating technology into different business sectors has catered to innumerable benefits and is also beneficial in the event management industry.
With the advent of event ticketing software development, businesses have been able to scale new heights, and among all, some of the benefits of developing event ticketing software are -
24*7 Availability

Better Security

Eliminates Paperwork

Improved Operational Efficiency

Measuring Event ROI

Targeted Communication
Read: Aviation Software Solutions Development
24*7 Availability - It helps you provide access to your services round-the-clock which enables the users to book the tickets anytime and anywhere with integrated features like customer support, FAQs about the event, and chatbots.
Better Security - Developing event ticketing software also helps in keeping crucial customer and business-related data with safety and ensuring privacy by integrating several security measures like two-factor/multi-factor authentication, biometrics, user access controls, firewalls, and others.
Eliminates Paperwork - It also eliminates the paperwork which in turn also reduces the operational costs alongside preventing the loss of tickets as compared to the manual ticketing system.
Improved Operational Efficiency - It helps in streamlining all the manual and repetitive tasks alongside eliminating errors, which in turn helps in managing the event with ease and ensures seamless business operations.
Measuring Event ROI - A major benefit of developing an event ticketing software is that, it helps you measure the ROI of every event based on real insights and numbers based on different parameters to provide better services in the future.
Targeted Communication - It helps you reach the potential audience and attendees directly and send personalized messages and invites which in turn facilitates increased sales and revenue.
Read: Bike Taxi Booking App Development
Features of Event Ticketing Software
Now moving ahead, features are an integral part of the business that helps it stand out from the competition in the relevant business sector. So, when developing event management software, ensure the features you integrate should be easy to use and address the common pain points of the business and its users.
Read: Facility Management Software Development
And some of the features of event ticketing software are as follows -
Analytics and Dashboard to provide real-time statistics and insights on the performance alongside an overview of all the activities on the software.

Booking and Scheduling feature that enables the users to book or schedule the booking of an event with other integrated features like booking history, upcoming bookings, and more.

Event Registration enables users to register for an event using phone numbers, email addresses, and even social media handles. For example - for business events the users can register using their LinkedIn and on the other hand for a music concert the users can register using their Instagram handles.

Live Streaming is an advanced feature for users who could not attend the event in person but can attend it online, which is also a great way to increase the number of attendees and generate additional revenue from an event.

Multiple Payment Gateways to accept digital payments and provide a seamless checkout experience to the users.

Promo Code Functionality helps in enhancing customer experience and increase customer loyalty, thus acting as an effective marketing tool for your events.

Push Notifications to send custom updates about events, bookings, and live updates which is another effective marketing tool for your business.

QR Code Scanner to scan the tickets online, thus skipping the hassle and easily verifying and authenticating the tickets.
Read: Software Solutions for Manufacturing Industry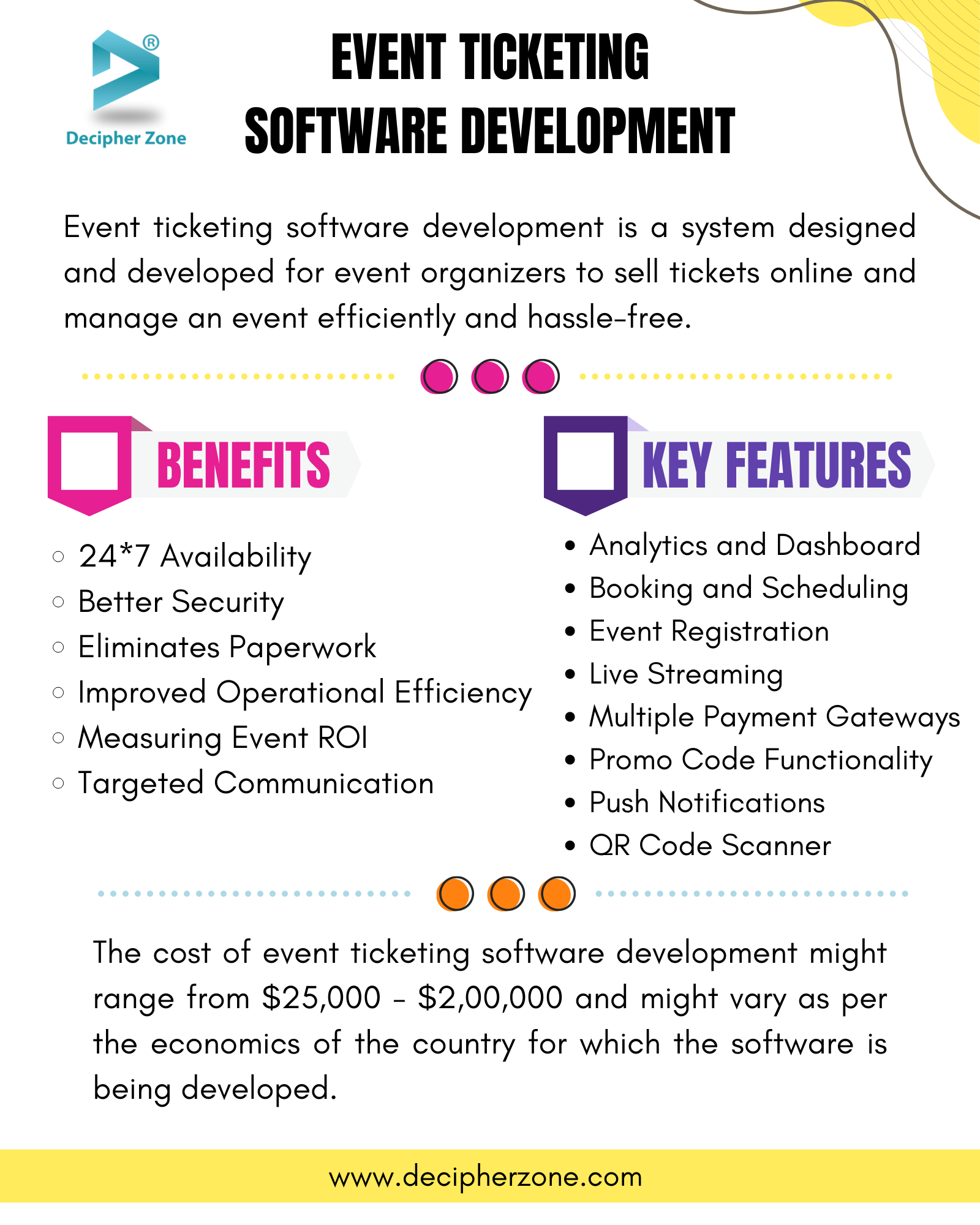 Some other features include -
User Management

GPS Location

Search and Filter

Cancellations and Refunds

Content Management

CRM integration

WhatsApp integration, and many more as per your requirements.
Read: Banking Software Development
Cost of Event Ticketing Software Development
The cost of development is another integral part of the software development process. And when it comes to developing event ticketing software, some of the aspects that help in estimating the budget are -
Domain and Hosting charges, which enable the users to find your business online and store critical information (like files and docs) respectively.

The type of software that you want to develop for different platforms like it could be a website, a web app, or a mobile application.

The Logo and Design charges, which include color combinations, font styles, screen designs, animations, visuals, and other design elements.

The Technology Stack that you choose to work on, which incorporates the programming languages, frameworks, libraries, and other related tools and technologies,

The number of developers working on the project, like the business analyst, project manager, product designers, backend team, frontend team, quality assurance team, as well as DevOps engineers.

The location and hourly charges of the development team, along with their experience and expertise, also affects the cost of development.

Total Number of Features and the complexity of integrating them, to develop a fully-functional software.

Third-party and security integrations along with advanced features also affect the cost of developing an event ticketing software.

Lastly, the Content and Marketing charges, through which your software will reach the potential customers.
Read: Travel Web Application Development Cost
Now that you have the factors that influence the cost, it is presumed that the cost of event ticketing software development might range from $25,000 - $2,00,000 and might vary as per the economics of the country for which the software is being developed.
Wrapping It Up
The event management industry has been flourishing simultaneously at an alarming rate. And with the growing demand for businesses digitizing their services, it is essential for you as well to consider developing appropriate software.
Read: eCommerce Platform Development Cost
And without wasting much time, if you are interested in elevating your business with an event ticketing software development then schedule a free consultation with us now, or hire a developer, and get the best solutions for your business that complies with your business idea at standard market rates.
FAQs: Event Ticketing Software Development
What is the importance of an event ticketing system in the event management business?
The primary benefit of an event ticketing system for a business is that it minimizes the manual job which in turn saves a lot of time, effort, and money, thus improving productivity and automating the business processes.
What are the different types of software used in the event management business?
The different types of software used in the event management business are -
Event ticketing software

All-in-one event management software

Networking platforms

Event Feedback Software, and many more.
How much time does it take to develop event ticketing software?
Developing an event ticketing software takes up to 4-6 months depending on your project requirements and additional features that might come up during the development process.
Posted by
Mahipal Nehra
|
Posted at 14 Jul, 2023
Web